Having grill cleaning tools is a must for any grill owner. The grill needs maintenance, almost like a baby. And just like you prefer the best for everything else, you need the best grill brush. Best ones don't only clean well, but it also makes your life easier.
It's not wise to pick your grill brush randomly. You need to get the best out of your hard-earned money. And to us, the "Kona 360 Clean Grill Brush" seemed to stand out most among its class.
In terms of price and performance, this product is hard to beat. If you're someone who's starting their grilling journey, you'll love our next segment.
10 Best BBQ Grill Brush Reviews
No grill cleaner can clean your grill well enough without the help of a grill brush. You need a grill brush, so where do you look for it? Became a bit confused as to which ones the best for you? There are many options available; some satisfy more than others. And here, in this article, we went through 10 of the best brushes. Take a tour with us.
#1. Kona 360 Clean – 18 inches Best BBQ Grill Brush
This grill brush is an upgraded version of the good old bristle brushes. With a 3-in-1 action, it can accomplish the job of multiple strokes in one. Kona has some good products on their list, and this one is one of our favorites.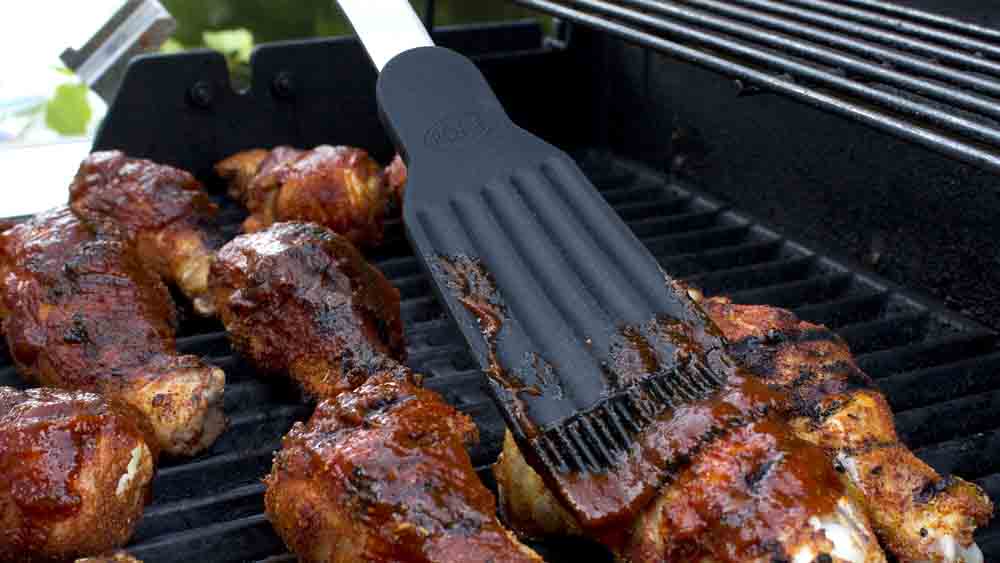 With a 360-degree cleaning action, you'll be able to clean your grill grates all over the surface, not just the top surface like old brushes. Baked-on drippings on the sides aren't tough to clean any more thanks to this.
We recommend it for use with any grill types since it's built for taking care of all materials such as porcelain, ceramic, infrared, weber, and the rest. Keep your grills as good as new with regular cleaning.
There's always a concern with bristle brushes as the bristle tends to get loose and break off on the grill. We have found this to be quite sturdy and rigid compared to average ones. It doesn't feel flimsy and doesn't bend easily.
And you have to appreciate its handle length at 18 inches. It's long enough to reach everywhere on the grill without putting your hands at risk of burning. For best results, just dip the bristle part in water and do a steam cleaning.
#2. Weber 6494 12-Inch 3-Sided Grill Brush
Weber, as a company, never fails to satisfy its customers. And this simple yet effective grill cleaner from them carries the glory forward. At a price under $10, there aren't many good grill brushes available, we reviewed some good alternatives down the list.
The first thing that comes to mind when you the brush is the wide bristle based brush. This wide brush design allows for a quick and efficient cleaning that we all appreciate.
It even has a circular design on the side brushes. Thanks to these side brushes, you can easily reach those narrow areas and clean the pesky small bits much faster. This comes in handy at dislodging baked-on food bits on the grates.
And the bristles are dense enough to handle pressure and friction on the grill. Highly dense bristles in the brush make it thick that helps in wear resistance. You won't need to worry about the bristle breaking off on the grilling grates.
You'll find the ergonomic handle quite easy to hold, although we would've liked a longer handle than 12 inches. But it's long enough to do the job.
#3. Alpha Grillers 18″ BBQ Grill Cleaner Brush
Alpha Grillers has to be on the list, one of the oldest brands that have taken the mantle for keeping all the grills safe and clean. Just like a modern brush, it incorporated the 3-in-1 action to cover more area in a single stroke.
To professionals and amateurs alike, this grill cleaner can be a great help. If you work on a commercial grill, this grill brush is more than enough. It can clean all sides of your grill grates in a single stroke with it 360-degree action. Quick and efficient cleaning is the name of the game.
Clean your grill grates effortlessly and do it in a fraction of the time needed by single action brushes. The Alpha Grillers brush is great against tough baked-on food bits, and with this design, you can use as much elbow grease you want.
It's designed for all types of grills, including grills made of porcelain and cast iron. You don't want to put your precious pricey grill at risk. Bad tasting grilled meat is not a worry anymore.
Thanks to 18 inches long handle, this grill brush will keep your hands safe from burning on the hot grill. And the length doesn't make its structure weak; if that's your question, rather it helps to reach narrow spots easily.
#4. Kona Safe/Clean – Bristle Free BBQ Grill Brush
A new invention in the world of grill cleaner brushes is the emergence of bristle free brushes. And Kona is one of the first manufacturers that have utilized this technique to take a big portion of the market share. So far, it has been performing very well.
Bristle brushes have become quite trustworthy over the years. But still, it hasn't won over all grill owners. For those who are very much conscious about safety, this bristle-free option is a great option.
This is as safe as it gets. No sharp edges, no fear of broken bristle bits in your food. It still kept the 3-brushes-in-1 design for quick and efficient cleaning. You'll be glad to know that it is still suitable to use on sensitive grill types such as porcelain and ceramic among all other grills.
With a much sturdier design compared to the bristle brushes, this brush will last a lifetime equal to 5 times the life of a bristle brush. That's because unlike bristles, this doesn't break down nor bend.
Just like the original 360-degree grill brush, it also has a good length handle on it. It ensures the safety of your hand and your grill, although the protective coating on the grill will come off eventually.
#5. GRILLART 18″ Grill Brush and Scraper
Keep your grilling parties on the weekends going with this brush-scraper from GRILLART. With a scraper design integrated into the brush, you'll be saving a lot of time. It has improved on its previous design and kept its durability intact.
A 3-brush-in-1 design is a must among modern grill cleaning brushes, and this one has it too. With 3 brushes, you'll be covering 3 times the area in a single stroke. Not only that, but also, it has a 360-design that allows you to clean the sides and bottom of the grates as well!
We can safely recommend this grill brush for owners of every grill type. There's always a question about suitability to porcelain and ceramic grills. This one's affirmative in that regard.
For best results, dip the brush in the water while cleaning to do a steam cleaning. It will reduce flare-ups and smoke production significantly, and that makes for delicious tasting food.
The handle of this GRILLART brush is among the longest at 18 inches. You won't ever need to worry about burning your hands trying to reach the furthest places in the grill.
#6. GRILLART Grill Brush Bristle Free 18″ Brush and Scrap
Next, we have another GRILLART product, but this time in a much modern shape. This grill brush utilizes the bristle-free design that has quickly become popular since it gives a sense of safety and security to the grill owners.
This grill brush eliminates the risk of finding broken bristle bits in your food. With a much stronger construction, it's 5 times more durable with a much longer lifetime than your bristle brushes.
There's another benefit of having bristle brushes. These brushes are thicker, and this GRILLART brush is 135% thicker than its bristle counterpart. So you can continue to clean your grill in a much shorter time in a much safer method.
You can use this grill brush on basically all types of grills such as gas, charcoal, porcelain, infrared, weber, etc. grills. But it doesn't work as well on mesh grates since there's a chance of damaging the weak grates.
The handle is 18 inches long and quite durable thanks to the rigid, triple helix design. Your hands will be safer when you'll clean your hot grill's nooks and crannies.
#7. Cuisinart CCB-505 Power Scour Grill Brush, Black
We loved the look of this product from Cuisinart. This product is very compact in size and cheap too. If you're looking for the best grill brush under $10, then this is a great option.
This power scour grill brush consists of two coils of stainless steel bristles. Don't think of this as the ordinary bristle design as you can't see any bristle ends outside the brush. They're all tucked inside, which is why this is a much safer option for everyone.
The two stainless steel bristle coil pads one-ups the ordinary bristle design in another aspect. You see, these coils are much denser and studier compared to latter ones. So, these brushes live much longer, and the performance doesn't decrease over time.
Thanks to the coiled up pad design, the bristles are free from the risk of breaking and getting into the food from the grates. People had to be very much cautious about this issue, but with this, you can clean with your eyes closed!
Now comes the most favorite part. The handles impressed us with its unique over the bristle design. You can put your weight behind your cleaning without the risk of burning. But it might be a bit hard to reach the narrow places. So keep that in mind.
#8. Grillaholics Essentials Nylon Bristle Grill Brush
This grill brush from Grillaholics Essentials is a unique one among the 10 listed here. The bristle in the grill brush is made of Nylon. For cleaning porcelain and chrome wire grates, this is a much better option, and it's not costly.
On top of the brush, you have two blades as a built-in scraper to clean the grates before and after using the grill. This integration of scraper is genius since it lessens workload.
At the end of the handle, there's a hook attached to lift grate grids. In this way, you can clean the underside of the grates easily. But compared to stainless steel bristles, it's performance is poor.
Thanks to the detachable design of the brush head, it's very easy to clean and store it when you're not using it. But remember to keep it in a safe place so that you don't lose it.
You can only use it when the grill is completely cooled down. If you use it on hot grills, that's the end of its life. This is the big downside of this grill brush. But if you own a porcelain grill, then this is a good option as it's softer than stainless steel brushes.
#9. BBQ-Aid Barbecue Grill Brush and Scraper – Extended
This grill cleaning brush from BBQ-Aid has a nice look to it with its wooden handle. We see this as more of an aesthetic brush than a practical one. But it has its perks too, as you'll see below. The brush consists of a one-sided brush that's only good for cleaning one surface at a time.
But it's strong, and it helps to clean stubborn burnt food bits from the grill grates. At a length of 15 inches, the handle is right in the middle in terms of length. It's long enough to protect you from getting burnt and help you reach the furthest corners in the grill. On the top, there's a scraper for scraping purposes.
Thanks to the stainless steel and wooden handle construction, we can recommend this to use on every type of grill there is. And since it can't be damaged by heat, you don't need to cool down the grill to clean.
As we said about the design, it's more of an aestheticism rather than performance. The wood in the handle is from an acacia tree, and this is used only in premium products. So if you like premium tools, this is one for you.
#10. Grillaholics Grill Brush Bristle Free Stainless Steel Coils and Scraper
We're ending the list with the famous no wire, bristle-free design of the grill brush. This product from Grillaholics is a safe and durable option to keep your grilling buddy maintained for a long time.
With the 3-brush-in-1 action, you can cover more area than a single brush design. Moreover, you can reach multiple surfaces at once and clean them with precision. But actually, there's nothing much to do since the brush does everything by itself.
Grilling is, of course, an art, but cleaning the grill isn't far off too at the spiral design of the stainless steel brush works its way into the sides without an issue giving you a session of effortless cleaning.
In terms of usability on different types of grills, it's a green signal for all materials, including porcelain and ceramics. Get rid of those old burnt food build-ups with this sturdy bristle-free brush.
The handle is at an optimum length of 18 inches. So you're getting the assurance of safety from burning risk. You can reach sharp corners easily with this.
What to Look for Before Buying Grill Brush
You want the best grill cleaning brush, but how do you determine the best? Certain factors play in making that decision. With these brushes, price is not a factor since you can get really good brushes in under $20. We briefly went through the most important factors below.
Ease of Use
Every hand-held accessory needs to pass this test. The handle's ergonomics and the weight balance are featured in this section. The user needs to feel ease when holding it and scrubbing the grill grates.
If the ergonomics isn't correct, then the user will have to put extra pressure on it to get the job done, and the hand will feel sore. We suggest that you try it out before you buy and see if it feels in your hand.
Long Handles
Grills are hot, and if the handle is short, then you might burn your hands. We see that some grill brushes have handles that are shorter than 6 inches. This isn't safe. You need a brush with a moderately long handle.
Sturdy Bristles
I'm sure you've read the news saying that people were taken to the hospital due to consuming pieces of bristles that got left on the grill. Yes, it happens if the bristle isn't strong enough.
You don't want to destroy an entire evening with your family and friends for just a weak grill brush. Buy a brush with sturdy bristle, and if it gets loosened, change it soon.
How Long Does It Last?
Check the brush's history and performance from the users and the manufacturers. You need to be sure of its longevity and durability. Check if it will rust and corrode. Stainless steel brushes came and removed those concerns.
Chance of Damaging the Grill
If the bristles are too hard and harsh, it might chip your grill grates, and you'll be tasting metals in your dishes.
Integrated Scrapers
Scraping is a good way to prevent build-ups on the grates. And it's easy to forget scraping the grills. Built-in scrapers in the brushes make life very easy. Nowadays, brushes do have this integrated into them, so check for them.
Frequently Asked Questions (FAQs)
Below are some of the most commonly asked queries regarding the best grill brushes:
✅ Are grill brushes safe?
Grill brushes can be safe if used properly. You need to be careful while cleaning hot grills. And also, the bristles can harm you if your finger gets too close. You have to maintain your safety.
✅ Can I wash grill brushes?
Never wash grill brushes. It can damage it severely. Water warps wood, and the bristles get loosened up.
✅ How can I clean these brushes?
Just shake the wasted bits of food from the brush and hit the brush on a hard surface to make them fall off. A damp cloth could be used to rub off the bits.
✅ What is the best BBQ grill brush for cleaning?
If you ask us, then we'll say that the "GRILLART 18″ Grill Brush and Scraper" is the best one in terms of price and performance.
✅ Are grill brushes safe to use on all materials?
All brushes are safe on metal grills. But not all brushes work well on grills made of ceramics. Only specific ones can wash them safely.
Final Words About BBQ Grill Brush
Now that, you've read everything, you should know which the best grill brush among the hundreds available is. The easy solution is taking our top pick as your own. We can assure you about its quality. Keep safe and eat healthily.