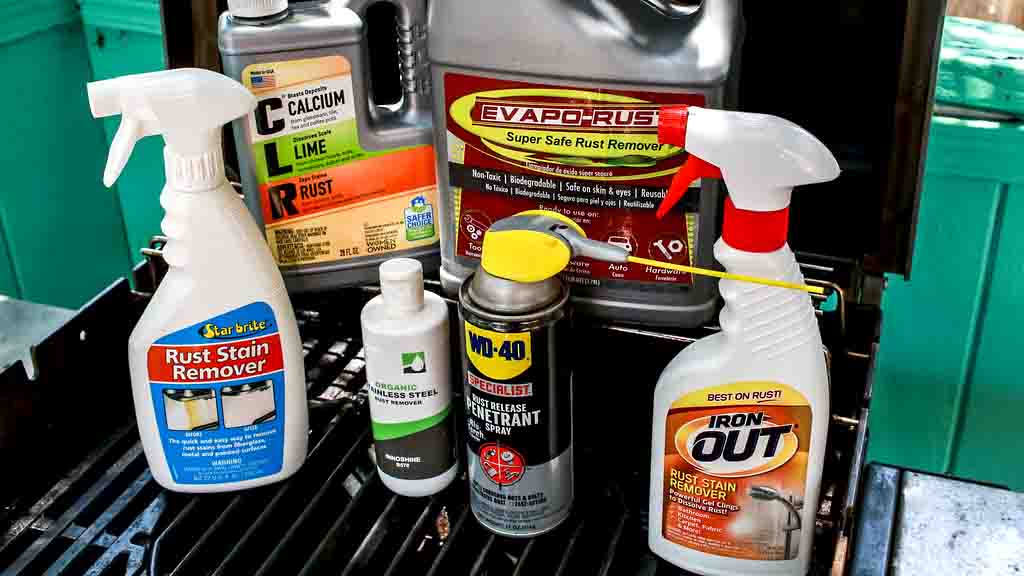 The thought of having grilling time in your backyard is enough to get you up and ready. But if you haven't cleaned and prepped your grill, then you're your taste buds' worst enemy. It can be helped if you have the best grill cleaner at your hand's reach.
Good quality grill cleaners clean quickly and deep. And to us, the "Therapy Premium Stainless Steel Cleaner & Polish" seemed like the best of the best. With added benefits, This allows you to clean your other appliances too. Not too harsh and not too soft, easy on the skin; that's the way your grill likes it.
Related: 10 Best Grill Brush 2020 – Review & Buyers Guide
10 Best Grill Cleaner Reviews
The store has loads of options for you to choose from. It might become puzzling if you're not equipped with the right knowledge. If you want to know which the best cleaners are right now, follow along. This article will cover everything.
#1. Therapy Premium Stainless Steel Cleaner & Polish
We loved the look of this cleaning product from Therapy. It's an eye-candy, for lack of a better word. As one of the highest-rated grill cleaner, this should suffice anyone's needs.
The cleaning solution consists of a unique mix of plant-based components. Your grill will get the highest care. Coconut oil, lavender vanilla oil extract, and quality emulsifiers make sure that your grill receives a smooth and soft cleaning.
You'll be glad to know that this is a multi-purpose cleaner that will work on any steel surfaces. It'll take care of your kitchen products, refrigerators, stoves, etc. After you're done cleaning, the solution gives the steel surface a coconut-based shine that prevents future build-up.
Thanks to the coconut-based shine, dust and dirt won't be staying on your grill's grates and other parts. This is great as you won't have to do as much maintenance you'd normally need. Low maintenance is the key.
Moreover, you're getting a soft micro-fiber cloth to do a smooth polishing. It's a large enough towel. Just spray the solution on it, and you're set!
#2. Weiman Stainless Steel Canister Wipes
This product from Weiman is an alternative to the world of conventional spray cleaner. It's preferred by many professionals and amateurs alike, and the reason behind that is the convenience cleaning and the swiftness of it.
Weiman's wipes eliminate the idea of spraying and cleaning with a separate cloth. The wipes are infused with a non-toxic cleaning solution, and it's easily disposable after cleaning. You're getting 30 of them to cover a whole month. But no one cleans their grill every day, right?
It cleans sticky mess like grease, grime and also takes care of light stains swiftly. The main benefit of using cleaning wipes is that you're saving time. Unlike spray cleaning, you don't have to wash the microfiber cloth in this case.
The steel on your grill's surface will repel any dirt and dust particles once you've used the wipes. Your refrigerator, stove, and other steel appliances are suitable options to use this on. It is fingerprint, streak, and watermark proof.
For getting better results, clean the surface with an extra micro-fiber cloth after using the wipes to clean. It adds a nice polish and protective shine on the surface.
#3. Easy-Off Professional Oven & Grill Cleaner
You'll love this product from Easy Off as it's cheap and highly effective for oven and grill cleaning. This is the best grill cleaner spray within its price range. You won't find a better alternative at the price. It's a mark of customer satisfaction.
This cleaner is great for spot cleaning, and it cleans fast. Only 5 minutes, that's all it needs to clean. You can use it on a daily basis without worrying about damaging your stuff.
One great thing about this cleaner is that it can get off the most stubborn of messes such as build up grease or baked-on spills. Easy Off's advanced grease-cutting formula is very effective against these.
Unlike other spray cleaners, it doesn't just clean small stuff. It cleans heavy stuff very quickly. Also, it's specifically good for cleaning your ovens, broilers, and of course, grills. It's a great electric grill cleaner.
What this cleaner can't do? It can't polish. So, don't expect it to shine up your steel appliances. It's a rough and tough cleaner that does what your other average cleaners can't do.
#4. Citrusafe Grill Cleaning Spray – BBQ Grid And Grill Grate Cleanser
We've got an environment-friendly product for you at number 4. This is a citrus-based cleaner that makes it safe for health. Most consumers look for this type of solution as this doesn't negatively affect the food.
Let's talk about the solution. What's the hype behind it? The solution is non-flammable! That is rare to find among canned spray cleaners. Usually, these are classified as biohazards. It's non-corrosive, non-toxic. Environmental concerns are well taken care of.
How about the performance? This cleaning product from Citrusafe proves that it's possible to care for the environment while having a high cleaning performance. The d-limonene element is the core ingredient, which is known as the Citrus. That's the reason it combines safety and high performance.
It gets rid of heavy grease, and stains fast, and your grill will look like a new one. Removing baked-on spills was never this easy. Thanks to the Citrusafe formula, the taste of your food will increase.
You can now clean your grill without warming it up, which costs fuel consumption. With this cleaner spray, you can save almost $20 worth of fuel since you can clean when the grill is cool.
#5. Cerama Bryte Protective Stainless Steel Cleaning Polish with Mineral Oil
At number 5, we have the cleaning product from Cerama Bryte. If you're looking for a cleaning product under $8, this is the best grill grate cleaner in that budget. It has received a good number of applauses and you should know that customer satisfaction isn't easy to achieve.
For any stainless steel surface, this has enough strength in its solution. Whenever you need to do a quick cleaning before the in-laws are coming for a visit, this is your best friend. Getting the grill ready in a small-time will become easy.
Does it skimp on the cleaning performance? You'd be a fool to think so. It doesn't only clean fast, it also cleans deep. After you're done cleaning, the final touch will leave your grill grates polished, looking good as new.
The cleaning formula removes fingerprints and watermarks and prevents future marks to keep the shine untainted. You won't experience any streak marks, but make sure that you use a clean and soft microfiber cloth.
That being said, this cleaner isn't as good in terms of cleaning baked-on spills. The solution isn't strong enough to dissolve stubborn and tough messes.
#6. Cameo Aluminum & Stainless Steel Cleaner
If you're looking for a pack of cleaners at a cheap price, then this Cameo cleaner and polish is a good option. It comes in a pack of two. For the price, this is a steal.
This works great on aluminum and steel surfaces. If you've got a stainless steel grill and other steel appliances, you can use this cleaner to do a complete cleaning. With 10 oz. per bottle, you're set for a long time if you use it only on your grills.
In terms of cleaning and polishing, it performs as good as other good quality cleaning products, nothing amazing and nothing to be disappointed with. And for an average person, that is more than enough.
As an addition, you can use it on chrome surfaces. It leaves a beautiful shine and protection layer on the surface that prevents fingerprints, watermarks, and streak marks.
That being said, if your grill is made of wood, then this isn't the one for you. It will irritate the eyes if exposed too much, so be lenient on the use.
#7. Weber Grill Cleaner Spray – Professional Strength Degreaser
Introducing a cleaner from Weber Cleaners that is developed solely to save your money and prolong your grill's life. This manufacturer is known for its quality, and its grill grate cleaner formula is designed for quick and effective cleaning.
This 16 oz. cleaner is certified as a non-toxic product, and it will not irritate the skin. To meet the need of the era, the cleaning solution is formulated with eco-friendliness in mind. That's why this formula is approved by the USDA as environment-friendly since it passes the international biodegradability standards.
Weber's grill cleaner works specifically well on both gas and charcoal grills. We'd say this is the best gas grill cleaner. You can clean and prepare your grill for a sudden gathering with friends.
To use it correctly, make sure that your grill is cool. Then, apply the cleaner as per your need on the surface. Swipe it with a soft sponge or a microfiber cloth. Do it again if necessary.
Don't waste fuel to warm up the grill before cleaning. It will get rid of burned food while the grill is cool. You can try this Weber grill cleaner without regret.
#8. Carbona 320 Carbona 2-In 1 Oven Rack And Barbeque Grill Cleaner
Stop stressing about cleaning your grill grates. There are great options out there, and this is one of them. This innovative product from Carbona is a safe and effective way to clean your grill and oven rack.
It's a professionally formulated cleaning product that works well on stainless steel and enamel. The chemical formula isn't toxic and doesn't cause corrosion or marring on the steel.
Carbona produced this cleaner to make cleaning a smooth process. With safe ingredients, it won't irritate the skin unless you expose your skin to it excessively. It's a food-safe cleaner that only improves the taste of your grilled meat and vegetables by getting rid of old burnt foods.
With a 2-in-1 action, it cleans quickly and leaves the surface with a shine. You'll be happy with the polish as it prevents streak marks and fingerprints. Just pour it on and wait for a while to clean. It's as easy as that.
Even though this doesn't irritate the skin, as an added benefit, you'll be receiving disposable gloves and a cleaning bag with it. Use the cleaning bag to keep your environment clean and safe.
#9. Goo Gone Grill and Grate Cleaner
The Goo Gone cleaning product is a reliable and effective solution to your grill cleaning needs. It's cheap at a price of under $8 and comes in a volume of 24 ounces. With a citrus-based formula, this is a food-safe surface cleaner.
Goo Gone's super-strength gel cleans your grill grates quicker than your average surface cleaners. If you need to clean and prep your grill in under a day, this cleaner can make your life easy.
It goes deep and dissolves the baked-on food particles as well as grease for an easy and quick cleaning process. The effectiveness is due to the citrus-based formula that is safe for food. So, you can use it without worrying about health safety.
The super-strength gel, as the manufacturer calls it, is safe for the environment as it's bio-degradable. One great thing about this cleaning product is that it reduces smoke production and flare-ups during cooking.
There are some down-sides, though. You can't use it on aluminum or faux stainless steel. It will damage those surfaces. Other than that, we don't see why this wouldn't be a great option.
#10. TriNova Grill Cleaner Spray for BBQ – Degreaser Cleaning Solution
Keep your weekly grilling activities going with this degreaser cleaning product from TriNova. With high customer satisfaction, this product grabbed our attention, and we took a look. And to say that we're satisfied is an understatement. You'll know once you use it.
The formula used in this simple yet effective degreaser spray is non-toxic and doesn't create a bad odor around your grill. Unlike most average cleaners, it doesn't smell of any chemical, which makes it great for cooking foods or grilling.
You can apply it inside and outside of your grill to keep it clean and polished for your weekly bbq gatherings. And if somehow you forget to prep your grill the day before, don't tense up about it. This cleaner can clean fast, and it cleans deep.
The formula comes in a non-stick bottle that doesn't grease up over time. Who likes goo and grime on their cleaner itself? You can use any cleaning accessories for cleanings, such as brush, bristle, and pad.
We wouldn't say that this has any negatives, but it is a bit costly compared to its competitors. However, for that fresh smell and untainted taste of food, you can spend a bit.
Things to Consider Before Buying Grill Cleaner
When it comes to using chemical solutions, there's a question you need to ask, "Will this suit me?" or, in this case, your precious grill. Cleaners can be toxic, have a bad odor, too slow, or too harsh on the material.
If it doesn't suit your grill, then you'll be up for a rough day. So, you've got to consider some important factors before you buy it. We went over some of them below.
Why Strength of the Grill Cleaning Solution is so Important?
Your grill cleaner's cleaning solution is a vital factor as it can cause marring or corrosion on the metal surface if the formula is very strong. The opposite might happen as well if the solution isn't strong enough. Then, you wouldn't be able to clean anything with it.
Is Skin-Friendly Cleaning Solution Important?
Skin irritation is a real problem when it comes to cleaning solutions. If the solution isn't at the safe level for human touch, then it might even cause a burn to your skin.
You Should Care About Your Food
You'll be grilling food for you and your family on the grill. It's commonsense that whatever you use to clean your grill will affect the food you're making. So, make sure that you buy a food-safe cleaning solution approved by the FDA. The health of you and your family is at stake here.
Scent Free or Not?
Do you prefer lemon scent on your grilled bacon? Surely you don't. If you don't check what you're buying, you might just taste a bit of lemon and chemicals on all of your brunch dishes. It's recommended that you buy a non-scented odorless cleaner for your grill.
Multi-Purpose Cleaners Vs Only For Grill Cleaners
When buying cleaners, you have the option to buy a multi-purpose cleaning solution that'll take care of your kitchen, kitchen appliances, and your grilling stuff. You can use a metal cleaning solution, but the caveat is that those can have scent or wax-polish in them. These won't be suitable for your grill.
So, if you'll be buying a multi-purpose cleaning solution for cost-effectiveness, make sure that it doesn't affect your food.
How Much Effective They Are?
Cleaning BBQ grill the magic way happens only when the cleaning solution is good. If it's slow or doesn't do a deep cleaning, it isn't magic. We all want to get the best out of our money. And how effective is the formula is important.
If you're someone who prefers things done quickly, then slow cleaning won't cut it. You need a solution that cleans fast and cleans deep. Those sticky and stubborn greases take time to come off, and it's only good if it comes sooner. The sooner you get it cleaned, the sooner you can prep it for a backyard grilling session.
Should You Choose Eco-Friendly Grill Cleaning Solution?
While this is not related directly to your grill, it is a concern as the cleaning solution, as well as the package can have negative effects on the environment. The best option is to buy a recyclable or reusable bottle that you can refill and use for a long time.
Frequently Asked Questions (FAQ)
✅What should I use to scrape my grills?
Use any wooden scraper you can find to clean your grills. Metal grills can be a hazardous tool as it can mar or have corroded bits on it, which is harmful to your health.
✅Should I scrape my grill? When?
Scraping your grills is a good way to ensure the prevention of build-ups. It's recommended that you scrape clean your grills before and after your cooking.
✅What is the best way to clean grill grates?
The best way to clean grills is to warm up the grills before cleaning. It makes it easy to get the annoying grease and grime off the grill grates. After warming up, you can use any of the above-mentioned cleaner.
✅What is the best grill cleaner?
There is not an absolute answer. But to us, Therapy's Premium Cleaner & Polish stood out the best.
✅What product can I use to clean my grills that are available in my home?
Everyone has vinegar in their home, and vinegar is a good alternative that you can use to do your grill cleaning. You can use halved onion to help the process a bit more.
Final Words About The Best Grill Cleaners
If you've read the article carefully, now you know enough to make a good decision, or you've made up your mind already. Before you go, remember that getting the best grill cleaner in your budget is your priority. Get the best one money can buy if you can afford it. And remember to eat healthily.