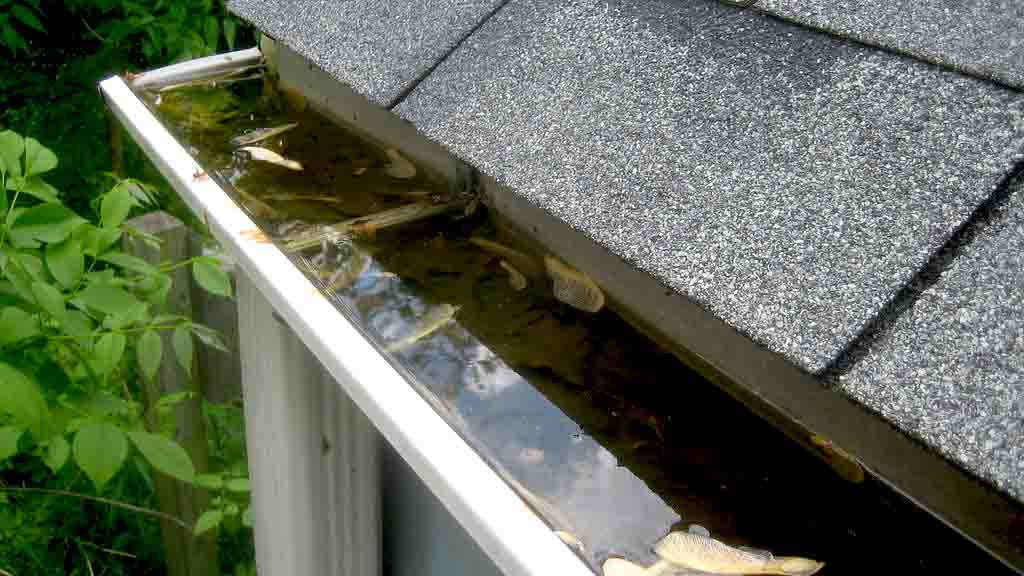 As a homeowner, you know how important gutters are and also how much more important it is to keep them clean. A dirty gutter is not useful to anyone.
Instead of protecting your walls, roof, and landscape, a dirty gutter will become the home of pests, rodents, and mold.
Cleaning gutters can be a tricky job given its location. This is why you need the perfect tools that'll make this job easier and hassle-free.
Here you'll find out about the best gutter cleaning tools that you must own. These tools will not only make things easier for you but save precious time when cleaning out your gutters and gutter guards.
10 Best Gutter Cleaning Tools
Let's find out what are the tools that you must have in your garden shed to keep your gutter debris-free all year round.
1. Telescopic Gutter Cleaner
First up is the telescopic gutter cleaner. These are very handy tools when you need to clear leaves and other types of debris from your gutter. They are easy and safe to use as you can clean the gutter from the ground without needing a ladder.
These cleaners feature 3 to 5 feet or, in some cases, 5 to 12 feet poles that are adjustable, which makes them perfect for different heights. They are also precise and easy to maneuver, which is important when you're trying to clean from a long distance.
What's great about this tool is the water nozzle attached to its end, which rotates 180 degrees. You can connect your garden hose to it and spray in any direction you want. This will help you wash away any sticky dirt or grime on your gutter.
The handle is usually made of lightweight aluminum and is padded, which makes for a firm and comfortable grip.
A telescopic gutter cleaner is a must-have as it eliminates the need for a ladder. It is easy to use for dry and wet debris, and can be used for other purposes like car or window washing, or watering hard-to-reach pots and plants.
2. Gutter Cleaner Attachment/Kit
Gutter cleaner attachments give you a range of products with which you can clean your gutter in various ways. These kits include cleaning attachments that can spray water at around 4000 psi. This will remove dirt and debris that you can't reach with a telescopic cleaner.
The high-pressure water spray will blast all the muck and grime towards the downspout of your gutter. And if you've got a downspout that's jammed up with rubbish, then these will also help clear them up.
And the kits also include spray nozzles for different angles. All you have to do is attach the nozzle that you need to the connector, and it'll do the job for you.
Sometimes these kits also include the extension pole along with a gutter scoop. These attachments are usually made of brass and are long-lasting. You can also use them to clean driveways, pool yard, patio, or porch.
An all-rounder when it comes to gutter cleaning, this is definitely one of the tools for gutter cleaning that you must own. You can change the nozzles according to your need, and they are easy to control from the ground.
3. Microfiber Cleaning Tool
Sometimes you will need something you have more control over than a sprayer. Also, for the dry season, when you just want to wipe over your gutter, you'll need this microfiber cleaning mop that can remove dirt and leaves, with just a swipe.
These are great because the microfiber can actually hold onto the dust, and you won't be just moving dirt from one spot to another. They can also adjust to the shape of what's being cleaned, which means you can easily clean the gutter as well as the sidings without having to adjust your grip too often.
Now don't think this can only be used on dry debris. If you want you can use a liquid cleaner to dip your mop into and wipe and rub over the gutter and sidings to clean sticky grime or algae from them
They can easily be attached to an extension pole of any height, and you can reach gutter even two-story high. This is a versatile product that is worth getting.
4. Gutter Getter Scoop
Another great product that gives you more control over your cleaning is the gutter scoop. This will come with an extended handle that's long enough to rake the debris along the gutter towards you so that you can scoop it up.
The extended rake can reach around 40 inches saving you the time and effort to make multiple trips up and down the ladder to get in position. This is a great product when you don't have a downspout, or you're worried the debris will just jam up your downspout.
It can remove twigs, leaves, and any kind of dry debris that might be cluttering your gutter. But what's great about it is that it also does a great job getting that wet sludge that has built up over months from shingle bits and dirt.
Usually made of durable plastic, they're lightweight and easy to use. They'll last you a long time and save you money in the long run. Although it requires a ladder, you'll be surprised at how easy it can make your gutter cleaning task. There's always use for a good old gutter scoop, so it's worth having one at hand.
5. Ladder
This one is a no-brainer when it comes to gutter cleaning. If you're thinking I've got an extension pole, why do I need a ladder, well think again! A ladder is one of the most important tools in gutter cleaning.
No matter how well you can clean using a pole, you'll need to inspect your gutters once in a while. There can be debris stuck to it that you need to remove with hands. Your gutter might be jammed, and you'll need to get up and see what's up. A ladder will also need to be used when using a scoop.
Safety is the most important factor when getting a ladder. You need to make sure that they're durable, have safety locks and non-slip caps at the bottom. Get one that has adjustable heights and positions to that it's easy to use.
Modern and professional ladders and not heavy, so the weight shouldn't be a problem but do look for one with a handle, so it's easier to carry.
A ladder is an essential tool for any household. When you're tired of craning your neck trying to clean your gutters with an extension pole, trust us, you'll be thankful that you got a ladder.
6. Leaf Blower/Vacuum
A leaf blower or a vacuum is another handy tool to have for cleaning gutters. You can operate this one from the ground, so no need to climb any ladders.
These come with extension tubes that can reach around 10 feet to 12 feet. They come with multiple tubes that you need to attach to make the pole so you can adjust according to the height you require.
Leaf blowers or vacuum are a great option when you need to clear away dry debris like leaves, twigs, pine needles, etc. Although you must wait for these to dry, it's just a matter of minutes to make your gutter completely debris-free.
The tubes also come in elbow shapes so that you can angle the blower to really get in those tough spots. Their plastic bodies make them lightweight, so they're easy to carry and maneuver.
If you're not the ladder-type and want to finish your work from the safety of the ground, then you must have the leaf blower kit for gutter cleaning. This will finish the work for you in a flash, and you won't even have to put in too much effort.
7. Water Rocket
Don't let its size fool you. This water rocket lives up to its name by rocketing out dirt, leaves, acorns, shingles, and everything else from the gutter. All it takes is a long hose and water, and it'll do the work for you.
This little guy can be attached to any garden hose, and it's especially helpful when you can't reach your gutters completely. If you have a clogged up gutter filled with leaves, twigs, dirt, or muck, all you have to do is find a spot, and it can pull all of it by itself using the high propulsion it creates.
You just have to make sure you've got a long enough hose. The nozzles create enough thrust that it can drag itself along your gutter, but if you've got an unusually jammed up gutter, you might need to help it out a bit by gently pushing and pulling it so that it can get all of the debris.
It's a small product, but it can clear up the whole gutter in a matter of minutes without much effort from you. When all else fails, this can be your go-to tool for cleaning gutters.
8. Extension Wand
If you want to clean your gutter from the ground, you're going to need a couple of extension wands or poles. These come in many sizes and materials. The best are the ones made of aluminum. They'll be lightweight yet durable. The height of your extension poles will depend on how high your gutter is.
And if you live in a two-story house, then you'll need one that can reach the gutter that's so high up.
Some of these poles can reach as high as 24 feet while allowing a close reach at 6 feet. You can use these poles to attach gutter cleaning tools that you already own like a gutter scoop or a blower or vacuum. They can be adjusted to suit different angles.
We highly recommend you get an extension pole for cleaning gutter as it can be used with many other attachments as well as by itself. They are easy to use and guarantees safety since you can be on the ground as you operate them.
Gutter cleaning will never be boring anymore with this next product. This is definitely the coolest gutter cleaning gadget that you can own. The iRobot will not only clean your gutter but will let you sit back and enjoy the show.
It uses a scraper and a brush to blast away leaves, pine needles, twigs, and shingles out of the way as it makes it way along the gutter. Spins at 500 rpm and removes clogs and jams adjusting to the debris it encounters. This ensures effective cleaning.
And it'll require a lithium-ion battery and can operate on automatic or manual mode. You'll also be able to control it if you want with remote control. Designed for wet and dry debris, it can fit in all standard-shaped gutters. Its powerful batteries help in cleaning out a 30-foot section of the gutter within 5 minutes.
This robot allows you a hands-free cleaning of the gutter as you won't need to keep climbing up and down the ladder, nor will you have to maneuver a long pole from the ground. A highly efficient cleaning tool, with safety features and ease of use, it is a must-have for homeowners.
10. Powerfit Gutter Cleaner Attachment
Last but not least, we have another small yet powerful gutter cleaner. This Powerfit attachment is an easy way of clearing up a dirty and jammed gutter. It can be attached to any extension pole connected to your gas pressure washer, and it'll blast leaves and debris at up to 3000 psi in two directions.
The simple and unique design has two high-pressure nozzles at each end of this attachment. A ¼ inch inlet with a quick-connect coupler, this thing can easily be connected to most extension wands you have.
It's also one of the safest options for you as there's no need to use the ladder at all. You can just attach it to the pole and operate from the safety of the ground. It works best if you've got downspouts on both sides of your gutter.
An effective tool with a simple design, it'll clean your wet and dry debris in a matter of a few minutes. This is definitely among the ten top gutter cleaning tools that you should own.
Conclusion
There you have it! These are our pick of the 10 best gutter cleaning tools that'll make your gutter cleaning a breeze. Pick one or all of them, and trust us, you won't be disappointed with any of them.