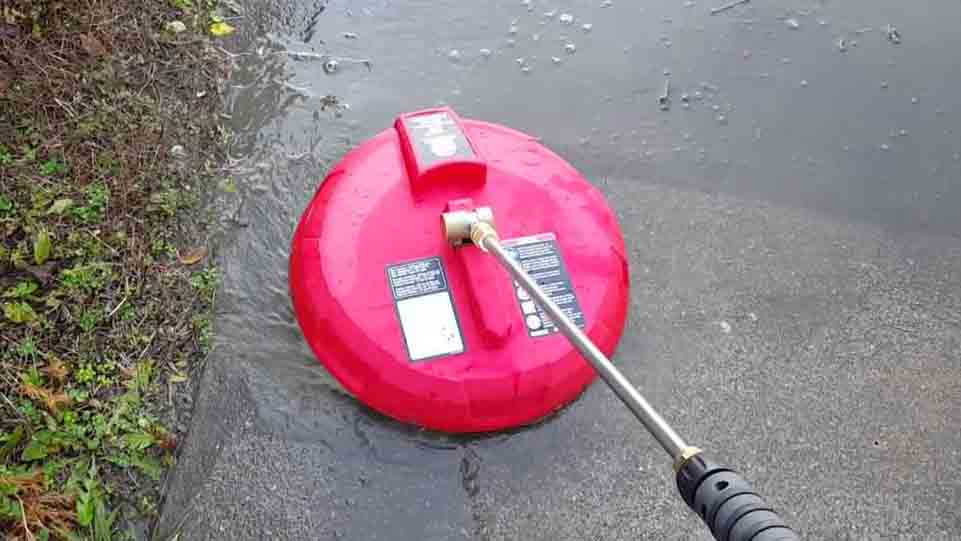 Everyone wants to keep the outdoors of their home clean and tidy because it is the first thing you or your guests see when they come. We know how tiresome the task of cleaning these areas can be.
Thankfully, now we have pressure washers available to aid us in this work. By getting yourself the best pressure washer surface cleaner, you will be able to cut down the effort and time needed!
Now, we know that finding the perfect device is equally as difficult as the market is filled with great options or some, which simply claim to be great.
If you ask us, we think the Simpson Cleaning 80165 Universal Surface Scrubber is the best surface cleaner out there, for it is filled with great features, yet it doesn't break your bank.
That being said, we understand that different people have different sorts of needs and preferences. By keeping this in mind, we have thoroughly searched the market to select and review the best ones out of them.
So, in case you want to learn more about pressure washer surface cleaners as well as the best devices, feel free to continue reading.
What Is a Surface Cleaner for Pressure Washers?
A surface cleaner is basically an exterior device that is attached to the pressure washer to help it clean the surface. These cleaners are mostly equipped with two high-power rotating nozzles, which with the help of the powerful jets of water, cleans the floor.
The combination of two helps to eliminate all the debris, dirt, grime, and dust that are present on the surface. And the surface cleaner is the device that helps to stop the high-pressure water from splashing in different directions.
This mode is often deemed to be the best form of cleaning when compared to other forms. It is fast, efficient, and not to mention environment-friendly, which makes it the ideal choice for most people.
How Do Surface Cleaners Work?
A surface cleaner has a very simple procedure. What surface cleaners do is it connects itself with the pressure washer's wand and helps to evenly distribute the water to clean the surface.
It is able to evenly distribute the water thanks to the additional of nozzles on the bottom of its head. As the nozzles spin continuously, it is able to clean the area without leaving any marks behind.
And as the surface cleaner has strong spurts of water gushing out, you need to ensure that you don't have any soft or fragile items nearby. One more thing to know about this gadget is that in order to enjoy the best cleaning, you must make sure that the nozzles are clean so that it is able to work properly.
Now, you will need to move around with the surface cleaner once it is switched on if you want proper and even cleaning throughout the area. Staying in one place for too long may cause damage due to the strong force of water that gushes out of the device.
5 Benefits of Using Surface Cleaners with Pressure Washers
You'll see numerous different benefits of using a surface cleaner with a pressure washer. Let's take a look at the best five of them:
The first and most important benefit of using this amazing gadget is definitely the fact that it is guaranteed to produce the ultimate cleaning. Most of the medium to high powered surface cleaners are equipped to deal with the dirtiest of places.
So, no matter how dirty your floor, driveway, or patio is, you can rest assured that it will get cleaned. In fact, it is more than likely to bring back the original shine and glaze of the surface.
Time and Energy Efficient
Next, we want to talk about how convenient using this device really is. We noticed that a standard surface cleaner cuts down the cleaning up process by half. On the other hand, a powerful one that supports 3000 and above PSI is able to cut down the required time by 4 times.
This automatically means that you won't have to give as much effort as you normally would have had to. Moreover, surface cleaners usually glide over the surface, and it is lightweight, which means you won't require to put in a lot of effort.
Unlike most cleaners that require the use of harsh chemicals or other cleaning solutions that usually damages the surface as well as the surrounding area. With this cleaner, you will only require water to clean the area.
Using water will prevent the surface from getting damaged. Moreover, it will keep the surroundings, especially the plants safe. This device also will not be producing or emitting harmful gasses, so it won't be causing air pollution either.
Most of these gadgets are priced around a hundred bucks, if not less, which isn't a big amount to pay for a device that will serve you for years and that too amazingly.
Now, other than their low price point, using this device will eliminate the need to hire professional cleaners to do the job for you. Furthermore, as it only requires water to clean the surface, you will not have to spend extra on getting any additional cleaning supplies.
Setting this device up is super easy, all you need to do is take it out of the box and connect it with the pressure washer. After this, you only need to switch it on and move around with it.
It doesn't come with any difficult steps during setup or while using. In fact, even amateurs will be able to use it without help from the first go, which makes it even better.
10 Best Pressure Washer Surface Cleaner Reviews
Now, we would like to present the top pressure washer surface cleaner reviews. If you wish to find the best surface cleaner, do continue reading.
#1. Karcher 15-Inch Pressure Washer Surface Cleaner – Best Time Efficient Surface Cleaner
When it comes down to selecting a reliable pressure washer surface cleaner, you should know that the Karcher surface cleaner will never disappoint. This model features a 15 inches disk that will certainly make your cleaning process super-fast and efficient.
The 15-inch big disk is what allows the device to be able to quickly clean the area. And the quick cleanup procedure also helps to cut down the amount of effort you otherwise would have had to give.
In case you are worried about getting stripes and streaks by employing a pressure washer cleaner, don't be. This device features top-notch quality double spinning nozzles that allow the gadget to maintain a fixed, steady height.
Given that it is able to keep a fixed posture, it eliminates the chances of producing streaks and stripes.
This device is compatible with gas-powered washers and will support the highest of 3200 PSI power. Moreover, we were delighted to find that this device is capable of cleaning vertically as well. So, you will easily be able to clean doors or slides without facing any splashes thanks to their brilliant skirt.
#2. Powerstroke PowerFit PF31023B Surface Cleaner – Best Budget-Friendly 15 inch Surface Cleaner
Looking for a powerful surface cleaner within a budget? Then the PowerFit PF31023B by Powerstroke is definitely one product you should check out. This model also has a 15-inch cleaning disk, which means it will help you to get the job done faster than most other models.
And this rotating surface cleaner is certainly going to prove to be the ideal product to keep around for all the different types of surfaces. Which means not only will you be able to clean different kinds of indoor floors or walkways, but you can also use it to clean doors or slides.
Well, this device is equipped with twin rotating nozzles that are powered at 1,500 RPM. This means you will always get a stable and steady pressure, which will not create or leave behind unwanted marks. This device is compact and lightweight, which means you will have no trouble working with it.
Moreover, given that it is super-fast and efficient, you will also be able to cut down your electricity bill.
#3. Yamaha ACC-31056-00-18 Surface Cleaner – Best Overall Performance Surface Cleaner
Up next, we have the Yamaha surface cleaner, which made a late entry into the market, but successfully surpassed most of the popular surface cleaners by other brands. The ACC-31056-00-18 is the perfect device to go for if you are looking for a robust surface cleaner that will deliver precise, fast cleaning.
Unlike most of the other Yamaha products that usually come with a hefty price tag, this one is surprisingly affordable. However, despite being affordable, it is still very much packed with great features and qualities. This device is extremely lightweight and provides you with a very smooth gliding movement.
It is equipped with a super high-pressure washer, which will not require any chemicals or soap solution to commendably clean any kind of area.
With this product, you will not have to worry about water splashing all over as it comes with soft nylon bristle brushes. It is compatible with any standard pressure washer, as well as gas pressure washers. You really cannot go wrong with this product.
#4. Briggs & Stratton 6328 Surface Cleaner for Gas Pressure Washers – Best Gas Powered Surface Cleaner
In case you were looking for a surface cleaner specially created for gas pressure washers, then you should definitely check out the 6328 by Briggs & Stratton. Briggs & Stratton are known to produce exceptional gadgets, and this one is no exception.
This model will allow you to clean at least four times faster if compared with any other standard nozzles as it quickly hovers across any surface. It features a dome that helps to eliminate over-spraying the water, which will stop the water from splashing and also help to protect the delicate items around the area.
The rotating jets will guarantee a super clean finishing, which will not consist of streaks. One thing you really need to know about this pressure washer is that you can connect it to any wand, which will allow you to increase the range of access while using the device. Amazing, isn't it?
#5. AR Blue Clean 10 inch Surface Cleaner – Best Designed Compact Surface Cleaner
If you are searching for a small and compact surface cleaner, then this one by AR Blue will certainly cater to your needs. It is a ten-inch wide cleaner, which is the ideal choice to clean the average-sized driveaway or patio as well as the interior of your home.
This device is incredibly lightweight and super convenient to use. It has been made out of thermoplastic that keeps the device from overheating itself. While it has been made out of thermoplastic, it is still very much qualified to handle up to 2500 PSI of output power.
It has been specially designed with nylon brush skirts, which not only ensures that there isn't any over spraying, but it also helps the device to properly clean the area without leaving any marks behind.
One thing you need to be aware of, though, is that this device needs to be used very slowly and steadily to achieve optimal results.
#6. Greenworks Surface Cleaner 30012 – Best Surface Cleaner for Cramped Spaces
Up next we have another small and convenient sized surface cleaner which is super affordable. The 300012 by Greenworks is ideal for anyone who either prefers to work with smaller devices or needs a small device.
Moreover, it is perfect for people who are looking for a powerful surface cleaner without having to spend a lot.
It is an eco-friendly product that has been created with high-grade material, which ensures that it will last for years. In fact, it may even never be required to be replaced. We found it to be very simple to operate and easy to move around with.
This cleaner is compatible with their own pressure washers as well as other with other brands that can handle up to 2,000 PSI. So, despite being 11 inches in size, you will easily be able to use it to clean your sidewalks, patios, and more.
#7. Simpson Cleaning 15" Surface Cleaner – Best for Durable Surface Cleaner
Here we have an extremely powerful cleaner that is surprisingly being offered at an extremely low price point. In fact, we were really amazed to see how robust this device truly is.
The body has been constructed with powder-coated steel, while the nozzles have been created with stainless steel. So, you know you are going to be getting a highly durable product.
Now, this cleaner is equipped with nozzles that work with high pressure, which helps it to quickly and efficiently clean any kind of dirty area. Even if the area is extremely dirty, we found the device was able to quickly get rid of the dirt without needing any additional chemicals or cleaning solutions.
This device can be used to clean any sort of material as well as surfaces. All you need to do is plug the device in, switch it on, and move around the area and you will end up with surfaces as good as new. Additionally, it was designed to work without splashing.
#8. Karcher T300 Hard Surface Cleaner – Best Multipurpose Surface Cleaner
Next, we have another great product from Karcher. The T300 comes in two sizes; one is 11 inches, and another is 15 inches. Before we move onto the specifications, you must know that it caters to a very specific group of people – professional cleaners or loyal Karcher fans.
This version of their surface cleaner was created for people who are looking for a robust cleaner that will get rid of the toughest dirt and stains. It is one of those devices that can be used every day for a prolonged period of time, and it will not give up on you.
However, this model is only compatible with Karcher's pressure washers only. While this may seem like a letdown, you should know that this is one of those gadgets that you will not be sorry for owning. It features a locking joint which helps the extension wants to be securely locked and makes it easy to store.
You can change the amount of pressure you require and comfortably clean any area diagonally or vertically without experiencing any water splashes.
#9. Simpson Cleaning 80165 Universal Surface Scrubber – Best Surface Cleaner for Heavy-Duty Cleaning
The 80165 Universal Surface Scrubber by Simpson is a heavy-duty gadget that will not let you down. This is one of those surface cleaners that will definitely cut your cleaning time and effort by half. It is able to do so with the help of the wide 15-inch dimension as well as due to its superior functioning nozzles.
And it is lightweight, so you will not have to worry about tiring your arms while moving with it. The stainless steel nozzles actually help the device to almost hover over the surface, so you will not have to push it around.
Moreover, it is compatible with a range of different pressure washers, including gas-powered ones. Now, this device is compatible with washers rated up to 4500 PSI, which should tell you how incredibly powerful it really is.
You will find it to be working as effectively and seamlessly on super dirty areas as it would in light to moderate dirty areas. Furthermore, the high-quality powder-coated steel body ensures that it serves you for ages.
#10. Generac 6132 High-Pressure Surface Cleaner – Best High-Pressure Surface Cleaner
Finally, for our last review, we kept the super prevailing surface cleaner by Generac. Given Generac's reputation of always delivering us with high-quality goods, we had to try this one out, and the 6132 provided to be just as amazing as their other devices.
This robust rotating surface cleaner designed to ensure that all the dirt and marks from your surface get eliminated with bare minimum effort. The rotating nozzles help to clean the surface in the correct manner – which means no unwanted marks will be created by the device.
By featuring flexible yet tough brittles, it helps to clean the surfaces without causing any damage.
Moreover, it helps to revive the shine of the area. You will be happy to know that the intensity of the spray can be controlled. Also, the use of heavy-duty brass along with stainless steel allows the device to be super long-lasting.
Things to Consider When Buying Pressure Washer Surface Cleaner
Now that you have read our best pressure washer surface cleaner reviews, there are some factors that you need to consider to make the correct choice. Let's take a look at what they are:
Since this is a device that you need to push around the area you want to clean or lift up in case you are cleaning vertically, you wouldn't want a heavy item. Working with a heavy device is likely to make the procedure unnecessarily tiresome and, to some extent, difficult.
Given that the main reason behind owning a pressure washer surface cleaner is to make things easier and hassle-free, you should definitely look for a lightweight device, so your arms and hands won't cramp up.
Moreover, a lightweight device will be faster to work with than a heavier one, which is likely to take more time to move around with.
The pounds per square inch (PSI) will help to establish how strong and effectively the water jet is going to be when it comes out of the nozzles of the device.
And the more the PSI rating is of the device, the more powerful it will be. As a result, it will be very successful in getting rid of the most stubborn marks and dirt out of the surface.
Now, the minimum PSI needed for your personal needs will depend on how much area you are going to clean as smaller spaces will not require more than 2,000 PSI, while medium to large spaces will require 3,000 and more.
The cleaning power of the device usually comes in a singular digit, which determines how well the device is going to clean the surface. Generally speaking, the higher the cleaning power of a device is, the better it is going to be able to clean the surface.
However, you need to keep the sensitivity of the material of the surface in mind. Higher cleaning power increases the chances of the device, damaging any sensitive or soft surfaces. So, you should go for a cleaning power rate that will be compatible with the material of the surface area.
Now, one of the most important factors to consider before purchasing a pressure washer surface cleaner is definitely its size. The dimension of the device will regulate how much coverage the device is going to have.
Going for a device that is going to provide you with larger dimensions will help you cover a large area at a time. This means that you will require less time and effort to clean the area. That being said, you should keep in mind that a larger dimension may result in a heavier device.
How to Use Surface Cleaners with Pressure Washers
If you want to ensure effective cleaning at one go, then you must learn about the steps you will have to take to properly use the pressure washer surface cleaner. Let's see what the right steps are to be taken:
The first task you need to do is gently clean the surface to make it free of stones or other similar objects. You should also remove any sensitive items which may get exposed to the high-pressure water.
By taking these steps, you will be ensuring that the area is safe for the nozzles and rotation of the device. In case the nozzles come in contact with blocks or other such harsh elements, it is likely to get damaged. On the other hand, sensitive items may get spoiled if it comes in contact with the high-pressure water.
Plugin the Surface Cleaner
Next, you will need to join the surface cleaner with the pressure washer. With smaller ones, the procedure is about connecting your trigger with a wand. For bigger ones, you will need to detach the trigger and attach your outfeed hose straight to the device.
After you have gone through the initial steps, and you are sure that you have connected the power and water supply properly with the surface cleaner, you can go ahead and disable the safety switch.
Remember to make sure that there are no leaks or loose connections before disabling the safety. After this, you simply need to squeeze the trigger gun and check if there is a steady and proper water flow coming out of the device.
Start the Cleaning Process
Finally, once you are happy with the flow and pressure of water coming out, you can go about the cleaning method. In case you want to use any sort of cleaning solution to enhance the result of the cleaning method, you can add the solution after you have wet the entire surface area.
After this, all you need to do is walk about with the surface cleaner until you get your desired results. A tip from us would be making the most of the edges of the gadget, as this does the best job when it comes to cleaning.
Frequently Asked Questions – FAQs
✅ Can I Use Hot Water with a Pressure Washer Surface Cleaner?
You can absolutely use hot water with a pressure washer surface cleaner, given that your device supports it. Using hot water will help to remove a lot of substances that otherwise would have been difficult if you just used cold water, such as automotive fluids, grease, and other hard grimes.
Heated water does a better job of breaking down these difficult contaminants than cold water. Most of the devices available in the market support using hot water. However, some of them may be sensitive to this, so do check the specifications of the device before you make the purchase.
✅ Do Surface Cleaners Use Less Water than a Standard Wand?
While pressure washer surface cleaners exert more water at a time, it actually results in you not using and wasting as much water as you normally would have.
In general, surface cleaners are much faster in properly covering and cleaning an area if compared to a standard wand. Faster cleaning does indicate that you will not be using the same amount of water.
✅ Can I Use Detergents with My Pressure Washer Surface Cleaner?
Generally speaking, pressure washer surface cleaners are very well equipped to clean any sort of dirty water by just using water. While hot or warm water does a better job than using cold water, still cold water is usually more than enough for proper cleaning.
However, if you wish to enhance the cleaning results, then you can use any sort of mild detergents given that the device you are using did not specify avoiding detergents. But, in most cases, mild detergents are acceptable to be used.
✅ Can I Use a Surface Cleaner Meant for Electric Washers if I Have a Gas Model?
Thankfully most of the surface cleaners claim to be compatible with gas power, but in case your one does not specify whether you can use it with gas models, you should know that you still can.
What you need to ensure is that you are matching with the unit's PSI and GPM so that the pressure washer does not end up overloading your device.
✅ Can I Use a Surface Cleaner on Fences or Walls?
Surface cleaners were actually created for cleaning different types of floors. That being said, more and more models are now coming up with designs that allow you to clean vertically, given that the surface is flat.
One thing you need to keep in mind is to ensure that the desired area will be able to take on a surface cleaner. Furthermore, in case you want to clean vertically, you should definitely go for a lightweight model.
✅ Does a Surface Cleaner Require Heavy Maintenance?
One of the best things about surface cleaners is that it will not ask too much from you. This means that the device does not require heavy maintenance to operate properly.
What you do need to do to ensure that you have a proper functioning device is to take care of the nozzles. The nozzles should be kept clean and should avoid coming in contact with hard elements such as stones as it can damage the overall performance of the gadget.
✅ Which Modes Are Better – Wheels or Floaters?
Both of these modes are great under different circumstances. If you are going to clean uneven floors or surfaces, then you should go for floaters as they are better suited to deal with this sort of environment.
On the other hand, if you need to clean a large amount of area and the area is flat and smooth all over, using wheels will make the process even smoother and way faster. Thus, you should make this choice depending on your needs.
✅ What Is the Best Surface Cleaner Attachment Size?
To determine the best surface cleaner attachment size, you need to consider two very vital factors. The first factor to consider is certainly the power of the pressure washer.
Powerful pressure washers should have a sizeable surface cleaning attachment. Failing to match the size with power will result in a device that doesn't work as well.
On the other hand, you should factor in the kind of area you are going to clean. In case you own a small house or need to clean tight spaces, you should definitely go for a smaller sized attachment as that will make the cleaning process way easier.
✅ Can You Damage Concrete with a Power Washer?
Power washers exert a very powerful jet of water, so it is imperative to be very careful while working with this device.
Despite being one of the strongest materials, concrete is not completely safe from wear and tear. Using a power washer too often or at very high power may result in the concrete getting etched or cracked.
✅ What PSI Do You Need to Clean Concrete?
If you want the best and most effective cleaning, you need a device that will allow you to work at 3000 PSI. Devices with power less than 3000 will work but are likely to take more time and effort. While more power is likely to make the process faster, but it may cause damage to the concrete.
✅ Does a Pressure Washer Use More Water than a Hose?
If you bring in statistics, a hose exerts 20 gallons of water per minute, whereas a pressure washer exerts 2 gallons of water per minute. While this screams that pressure washer uses more water, the opposite is true.
Pressure washers cover way more area at once than a hose does. It also is way more efficient in cleaning the area with one exposure, where a hose requires more time and effort in a given area. In this way, pressure washers end up using less water than a hose.
✅ How Do I Make My Own Pressure Washer Detergent?
There are multiple different do-it-yourself recipes for pressure washer detergents. You can mix a gallon of water with a half cup of borax, half cup of washing soda, and a tablespoon of liquid dish soap. Then, you will end up with a highly effective cleaning solution.
Other than that, you can mix the detergent powder with bleach and/or other cleaning solution. In case you want an eco-friendly recipe, we'll recommend using a third of a cup of any phosphate-free laundry soap and a two-third of a cup of powdered cleaner with water.
✅ How Can I Avoid Having Circle Marks on the Floor When Using a Surface Cleaner?
The easiest thing you can do is get a device that has been designed to eliminate leaving streaks or circle marks on the floor, such as the Karcher 15-Inch Pressure Washer Surface Cleaner.
Other than that, if you simply maintain a proper stance and line while cleaning the surface and avoid overlapping, you should avoid getting any marks.
Final Words
Before we wrap things up, we would like to urge you to carefully go through each section so that you have an adequate amount of information before you make your purchase. We know that selecting the best pressure washer surface cleaner is no easy task given that the market is filled with great options.
And we hope we were able to help you narrow down your list and guided you to understand your needs better to enable you to make the right choice. Best of luck with your purchase!