What Is Eco-Friendly Roof Cleaning?
Residential and Commercial washing using NON-bleach, green, ECO-FRIENDLY roof cleaning products. This is very much popular among citizens who have a deep commitment to the environment and do not want to harm mother nature as well as children, pets, and plants.
Is it Safe and COMPLETELY Clean Your Roof?
Yes, this method is 100% effective at removing stains from moss, mould, mildew, lichen, fungus or black algae on roofing shingles including asphalt, metal, tile, fibreglass, wood shake, rubber, and new composite materials.
This method will completely clean your roofing shingles if properly applied.
When the method is first applied the organic growth is killed off within the first 48hrs.
The dead material is completely washed off over the next few weeks with the wind and rain.
This is affordable, the results are not immediate but complete.
This will gradually get your roof to look new but you will have to be patient as it may take a bit of time.
How Much Does Roof Cleaning Cost?
A typical low-pressure cleaning with bleach can cost from $200 to $1,000 for the average home. Eco-Friendly methods cost quite the same, 250$ to 1500$ for the average home, $0.20 to $0.80 per square foot.  This will vary according to your location, contractor, roof type and service quality. DIY methods are much more cost-effective.
| | | |
| --- | --- | --- |
| Cleaning Methods | Costs | Per Square Foot Costs |
| Cleaning With Bleach | $200 to $1,000 | $0.20 to $0.65 |
| Eco-Friendly methods | 250$ to 1500$ | $0.20 to $0.80 |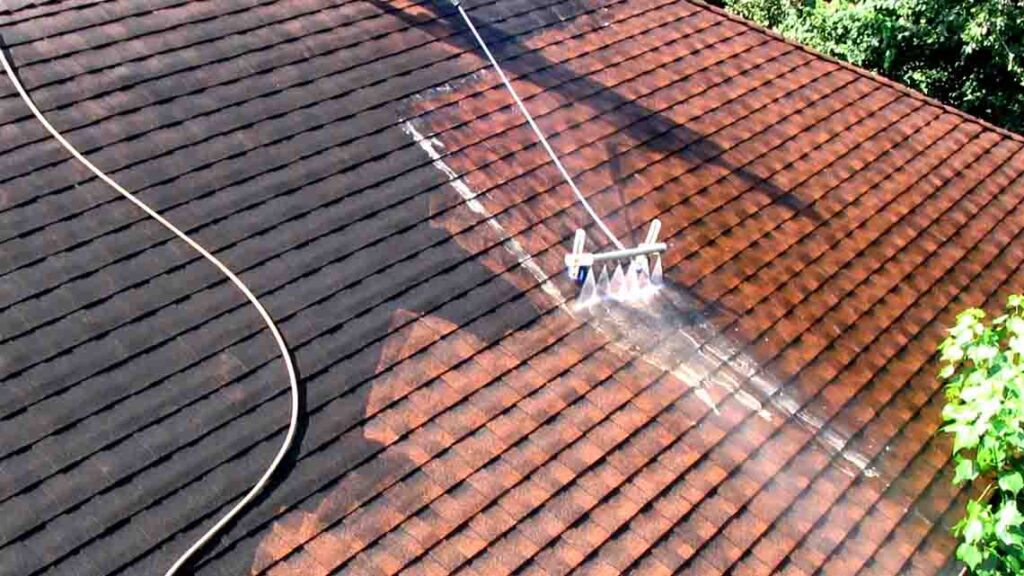 DIY vs. Hiring a Cleaning Professional
It is almost always the best choice to hire a professional cleaner to clean your roof Eco-Friendly. An expert cleaner can:
Safely navigate the roof surface
Avoid breaking delicate tiles or shingles
Use the right products
COMPLETELY clean your roof
When you're ready to contact roof cleaning services near you, be sure to get at least four quotes and ask about experience.
But if you want to clean it on your own, then you have to follow DIY methods. This is not as easy as you think it is. It can be dangerous. Good effort and the right tools are the keys. You have to prepare with the right tools and green cleaning products before doing this. A DIY cleaning method can:
Save your money
Give you complete satisfaction if you can do it properly
Be sure to know what you are doing before starting to clean on your own and not forget to buy suitable eco-friendly roof cleaning products.
Why Should You Choose Eco-Friendly Cleaning Methods? 
Our mother nature is changing, revenging upon us for our consequences. We are the only ones who can prevent this from happening. Here is why you should use eco-friendly cleaning systems for your roof:
You can reduce pollution and contamination by using more Eco-Friendly products.
Bleach, surfactants or other chemicals can cause serious harm to your roofing materials as well as your garden plants, pets, and children.
Most of the roof washing chemicals release toxic compounds into the atmosphere including Phthalates, Perchloroethylene/PERC, Ammonia whenever they are used and they are not good for your health. Some of these chemicals will pollute your soil for years. That is not good for your plants.
You feel better because you are doing something good to preserve public health and a healthy environment.
Our children, pets, and plants will have a better environment to grow up in.
How Can You Identify Good Eco-Friendly Cleaning Products For Your Roof?
Most of the green roof washing products are made of hydrogen peroxide. It is earth-friendly and very popular. Some companies use a special blend of green algae and moss neutralizers although there are a lot of alternatives in markets.
Why Is Roof Washing So Important?
Roof washing is extremely important and probably the most important part of home improvements. It can help you to keep your roof clean, prevent partial repairing or even a complete replacement of your roofing. Roof replacement may cost you 20x more than washing.
It is very necessary to clean your roof perfectly at least one time per 10 years. If you want your roof to last longer, an annual soft roof cleaning is the best way to avoid expensive master cleaning. This will not just make your roof clean, it will save you money.
Moss or lichen-covered roof shingles absorb heat, which will eventually increase the temperature of your home and increase your air conditioning bill. Over time, algae, mould and other debris make your roof prone to damage and in turn decreases the longevity of it. 
Top DIY Green Roof Cleaning Tips
Think carefully before using a high-pressure washer on your roof. Must use surface cleaner for pressure washers if necessary. Slate and terracotta roof tiles can be brittle so soft washing technique is ideal for this. High-pressure washer not only dangerous to the tiles and slates, in most cases compromises the integrity of the roof structure.
You can use A Lightweight Ladder to deliver the product on to your roof.
If you think your tiles are strong enough you might use high-pressure spray. But keep in mind that this process uses thousands of liters whereas a soft wash process might only use 200 liters of water.
Pro Green Roof Cleaning Contractor Hiring Tips
Allow the contractor to use a high-pressure washer on your roof if necessary.
You should ask him to give you at least three references from satisfied clients. Most of the trained and renowned contractors always care about their clients and reviews.
Don't hire any contractor who doesn't have roof cleaning insurance. Cleaning roof is not among the general cleaning category because of its liability level. Almost all insurance companies charge additional fees for roof cleaning insurance. So, first, crosscheck his papers then go on the procedure.
You will always find someone who charges less, quality matters.