The selection of paints is vital not only in beautification purposes but also in the protection of your roof. When it comes to painting house roofs, you can use different types of paints, such as acrylic, silicone, bitumen, and elastomeric roof coating.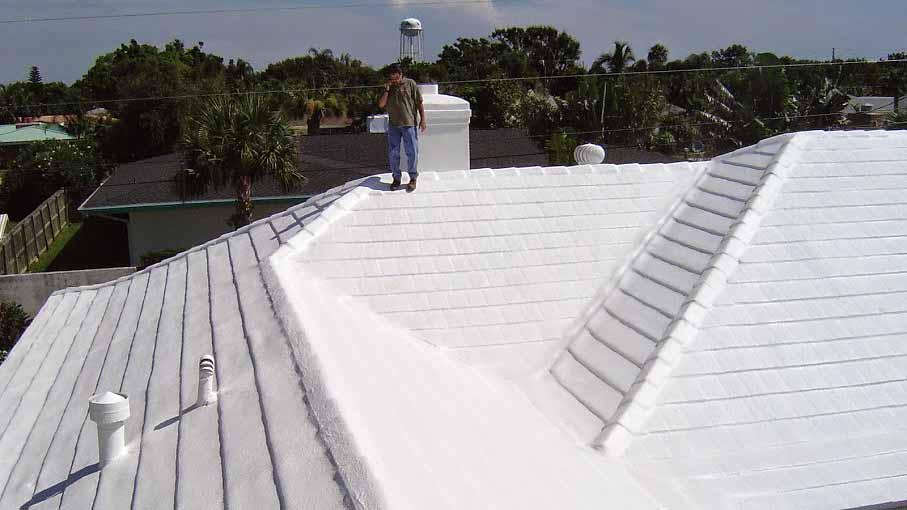 Silicone roof coating, aluminum roof coating, and elastomeric roof coatings are the usual suspects when people want to buy coatings for their roofs. But elastomeric coatings bring more to the plate than the rest. Let's dive into the discussion,
Related: Metal Roof Paint: 10 Mistakes to Avoid
The Benefits of Elastomeric Roof Coating
Elastomeric paints have some benefits you can look forward to as a way to get the best out of your money as well as to take care of your roof better. Let's go briefly over the benefits.
1. Seamless Surface
Elastomeric roof coatings are monolithic membranes that are sprayed on your roofing system. After it's sprayed, it creates a bond together by melting. That's why you don't see any seam or patches on the surface. No sealing is required as they work as sealant too.
The seamless surface brings another benefit, and that is the ability to walk on the surface without the fear of cracking the paint. There's no risk of slipping and falling either.
2. Waterproofing
Elastomeric roof coating is the best roof sealant for leaks. It waterproofs the surface. The heavy coats create a seamless membrane, so the chance of creating leaks is reduced significantly. You need to put the required number of coats to get the maximum waterproofing.
3. Reduction of Installation Cost
Unlike other metal roof paints, an elastomeric acrylic roof coating can be applied directly to your existing rooftop. This shortcut speeds up the installation time. The process isn't as labor-intensive as when you completely do it from the scratch because you aren't tearing off your existing roof. And that's how the cost is reduced.
4. Saving Energy Bills
Elastomeric paint options are favored by the environment concerned population as these are very handy in saving energy bills by reducing HVAC usage. Thanks to the highly reflective nature and thickness of elastomeric coatings, these can prevent heat from increasing the ambient temperature of the house.
In countries with hot weather, this is important as the HVAC system needs are reduced. And the reverse happens in cold countries like Canada.
5. High Reflectivity
Highly reflective elastomeric roof coating performs excellently in protecting your roof from UV-ray. UV-rays can degrade the structure of your roof, forcing you to change it sooner than you should. The UV-ray protection ability of elastomeric coatings lengthens your roof's lifespan.
6. Flexible in All Weather
Elastomeric roof coatings are more flexible than general acrylic paints. With a 10x times thicker membrane, elastomeric coatings can stretch up to 300% more any standard acrylic paint. In any weather, it stays flexible to accommodate the changes in the roof due to temperature fluctuation.
Flexibility ensures that the paint won't tear even when you're walking on it, unlike general paints.
7. Protection Against Nature's Harshness
The weather is unpredictable, and it can heavily damage the roof with hurricanes, strong winds, thunderstorms, etc. Even objects thrown on to the roof due to strong winds can damage it severely.
Moreover, the seams can be ripped apart, and a chance of rainwater leaking will be created. But not with elastomeric roof coatings as it creates a seamless surface membrane that can withstand such harshness.
8. Longer Lifespan
When you take into account all the protection, waterproofing, high reflectivity, you know that it'll increase your roof's lifespan. And the fact that you can easily recoat the roof without taking off the existing coating means you can continue to keep the surface intact for the foreseeable future.
Elastomeric roof coatings can last from 10 years to 20 years from just one application. If you apply a 20 mil coating, a 10-year lifespan is more or less guaranteed, which is not the case with non-elastomeric acrylic paints.
9. Suits a Large Range of Roofs
Elastomeric coatings are known for versatility. Metal roof, wooden roof, rubber roof, concrete, membranous roofing, single ply, and many more surfaces are suitable for this type of coating. It works with all. It's not an exaggeration to say that this is the best paint for corrugated metal roof.
10. Environment-Friendly
Restoring your existing roof and reusing the current materials drastically reduces waste and thus improving the environment. Then you add the fact that it saves energy. That's why it gets the seal of approval for achieving green technology.
Conclusion
The benefits of elastomeric coating should trump all other options you might be considering for your roof. Albeit it costs more than other alternatives, sometimes up to 50% more, we say that the quality it brings justifies the price. But it needs less number of heavy coats thanks to its much thicker membrane.
This video is showing a step-by-step guide to install elastomeric coatings on flat roofs. Hope this will help you.