No one of us wants to talk about vomit especially if it is about how to clean vomit out of carpet? If you have to tackle such a situation, the most important thing to do is to pick up the vomit as soon as possible from the carpet.
In case you will not remove the vomit instantly chances are it will leave a bad odor and stain on your carpet. Dealing with such a situation will be tough for you because it will make your carpet look old and dirty.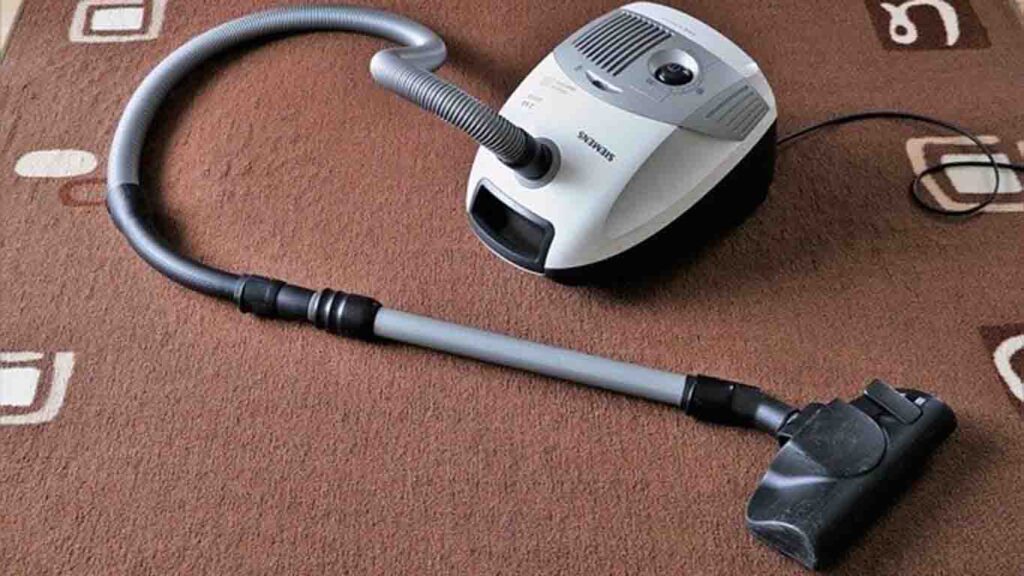 How To Clean Vomit Out Of Carpet?
Before considering the tips to deal with the stains and how to get vomit smell out of carpet, it is essential to know the best ways to remove the vomit from the carpet. It is always best to use a steam cleaner and carpet cleaning solutions to clean your carpet. It makes the procedure easy and hassle-free.
If you have an elderly member in your home then it's the best idea to buy a
handheld carpet cleaner
, because they are lightweight and very easy to use. As a pet owner, I always prefer
lightweight pet carpet cleaners
because not all of the carpet cleaning machines are designed for pets although most of them are.
You probably have some thin cardboard and rubber gloves in your home. The card should be hard enough to hold the vomit. You can also clean up the vomit from the carpet using a plastic bag.  Put your hand in the plastic bag, lift the vomit up, and turn the bag from the inside to the outside. Close it before throwing it away.  
1. Use Club Soda
If you are searching for a good vomit odor removal from carpet, this tip is for you. Club soda is also easy to use as vomit cleaner. Simply remove as much vomiting as possible and then pour club soda directly onto the blemished area.
Club soda is just water that contains dissolved salts and carbon dioxide that will not only remove the stain but also odor of vomit. Wet the stain with mineral water, and then dry it with a clean cloth or with a paper towel.
Q Mixers Club Soda can be a great option here. You can try it.
2. Try White Vinegar And Water
If you are considering how to get vomit smell out of carpet, you can make use of vinegar as it works as a stain remover. Spray white vinegar diluted with an equal part of water on the stain. Leave it for around 15 minutes, and then dry it with kitchen rollers.
Repeat this process until the stain disappears. If that doesn't work, you can try spraying a two-part water solution with a portion of white vinegar. This will definitely help you clean the vomit stains from the carpet.
3. Get A Dry-Cleaning Solvent
After removing the vomit from the carpet, apply a dry-cleaning solvent to a clean cloth or towel and use it to clean the stain. You can use the dry-cleaning solvent of any brand you like. Blot the stain using saturated rag until the solution gets into the carpet, and the stain disappears. You may have to repeat it several times for completely removing the stain.
4. Sprinkle Corn Starch
Are you still wondering how to get vomit stain out of carpet? Corn starch is also a great product to use on vomiting spots. It helps to dry the moisture and prevents small clumps. Sprinkle a large amount of corn starch on the stain. Leave it for around 10 to 20 minutes or until the lumps start to dry. Then clean the area by removing all the clumps. 
5. Make DIY Vomit Cleaner
You can also clean the vomit from the carpet by making your own cleaner. Mix two cups of warm water with one tablespoon of salt, half a cup of white vinegar, one tablespoon of laundry or dish detergent, and two tablespoons of alcohol. Spread this cleaner all over the stain using a sponge. Dry the stain with a clean and dry towel until all of the dampness has been removed. Also, rinse the vomit area with water.
6. Use The Steaming Technique
Spray a mixture of water and vinegar on the vomit stain. Use two parts of water and one part of vinegar to make this mixture. Apply with a damp white cloth to the stain. Use a steam iron for steaming the stain for 20 minutes. 
7. Try Neutralization
Apply any enzyme-based detergent to remove the odor. These cleansers work best to break down the odor. You can also make a solution using dish soap or vinegar. Apply this mixture or enzyme-based detergent to clean the vomit from the carpet and eliminate the smell. Repeat the process 2 to 3 times for better results.
8. Use Hydrogen Peroxide
For extreme stains, make a solution of one section dish cleanser with hydrogen peroxide in an equal amount. Spray the solution over the stain and let it work for roughly 30 minutes. With a cloth or material, tenderly rub the stain to make foam. At that point, spot the dampness with an evaporate material to splash it. Continue to pour some water over the stain to wash the cleanser.
9. Make An Ammonia Solution
If you are thinking about how to get dog vomit stains out of carpet, you can try ammonia and water. Dissolve a tablespoon of ammonia and one cup of water. Stir this ammonia solution and then put this solution into a bottle. Spray it on the stain slowly and use a towel or a sponge to dab it into the carpet. Rinse this solution with water and use a dry cloth.
10. Sprinkle Baking Soda
Baking soda is a wonderful ingredient to clean out the vomit from the carpet. The first step in cleaning the stain is simple. You have to moisten the stain with hot water. After this, bloat it thoroughly by using a kitchen roll or a dry cloth. After drying the area, sprinkle a lot of baking powder on the stain and leave it for 10 to 15 minutes. Finally, vacuum the baking soda. Rub a wet towel on the vomit area and let it dry.
If you were searching for how to clean dried vomit from carpet there is no need to go anywhere else. These 10 easy tips and tricks will help you clean your carpet easily. Once you will remove the stain your carpet will be as good as new. There will be no sign of vomit stain or odor on your rug.