Metal roofing brings a lot of benefits to your house, no doubt about it. It lasts long and is quite durable against different weather conditions. But all that might go, poof, if you don't use the correct paint on it. Repainting metal roofs isn't a happy feeling.
So, it's paramount that you use the best metal roof paint available on the market. Metal isn't like wood or other materials that are easy to paint due to their rough surface. Plus, not all paints will work well on your metal roofs.
"Liquid Rubber Waterproof Sealant" is our top pick. Also, it's one of the highest-rated products online. Good paints such as this one have the properties that also work well as sealers, all the while protecting and beatifying the surface of your roof. Elastomeric acrylic latex paint and oil-based alkyd paint are among the best options you can look at.
10 Best Metal Roof Paint Reviews
As you're out to buy paints that work well to protect your metal roof, you'll face a lot of difficulties choosing the best one. To make your life easy and save your time, we did the job for you. The review below will help you make your decision.
#1. Liquid Rubber Waterproof Sealant, Black by L R – Highest-Rated Product
First in the list is the waterproof sealant from L R. They are known for a wide range of quality paints for your housing and other needs. Being a renowned company, you can be assured of the quality it brings.
You can use this paint on a wide range of surfaces such as metal roofs, flat or sloped roofs. It is even usable on foundations, ponds, wood, concrete, and whatnot. Also, it's one of the highest-rated products online, and that should tell you about the rate of satisfaction.
If you're not an experienced person when it comes to painting roofs, do not worry. This paint is very easy to put on. Ever done painting on canvases? It's the same thing here. Use a good brush or roller to apply.
Remember to put on heavy coats to maximize on the waterproof membrane properties. You'll get a 1.5-2 mm thick waterproof membrane with 4-5 heavy coats on flat surfaces and .76 mm membrane on vertical surfaces.
If there's any paint left after you're done, you can close the container and store it for later use. There are no environmental issues with this paint, so you can rest easy thinking you're not harming the surroundings!
#2. Liquid Rubber RV Roof Coating Sealant, White by L R – Best For RV Rubber Roof
In number two, we've another product by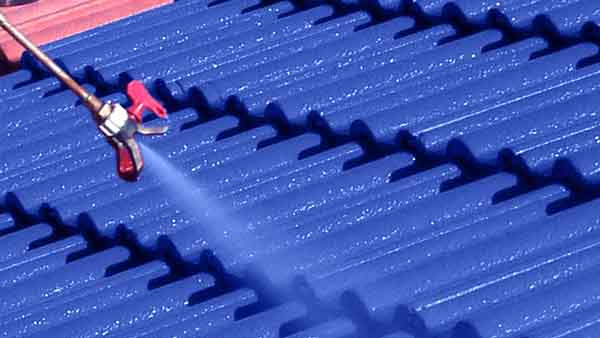 L R. This specific paint cum sealant is for treating RV roofs with white paint. The brand is well known for its customer satisfaction capability, although it can be too pricey for some.
As with other options from L R, this paint can be used on various surfaces. Other than RV roofs and metal roofs, you can use it on campers, trailers, sheds, and fences, wood, concrete, and the list goes on.
How to apply? It's very simple and doesn't need any expert hands to do so. Just use any good quality roller or brush with a retainer for excess paint. Using a sprayer is another good option, but it's hard to keep track of the number of coats.
Around 2-3 heavy coats will give a good amount of waterproof membrane. You can cover an area of 50 sq. ft. or 4.5 sq. m with each gallon of paint. The paint is safe for the environment and free of bad odors. Also, you can use it indoors and outdoors alike.
Be sure to clean and dry the surface before you use the paint. If you have any paint left, you can store it away for later use. It'll stay untainted.
#3. Rubberseal Liquid Rubber Waterproofing and Protective Coating
This liquid rubber paint is one of the cheaper options you can consider for painting your metal roof. It's white, so it'll match perfectly with your white theme. The color might not look as appealing as darker or vibrant colors, so keep this in mind.
First and foremost, the paint does the job of waterproofing and insulating your roof as well as protecting the surface from UV very well. Any house roof and RV roof are suitable places to apply this specific paint. It doesn't have a large range of surfaces under its compatibility belt like the higher priced ones.
It has an EPA energy star rating. One worry with paints is longevity under different weather conditions, and this paint is highly resistant to aging. It'll age, but slowly so you have a long time before you need to repaint the surfaces.
You can cover around 60 sq. ft. per gallon at 20 imperial mils, and the final membrane is highly flexible. For good waterproofing capability, put on 3-4 heavy coats. Wait for the paint to cure before putting on a new coat. This is the best paint for a rusty metal roof.
It has low VOC and is free from harmful elements. You, your pet, and the surroundings won't be harmed.
#4. Liquid Rubber Foundation Sealant, Black 5 Gallon by L R – Best Paint For Corrugated Metal Roof
This is a perfect solution to any leaking problem you might have. It's a foundation sealant from L R. While it's not specifically for beautification, it does the job and does it well.
Other than its main purpose of sealing foundations, you can use it on your basements, fences, metal surfaces, wood, and concrete surfaces as well. The sealant is quite flexible, and the final membrane can elongate up to 900%.
You don't have to do any mixing of any sort. Just open the container and start applying like an expert. It's recommended to use a good quality brush, roller or piston paint sprayer. There's no pot life, unlike the 2 component products.
The paint cum sealant is a water-based solution and quite safe for the environment. It doesn't have any bad odor coming off of it. With its waterproof properties, it should be good for both indoor and outdoor applications.
You'll need to put 3-5 heavy coats to achieve a thick enough membrane for waterproofing. And you can only put on 1-2 coats per day as it needs time to cure. Don't apply during rainy days or on unclean surfaces.
#5. Montage Signature Eco-Friendly Paint, Desert Tan-Low Sheen
This paint from Montage signature is a highly sought-after paint for a variety of applications. The brand is well-known for its quality and satisfactory service to the customers. This one boasts a desert tan color with a low sheen finish. It should look good in any home.
Furthermore, it's extremely versatile. Whether it is interior applications or exterior ones, it can serve all in both small residential places and big corporate houses. And the options of surfaces that you can apply on are plenty.
You can cover a large area with each gallon of this paint, and it has a very smooth finish. The finish is low sheen, which is great for the interior walls of your living areas like bedrooms, dining rooms, etc.
It has a bit more sheen compared to a true flat finish, but it can hide the imperfections of any drywall. Your metal roof and walls will stay protected from mold, mildew, and any moisture.
The content is pollutant-free and free from any harmful elements to the environment. It stays untainted for a long period if left in storage.
#6. Heng's Rubber Roof Coating – Best Paint For Galvanized Metal Roof
Another good option for you if you're on the hunt for cheaper paints is this roof coating from Heng. It has all the goodies of premium quality paints within an affordable price range.
You can use it on RV rubber roofs, seams, and tears other than metal roofs. It can stick on to any regular surface. So, you don't have to worry about it peeling off any time soon. Sealing vents and air conditioners are a good use of the leftovers you have after painting your roof.
It's highly resistant to UV rays and doesn't lose its color easily while protecting the surface from damage. Also, it can accommodate the shape change of the roof by expanding and contracting when needed.
The paint membranes can withstand impact and prevent any cracking that might happen to your roof. Heavy coats will make sure you're capitalizing on its waterproofing ability.
With each gallon, you can cover up to a 15 sqft roof. Thicker coats mean a bit less coverage. Use a good brush or roller for the best result and clean the surface before applying.
#7. Dicor RP-CRC-1 Rubber Roof Acrylic Coating White
While it's for rubber roofs, it works as well on metal roofs with no issue. This is acrylic paint in white color. We chose this paint due to the rating it got from the customers. Customer satisfaction seldom lies. Undoubtedly this is one of the best metal roof paint and sealant.
If you're looking for a cheap option to protect your roof and give it a nice finish, then this one should be in your consideration. It will eliminate any leak or rumble your roof might have experienced.
As it's a highly flexible coating, it expands and contracts when the roof changes its shape at different temperatures. So, it doesn't tear up easily. It's durable, lasts long, and protects your roof from UV rays by working as an insulation layer.
You need to apply it when the weather is warmer as it's a thick paint. If you want to put on 3 heavy coats, you need 1 and a half-gallon of paint for a 35 sqft roof. But it's not absolute; it'll depend on how much you want to put on.
After you've coated your roof, it'll require very little maintenance all through its service life. But it's not free from negatives as it's not usable on all surfaces.
#8. Jetcoat Cool King Elastomeric Acrylic Reflective Roof Coating, White
Elastomeric acrylic paints are a good option to coat your roof. And this one from Jetcoat has the popularity to prove its worth. It has a roof-cooling ability, which significantly helps with the energy savings of your house.
It's highly versatile regarding the application on surfaces – rubber roofs, modified bitumen, asphalt, concrete, wood, and of course, metal, which is our topic. If the surface is flat or has gravels, then this is not recommended.
With each gallon of this paint, you can cover up to 70 square feet per coat. If you want maximum coverage, then use double coats. It dries very quickly after application, and that's like 2-3 hours on average.
Of course, to get the fastest result, you need to do it when the temperature is 60°F or above. If the forecast signals temperature below 60°F for the next 24 hours, then don't apply it.
The paint is costly, no doubt. But it's worth it if you look at the advantages it brings. It's flexible and protects the roof from damages. If you don't want to reapply a coating for at least 5 years, then we'd say this is the best deal.
#9. HENRY HE587372 Roof Coating
While this is made for any roof, it works very well on metal roofs without an issue. This is an elastomeric acrylic paint in bright white color.
If you're after a good option to protect your roof and have a nice finish, then this elastomeric paint should be in your consideration. It will work as a sealant and protect your roof from damages.
With a highly flexible elastomeric content, it expands and contracts when the roof shape changes in different weathers. It doesn't tear easily and lasts long. Also, by insulating your roof, it protects it from UV rays.
You need to apply it when the weather is warmer than 60°F for a good result. If you want to put on 1 heavy coat, you need 1 gallon of paint for a 50-60 sq. ft. roof. But it's not absolute measurement as it'll change from person to person.
After the coating is completed, it'll not require any high maintenance program all through its service life. Its elastomeric content allows applications on various surfaces.
#10. KST COATING KS0063300-20 White Roof Coat
Another paint manufacturing company based in China is the KST coating. Chinese manufactured paints have been performing very well in different weather conditions other than China.
This is an elastomeric paint, which says a lot about its flexibility. It expands and contracts with the surfaces it's applied on. So, in different weathers, the paint can accommodate its elongation accordingly, which makes it durable and long-lasting.
The contents of the paint give the finish an elegant and smooth look. If you use it in your exterior, it won't feel out of place, although it's not made for that purpose.
This specific container is about 4.75 gallons, and with this amount, you can cover up to 1500 sq. ft. of an area, which is one of the highest among its class. Use any good roller, brush, or even piston-powered spray to do the job.
It's versatile enough to work on any regular surfaces such as RV roofs, metal roofs, wood, concrete, and many more. As one of the most highly rated paint, this should impress you, and it has an affordable price point compared to the US-based premium brands.
Ultimate Buyers Guide For Best Metal Roof Paint
Before you decide on which paint to buy, you need to keep some factors into consideration. These factors determine which is the best paint for metal roofs. We discussed briefly on these points below.
Versatility
Versatility is an issue you need to consider because this is the mark of good quality paint. Any paint that sticks on to a variety of surfaces is durable and lasts long enough to give back its worth.
Flexibility
When you're painting your roof, you have to consider the weather as a big factor. And fluctuation of the temperature affects the shape of the roof. So, if the paint isn't flexible enough to expand and contract with the roof, then it won't last long. Tearing up will be an issue.
Color of the Paint
The color matters mostly due to the absorption and reflection properties. Darker colors hold in heat which in turn heats the roof. Therefore, if you're looking to cut down on the energy bills in colder countries, this is a good option. Light colors on the opposite reflect heat.
Protection
Protection from UV rays and damages are needed for roofs as it goes through so much of the outdoor environment. Anything and everything might drop on it and scratch it, which will damage the surface of the coating if it isn't strong enough.
Prevention of color loss is also an issue. Check the reviews from users to get good knowledge about it.
Waterproof
Good quality paints are waterproof. But there's a certain amount of heavy coats needed to be applied on the roof to get the best result. Follow the manufacturer's advice on how to paint galvanized sheet metal roofs and how many coats your specific paint requires. It depends on the thickness.
Area Coverage
Paints can cover 30 sq. ft. to 300 sq. ft. per gallon, depending on its components. The more, the merrier, but it's up to your choice if you want it thin or thick.
Temperature
You need to consider the weather temperature that paints need to dry. Generally, warm temperature of 60°F is recommended.
Drying Time
Not every paint dry in the same period. Some are quicker than others. Those paints that dry quickly are recommended as you don't need to consider the forecast as much as you need for paints that take a whole day or more for drying up.
House owners usually make some common mistakes while painting metal roof. Hope you will not make those mistakes.
Frequently Asked Questions – FAQs
✅ How many years will paint last on a metal roof?
About 10 years for a short answer. You should check on the condition two times per year, and after the 10th year, you need to change it.
✅ Can paints save energy on metal roofs?
Yes, they can if they are equipped with the necessary properties. Elastomeric and dark-colored paints have good popularity in this aspect.
✅ Is elastomeric paint a good choice for metal roofs?
Why wouldn't it be? They are flexible enough to handle different temperatures and versatile enough to be applied on most surfaces.
✅ Does paint color matter for temperature?
Yes, it does. Light color paints reflect sunlight, which in turn reduces temperature. But dark colors absorb sunlight that increases the temperature.
✅ What should be the temperature during paint application?
Around 60°F and above. At this temperature, the paint quickly dries up.
✅ How many coats do I need to put for a good result?
It depends on the thickness of your paint. Follow the manufacturer's advice on this issue. 3-4 coats should be more than enough.
Final Verdicts
To conclude, there is plenty of information available in this review to make your decision-making easy. If you're not still sure about the best metal roof paint, then take any one of the products we reviewed. We can assure you that you won't regret buying anyone of them. Cheers.