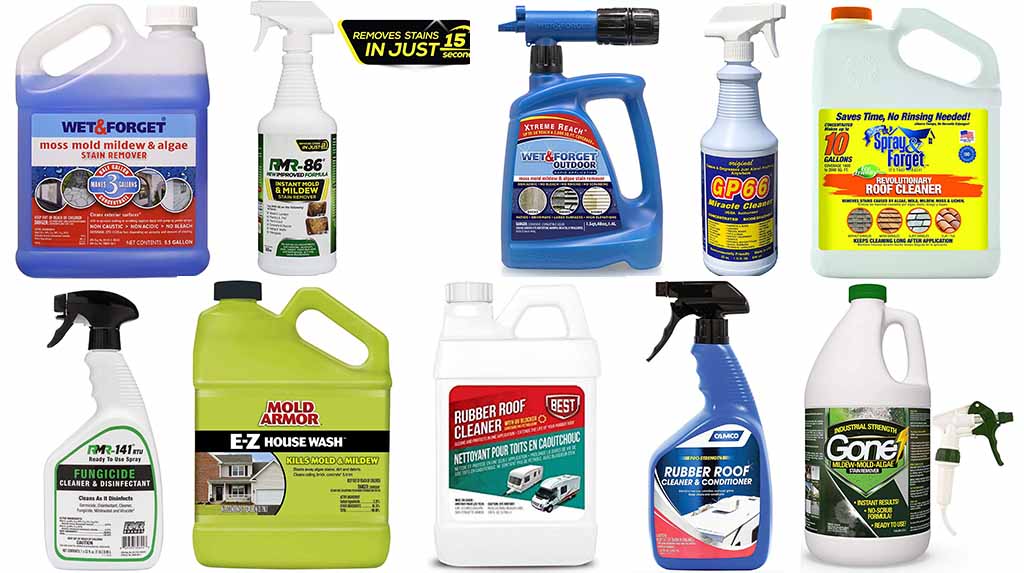 Whether its rust, fungus, mold, or stains left by water or the sun, all of them effectively ruin the beauty of your house. Not only do they have an effect on the aesthetics, but, they also start to destroy your roof. Which is why you need to own the best roof cleaner like RMG-86 Instant Mold Stain & Mildew Stain Remover to successfully combat all of these challenges.
We know how challenging it might be to find the right product that will cater to all your problems efficiently. If you ask us, we absolutely love the Roof and Siding Cleaner by Wet and Forget.
However, since not all products work for everyone, we have listed and created an in-depth review of various highly rated roof cleaners that are being offered in the market. Care to learn more about them? Do continue reading.
15 Best Roof Cleaner Reviews
If you a lazy soul like us and don't like to spend a lot of time and effort on cleaning, then we have just the perfect solution for you.
Here are the top 15 roof cleaners available in the market that we think will cater to different individual's needs. Keep reading to find out more about them
1. Wet and Forget 800003 – Top Rated Roof Cleaner
Just like the name suggests, all you need to do to use The Wet and Forget Moss, Mold, Mildew & Algae Stain Remover is simply to apply it on the roof and leave it be. That's right; you will not have to stay back to scrub and rinse, as the solution will take care of all the issues with the help of nature.
This means after the solution has worked its magic and loosened all the dirt, it waits to rain to wash away the mess and leave you with a freshly cleaned roof.
Now, you don't have to worry about any stains occurring from leaving the solution on your tiles. This is because instead of using chemical bleach, this cleaner is created with a combination of biodegradable surfactants. This is the top-rated roof cleaner currently available.
Thanks to the ingredients, the solution is also left free of acid and has a pH value of 8, which means it is extremely safe to be used on any part of your house. Like most cleaning solutions, this also needs to be diluted with water before using. But, no other cleaning liquid will give you 6 gallons of cleaning products by diluting only one gallon of raw solution. Does it get any better than this?
2. Wet and Forget Roof and Siding Cleaner – Best Product to Clean Roof Tiles
One of the most troublesome parts of cleaning a roof is getting access to all the places. Whether it's the high elevated area or the hard to reach corners, the Wet and Forget Roof and Siding Cleaner with Hose End will be a solution to all these problems. It is clearly one of our best choices for the best product to clean roof tiles.
The Wet and Forget Hose End has been created with a sniper nozzle, which you can use successfully spray objects that are up to 30ft away. Incredible, right?
It comes with two different settings: the flat fan and the jet setting.
The flat fan has been designed for regular use on surfaces that are around you and easy to reach. While the jet setting mode will allow you to target and reach places that are distant and hard to reach. This is the best roof cleaner on the market.
All you require to do to avail of this feature is attack your regular garden hose with the nozzle and select your required setting. Impressively, you will find two options in the dial that will either mix the solution with water before dispensing it out or simply exert water.
To get the best results out of this solution, we will recommend you to use it on a dry day and leave it be for around 6-7 hours minimum. Using it on a rainy or windy day is likely to reduce its effectiveness as well as increases the chance of the solution damaging the exposed plants.
3. Spray & Forget Revolutionary Roof Cleaner Concentrate – Best Eco Friendly Roof Cleaner
Up next, we have the Revolutionary Roof Cleaner by Spray and Forget. Most of us always look for products that will give us the best value, and that is exactly what you will receive if you go for this product.
Not only is the solution being offered at a reasonable price point, but you will be surprised to notice the volume of the solution you will be getting out of it.
With just a gallon of this concentration solution, you will be getting up to 10 gallons of diluted solution. Which is great for you will be able to easily cater to around 2000 square feet of area.
Another thing we loved about this solution is how versatile it is. You can easily use this solution on different materials such as wood, asphalt shingles, slate, tile, or even clay. This is what you may label a sincerely economical product.
Furthermore, this solution is incredibly simple to use. All you have to do is dilute the concentrate with water and apply it to your roof right before monsoon season or before a day that is predicted to have rainfall, and mother nature will take care of the rest.
Now, when it comes to using anything, especially in our homes, we all look for products aren't harmful. Thankfully, this solution is made up of all eco-friendly and non-corrosive ingredients, which makes it safe to use for both the house and the user. This is undoubtedly the best eco friendly roof cleaner in our list.
4. GP66 Green Miracle Cleaner – Best Roof Cleaner For Moss
Is your roof prone to growing a lot of moss and mildew? Then you would definitely want a cleaner that will be strong and won't compromise with the removal process. Which is why we added the GP66 Green Miracle Cleaner reviews in our list because this is the best roof cleaner for moss.
Now, right off the bat, you will notice that the pricing of this product is a bit higher than most of the other cleaners, but it has respectable reasons behind it.
First of all, this cleaner is made out of very powerful ingredients to help combat even the toughest of molds. It can be classified to be an industrial-grade cleaning product that will effectively get rid of lichen and algae better than most other cleaning products.
Better yet, this roof cleaner can be used on any other parts of the household as well as any household appliances. All you will have to do is dilute it, spray it on the desired area, wait for a while, and scrub it out. You are guaranteed to end up with flawless finishing.
You might be wondering if it's safe to be used on household appliances, and the answer is definitely. While the solution is deemed to be very powerful, it is also composed of ecofriendly and non-hazardous ingredients. As a matter of fact, it is even safe around plants! Thus, if money is not an issue, then you definitely consider purchasing this roof cleaning solution.
5. RMG-86 Instant Mold Stain & Mildew Stain Remover
The RMG-86 Instant Mold Stain & Mildew Stain Remover by RMG Brands has got to be the best roof cleaner for moss. Just like the name suggests, it really is an instant stain remover.
To begin with, you should know that the RMG-86 was actually designed by disaster restoration experts. They wished to create something that will effectively remove the toughest stains without putting a strain on our arms.
What you will love about this cleaner is that it is compatible with almost any type of surface. In fact, it is suitable to be used on both exterior and interior stains.
The highlight of the product is unquestionably the fact that it is actually an instant stain remover. It will take up to 15 seconds at the most to get rid of the harshest of stains. All you will have to do is spray it on properly, wait for a while as the stain melts in front of you, and then wipe it off.
It doesn't require to be prepared or diluted. The bottle was designed with a spray on it, which makes the application process very simple and straightforward.
Now, something that you should be aware of, though, is that it is a highly toxic solution. As a result, you will require to wear gloves along with other protective gear. You also need to make sure the area has enough ventilation as the fumes of the solution are highly toxic.
6. Mold Armor FG503 E-Z House Wash
For those who are looking for an affordable solution to mildew, mold, and stains, the FG503 E-Z House Wash by Mold Armor might just be the ideal cleaner.
While this product is being offered at a fraction of the cost compared to most other roof cleaners, it will still give you the same results.
To work with this product, you have to spray the undiluted solution on the needed surfaces and wait for a couple of minutes. Afterward, you just need to clean the roof with a high-pressure washer, and you will end up with a spotless roof.
Now, while this solution is composed of chemicals such as sodium hypochlorite, which is essentially bleach, it isn't very toxic. In fact, it's in such low quantities that it is safe to be used around plants. However, we will suggest you water the plants before and after using the solution as a precaution.
The solution is really versatile and can be used on most surfaces, even brick or wood. But, you should know that as the solution doesn't really require to be diluted, you won't be able to get a lot of product out of it. With one gallon, you won't get more than 3 gallons of solution. But, given that the solution is strong enough to get rid of all the unwanted moss and stains, you won't require a lot of it, to begin with.
7. Camco 41063 Rubber Roof Cleaner plus Conditioner
In general, an RV roof is supposed to last for around 10 to 12 years, but if you want to extend the lifespan as you have to do is take care of it using the right products. Which is exactly what the Rubber Roof Cleaner plus Conditioner by Camco is equipped to do.
This is an industrial-grade cleaning agent that will not only sweep away all the road grimes and tree sap on the roof but will also make the roof shine and make it as good as new. 
It is suitable to treat both RV and travel trailers that have gotten black streaks over the course of years. It will effectively transform old surfaces into brand new ones.
This incredible solution is made out of surfactants and conditioners that are guaranteed to spread into the furthest layers while also smoothening the top of the layer with the best conditioning.
We must inform you that in order to get the desired results, you will have to wash the roof of the RV with water to allow the dirt wash away as much as possible. Next, you can either mix the solution with water, or you can directly spray the solution. After a while, you have to wash the roof with water again and dry it using a microfiber cloth.
8. B.E.S.T. 55048 Rubber Roof Cleaner
Are you currently searching for the best roof cleaning solution to clean your rubber roof? Then we would like to introduce you to the Best Rubber Roof Cleaner by B.E.S.T.
What you will love about this product is that it has been specially designed to combat streaks, rusts, or any other sort of stains. At the same time, you can also use this solution to eliminate mildew, mold, and fungus.
The solution has a non-petroleum formula, which gives it the strength to successfully clean your roof without causing it to deteriorate with prolonged use.
But, you should know that this product wasn't just created to clean your roof. It was also designed to moisturize and preserve your RV or EPDM roof. Furthermore, you will notice an evident improvement in your rubber roof's appearance.
Thankfully the cleaner does not require any sanding or scrubbing to work. All you have to do is spray it and leave it on for a while and then rinse it off using water.
However, the process has to be quick and swift, as you cannot allow the solution to dry out. As the solution tends to dry quite quickly and leave marks behind, it is important to keep an eye out it.
9. EcoClean Solutions Mold, Mildew & Algae remover
Up next, we would like to introduce the Mold, Mildew & Algae remover by EcoClean Solutions. If you are having trouble fighting off the nastiest mold, mildew or algae, then you should definitely check out this product.
What's noteworthy about this product is that not only is it powerful to eliminate the toughest of molds and stains, but it is also safe to use on multiple different materials.
Moreover, you can easily use this product inside your house to clean bathtubs, sinks, kitchen, and more. Additionally, you will not have to worry about scrubbing or working on the surface.
For this cleaner to work, you need to spray the solution on and wait for it to dry. Afterwards, a simple rinse with water will finish the job. Thankfully, it only takes a few minutes to work. You will literally be able to watch the stains and mold disappear in front of you.
Nevertheless, you should be aware that the solution has a heavy chlorine smell, so you need to ensure that the room is good ventilation. We will also recommend you to wear eye protection as well as a respirator.
10. RMR-141 RTU Mold Killer
One of the worst parts about getting molds is definitely the fact that even after clean up, there's still the chance of the smell to linger around. While most cleaning solution brings in the strong odour of chlorine to eliminate the smell, it is another odour we generally like to avoid. Amazingly, the RMR-141 RTU Mold Killer is here with a solution.
The cleaning solution has been made to get rid of any moss, mildew, and mold while also eliminating the foul odour as well as disinfecting the exposed surfaces.
It leaves behind a nice and subtle lemon fragrance.
This product was crafted to kill viruses and bacteria; in fact, it has a 99.9% success rate in vanishing germs. While it is strong enough to get rid of all the bacteria and viruses, it isn't made out of any harmful chemicals such as abrasive bleaches or acid.
As a result, not only can you use it at home, but also in sensitive places such as schools and hospitals.
Is there anything better than a cleaning solution that will safely eliminate all the unwanted mold growth along with germs while leaving behind a nice smell?
11. Dicor Corporation RP-RC-1GL Rubber Roof Cleaner
Up next, we have another great cleaning solution for rubber roofs. The RP-RC-1GL Rubber Roof Cleaner by Dicor Corporation has been formulated to clean any sort of dirt, mildew, and mold off of the roof while keeping the exterior safe from harm.
The solution is free of any abrasive components, which helps it to protect all the exposed RV components. One cleaning solution bottle is good enough to wish your vehicle 3 to 4 washes. Amazing, isn't it?
Amazingly, this solution can be used on other surfaces apart from the rubber. It will actually work great on materials such as aluminium, fibreglass, vinyl, etc. Luckily, it has been made out of bio-degradable ingredients that help to protect the surface area as well as the environment.
Now, we would advise you to follow the instructions correctly and carefully for optimal results. It is recommended by the company to just spray the solution and scrub the area using a soft-bristled brush or a soft sponge for a while. Finally, blast the vehicle with water, and you should end up with a car that will look as good as new.
12. Propack 55128 Rubber Roof Cleaner and Protectant
White streaks left on the roof of an RV by the UV exposure is something quite hard to get rid of. No amount of scrubbing can get rid of those marks completely. Which is why we wanted to present you with the 55128 Rubber Roof Cleaner and Protectant by Propack.
This cleaning solution is extremely strong. It is composed of the right combination of ingredients as well as the power to be able to cater to a good variety of issues such as streaks, road grimes, oxidation as well as bird poop.
What we really appreciate about this cleaner is that it was created without using any component that may contain petroleum for the safety of the vehicle's gears. In fact, the ingredients used helps the cleaner to not only clean but also condition and moisturize the car.
Now, you will be happy to know that the concentrated solution can be diluted with water in a 1:1 ratio, and it will still be as effective. However, in case your roof is extremely dirty and requires the extra strength, then you can easily use the undiluted solution directly without having to worry about any form of harm coming to the vehicle.
One bottle of this solution is more than enough to give three proper cleanup session. Also, it is recommended to use this product after every six months for the ultimate maintenance.
13. Thetford RV Rubber Roof Cleaner
This cleaning solution is comprised of all the features that every RV owner would love to see in a cleaner. It's effective and non-toxic formulation guarantees a super clean result while also preventing cracks, bubbling, and tearing of the RV's surface.
Safety isn't their only great feature. The application process of this cleaner is probably one of the easiest. All you need to do is simply spray it on and wipe it off, and you're done. In this way, not only will it require less time, but you also get to save water.
The cleaner is unbelievable effective. Not only will it give you protection from mold, UV ray, and streaks, but it will also be effective against things such as roof caulk and grime as well. Impressively, it gets all of these heavy cleaning done within a couple of minutes.
You should also know that the cleaner isn't just made for RVs but also for any EPDM roofs. So, if you are an owner of an RV or any EPDM vehicle, then this product should definitely be your go-to. In fact, you will be doing your vehicle injustice if you don't consider getting your hands on this one.
14. D2 Biological Solution
When it comes down to getting the ideal protection against any biological infestation, then this Biological Solution by D2 is the ultimate solution.
It is equipped to get rid of and prevent the growth of mildew, mold, algae, fungus, or any other unwanted organism.
Now, when it comes to the cleaning process, it is a bit lengthier compared to other products; however, the end results will make it all worth it. To use this solution, you will need to scrub off the area in case it is heavily affected. Otherwise, you just need to spray the solution on the affected surfaces.
You will need to give it around ten minutes before scrubbing again with the help of a brush. Do this, and you will end up with a roof that will look professionally cleaned or as good as new. Thankfully, the product does not contain any sort of harsh chemicals, so it is safe to be used around plants.
Moreover, this product can be used on almost any sort of surface material, which is what makes it so versatile. But, the highlight of the product for us is that it will effectively get rid of dirt without damaging the surface. In fact. It won't even bring any damage to painted surfaces.
15. Wash Safe Industries ROOF WASH Premium Eco-Safe and Organic Roof Cleaner
If you are looking for a professional roof cleaner, then look no further. The ROOF WASH Premium Eco-Safe and Organic Roof Cleaner by Wash Safe Industries is possibly the best roof cleaner out there.
It has been created with a hydrogen peroxide formulate which is environmentally friendly. In fact, it is also safe to be used around plants and pets, which is getting a lot of importance nowadays.
Now, this product doesn't come in the usual liquid form like most of the other cleaning solutions. This comes in a powder form that needs to be stirred in hot water to activate the solution.
After the solution has been activated, you simply need to spray the solution over all the needed areas and leave it on to work. It takes up to 6 hours of the solution to completely get rid of stains or any unwanted biological organisms. After that, it automatically starts to biodegrade.
Now, what we love about this solution is that it can be either left alone to decompose on its own with the help of mother nature, or you can take charge and wash the roof to accelerate the process.
All in all, you will definitely understand why the cleaner is so popular amongst professionals from the very first use.
Things to Consider Before Buying
If you want to end up choosing a cleaning solution that is guaranteed to get the job done, then you definitely need to choose the best one. Here are some of the factors that you should consider if you want to buy the best cleaning solution.
Type of Roof
When we say the type of roof, we are not referring to the shape but the material used to make the roof. Different houses have a roof made up of different kinds of material.
Now, you should know that you cannot go about and use any cleaning solution on any type of material. This is because not all materials are capable of handling a strong solution, especially ones that contain harsh chemicals.
For those types of materials such as rubber or asphalt, we will recommend getting a gentle cleaner if you want to avoid damaging it.
Ease of Application
Thankfully, most roof cleaners that are being offered in the market can be used just by diluting and spraying the solution. That being said, some of the solutions are made to be left alone, while some will require you to put in work by scrubbing or rinsing it out.
Now, we understand that not everyone enjoys the process of working on cleaning their roofs. For them, we will recommend getting a solution that can be left on and taken care of by mother nature.
On the other hand, for people who enjoy the cleanup process or do not have the patience to wait for mother nature to take over, we will suggest products that do not require to be left out.
Results
Obviously, you would want to have a product that is effective in getting all the unwanted stains and biological organisms out. But, you should also understand that different products require a different amount of time to bring in effective results.
Depending on your current need, you can opt for a leave on a solution that will show results with time or for a solution that requires scrubbing or rinsing for immediate results.
Type of Cleaning Solution
You will find two main kinds of roof cleaning products – the ones that contain harsh chemicals such as acid or chlorine or the eco-friendly ones.
If you opt for a product with harsh chemicals, you will need to take precautions while handling the product for safety purposes. You will also need to make sure that the area has proper ventilation to avoid fumes from taking over and damaging the surroundings. One more thing to keep in mind will be that these solutions usually bring results immediately, so you will need to keep your eyes on the progress to avoid harming the surface.
Now, if you want an eco-friendly product, you will not have to worry about taking any precautions. You will also be able to use it freely around plants and some around pets without worrying about toxicity.
However, ecofriendly products are usually more expensive compared to harsher products. So, if you want to commit to these, you need to be ready to invest more.
Pricing
Now, we always want to spend as little as possible when it comes to purchasing anything. Thankfully, most of the cleaning solutions that we have featured in our review are all within our budget range.
That being said, some of the products are a bit pricier compared to others. But, all of them come with features that justify the asking price. What we want you to understand is that since you will be using these products on your own belongings, you should not let price stand in the way from allowing you to get the best and safest products.
You obviously wouldn't want to get a cheap product that will not get the job done or bring in more harm than it does good. Thus, spending a little extra now may just be the right decision in the long run.
Economical
Roof cleaning is something that we need to do once to highest twice a year. Thus, we will definitely want to get a product that will give us the most out of it.
If you want to get a solution that will be able to cover all of the needed areas with ease or you want a solution that can be used multiple times, then you should definitely look for a highly concentrated solution.
Highly concentrated solutions can either be diluted and increased in volume, or, the concentration is strong enough to require less amount. In this way, you will get to use the cleaning solution more than once.
Types of Roof Cleaners
Let's take a look at the different types of roof cleaners so you can choose the ideal one for you.
Eco-friendly Cleaners
These non-toxic and biodegradable formulas don't contain any form of harsh chemicals such as bleach, acid, or petroleum. Which is what allows it to be safe to be used on even the most sensitive materials.
Furthermore, it allows the solution to effectively battle the harshest of molds or stain without bringing in any sort of damages to the surface. In fact, it is also compatible to be used on painted surfaces as they don't decompose the paint. Additionally, it helps to keep the environment around the affected area and living organisms safe.
However, all these benefits come with a price. Eco-friendly cleaning solutions are often more expensive than regular ones. You should also keep in mind that these solutions may not be as effective when in contact when stubborn stains or molds. As a result, it may require you to scrub or rinse the area to get the optimal result.
Harsh Cleaners
Cleaning solutions that are composed of acids, petroleum, sodium hypochlorite, or other types of chlorine are labeled as harsh cleaners. These cleaners are often powerful enough to get liberated of the harshest molds or stains.
However, depending on the level of concentration of these ingredients, these solutions may destroy or kill plants or other wildlife that get exposed to it. Moreover, these solutions will also demand you to take precautions such as wearing gloves for your own safety.
If you want to opt for these solutions, we will recommend you to be careful while using the product around plants and other wildlife. You can also dilute the solution with water to reduce its power.
These solutions are generally less expensive if compared to ecofriendly products. But, that being said you have to be very careful while using these solution if you want to avoid damaging the surface. Moreover, it is only compatible with tough materials such as stone or metal.
High-Pressure Cleaning
High-pressure cleaning refers to only using water and not any other products. All you need to do is blast the roof using a hose that exerts high-pressure water. While this is the least expensive method and very environmentally friendly, this method isn't as effective as using a cleaner.
You may be able to get rid of some stains and organisms, but, you won't be able to get to all of it. Moreover, with no chemicals used the chances of the organisms to reemerge is a lot higher. Additionally, you are likely to damage the shingles of the roof.
Frequently Asked Questions
1) Are all biodegradable cleaning solutions safe for plants and animals?
While all biodegradable cleaning products are safe for plants, not all of them are safe around animals.
2) Can mold and dirt harm my roof?
Not only does mold and dirt ruin the aesthetics of your roof, but, they also cause your roof to start deteriorating.
3) What's the best method to clean my roof?
If you ask us, we will recommend using a biodegradable or ecofriendly products as it will clean the affected area without damaging the surface or any plants or wildlife.
4) Can I clean my roof with water and soap?
You can use water and soap along with a good brush to clean your roof. But, keep in mind that it will be a super lengthy process which may not always be effective.
5) How often do I need to clean my roof?
Cleaning your roof can be an annual or a semi-annual thing depending on the condition of your roof, how well you can clean it and the product you use.
Final Words
We hope that you were able the find and select the most suitable cleaning solution that will cater to all your needs. You should keep in mind, that the best roof cleaner is certainly the one that will effectively get rid of stains and molds without damaging the exposed surface.
Moreover, you should always follow the instructions and get the right kind of product if you want the most effective results. Good luck with your purchase!