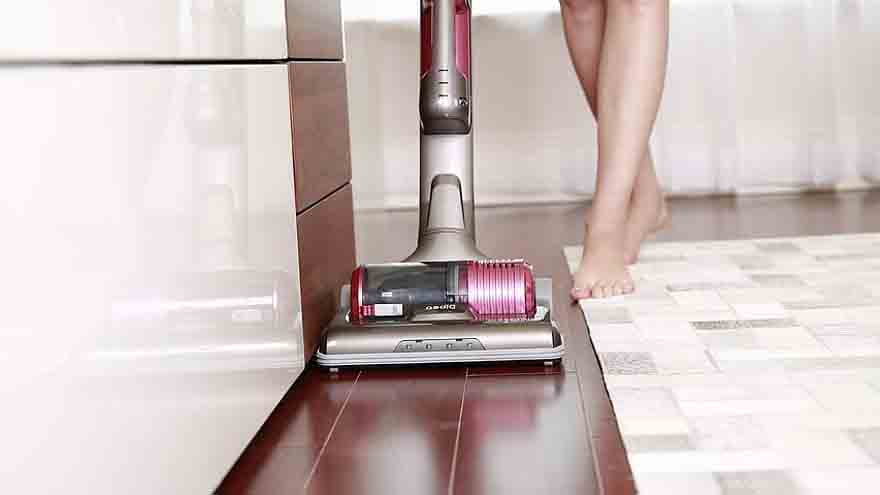 Floor cleaner machines are an absolute must-have in this day and age. Gone are the days of using mops and exerting physical force to clean floors. Nowadays, that is almost impossible because of our busy and hectic schedule.
That is why floor cleaner machines are such a blessing. In this article, we will guide you through the way of finding the ideal floor cleaner machine.
This article is primarily concerned about finding the best tile floor cleaner machine. But if you have hardwood or vinyl floors, fear not, because we have you covered in that regard as well.
Best Tile Floor Cleaner Machine Reviews 2022
In this section of the article, we will take a look at 10 great floor cleaner machines and assess the pros and cons of each.
Shark is one of the leading companies in floor cleaner machines. And products like this one are the reason for that. By "lift-away", it means that the canister can be separated from the machine to offer more versatile performance.
Speaking of versatility, this machine can effortlessly clean on the floor, above the floor, and overhead. The aforementioned lift-away feature makes the machine lighter and easier to carry and thus clean above the floor. And the 5-foot long hose makes it very simple to clean overhead.
The entire machine weighs only 13.7 pounds. So the machine is extremely portable. The dust cup capacity is also very high at 2.2 quarts. So you know that you can use this machine for a very long time.
Lastly, the Shark signature technology of anti-allergenic complete sealing that comes with a HEPA filter ensures that 99.9% of dust is trapped.
While this is a fantastic machine for cleaning tiles, it won't give you the best performance on the hardwood. So anyone with a hardwood floor should avoid this. There are also questions regarding its durability due to its relatively weaker construction.
Overall, this is a great electric tile cleaner machine at an understandable price. Besides the issues with its questionable durability, this is a near-perfect machine for any home.
#2. Bissel Power Edge Pet Hardwood Floor Bagless Cleaner – Best Budget Floor Cleaner Machine
As the title suggests, this machine is extremely budget-friendly. This is easily the cheapest floor cleaner machine you can find, and it also delivers in its performance.
And this product specializes in cleaning hair, especially pet hair. So this is a blessing for anyone with a pet. The unique Squeegee system of this device ensures that it can easily capture dirt and pet hair. This machine is also perfect for hardwood floors, which was a limitation in the previous product.
The foot of this device has a unique design. It is unconventionally shaped like a V. This makes it very easy to clean edges and corners, places that many floor cleaner machines cannot reach. If that wasn't all, the device is extremely lightweight. It only weighs 7.5 pounds, and thus, it is very portable and easy to maneuver.
However, the power of this machine leaves much to be desired. This might be one of the biggest flaws of the device. Along with that, there is a major design flaw as well. Due to this design flaw, the machine may get clogged after a period of use.
This is obviously not a machine suitable for high-end or long-term use. But it is nonetheless a great device that will get the job done and comes at a remarkable price.
As the name already suggests, this product is the deluxe version of the first product, which comes not only at a better price but also with some better features.
The lift-away feature is as always an absolute blessing. And the canister weighs only 7.5 pounds and so the ability to separate it from the main body is a great advantage when it comes to cleaning above the floors. The total weight of the machine is 12.5 pounds giving you more portability and maneuverability.
However, when it comes to more versatility, the first product is slightly superior because this product doesn't have a sufficiently long hose to clean overhead. But the capacity of the dust cup is much higher at 12 quarts. Thus it can go for an even longer period of time.
Moreover, the issue with the durability and construction seen in the first product remains in this one as well. The construction is similarly weak, and so without proper care, it may be prone to falling apart.
Also, the signature shark technology of anti-allergenic complete sealing comes in play here. Combining this with the HEPA filter, the machine can easily trap 99.9% of the dust particles.
Like the first product, this is a fantastic tile floor cleaning machine with lots of great feathers. Besides the issues with its construction, it ticks all the boxes and is a great choice.
#4. Bissel Power Fresh Steam Mop – Best Hardwood Floor Cleaner
Along with being the best tile cleaning machine for hardwood floors, this machine is extremely versatile. It works greatly on all sorts of floors. Unlike the previous products, this product uses steam to ensure more efficient cleaning. Not only that, but it also comes with 3 levels of adjustable steam settings for better performance.
The machine is great for cleaning sticky substances, an area where most machines lack, and it is because of its flip-down easy scrubber. The 23-foot power cord also gives you a great reach to efficiently clean a larger area with little effort.
However, because of design issues, the device can get clogged up some times. Combining that with its insufficient power, it may become a major issue. The specialty of Bissel is in its low budget and efficient products, and this product perfectly fits the description.
#5. Hoover FloorMate Deluxe – Most Advanced Floor Cleaner
This device gets the title of most advanced by effectively using technology to enhance the overall performance of the machine. It avoids the very common problem of needing to refresh the water with its advanced dual tank technology. This technology ensures that the clean and dirty waters are kept separate.
The machine has two different modes: the wash mode and dry mode. In the wash mode, it suctions up water and cleans the floor, and in the dry mode, it stops suctioning and improves drying.
And the weight of the machine is 14 pounds. You can easily maneuver it on the floor, but without any lift-away feature, it is very difficult to maneuver it above the floor.
However, it fails to pass the hurdle of durability, as is common with many floor cleaners. Without any solid construction, the longevity of the machine always remains in question.
Moreover, this is a machine that focuses completely on performance. Besides the few difficulties in maneuverability and durability, it rarely lets you down. This is an excellent choice for the best floor cleaner machine for tile and grout.
#6. Shark Steam Pocket Mop Hard Floor Cleaner – Best Lightweight Floor Cleaner
This floor cleaner is extremely lightweight and thus very easy to maneuver. It only weighs 4 pounds, and that allows you to easily maneuver the machine. You would think it would also be very easy to maneuver above ground, but that is not the case, unfortunately.
But that issue exists due to a design flaw and not because of the weight. Besides the slight flaws, the design is extremely simplistic, and thus, it is very easy to assemble. All you have to do is fill the tank with water and cover the head with a pad.
Speaking of pads, this machine comes with 3 pads, each of which can survive at least 20 washes. And unlike almost all the cleaners we have received so far, this one crosses the hurdle of durability with its strong and rigid construction. The 22 feet long cord is extremely helpful in cleaning because of the added reach it gives you.
Overall, this is a very solid device. You can maneuver it easily, and unlike most floor cleaners, you can actually use it for a long period of time.
#7. Dyson Cyclone V10 Absolute Lightweight Cordless Stick Vacuum Cleaner – Best Cordless Cleaning Machine
It is important to mention that this product is priced much higher than most products on this list, as is the nature of most cordless cleaners. But when it comes to performance, this cleaner definitely delivers. As the name suggests, this cleaner is very lightweight. And thus, it is extremely easy to maneuver.
Being cordless, Dyson Cyclone V10 has an unlimited reach and adds significantly to the portability and maneuverability. As it is cordless, you do need to charge it up frequently to make sure it's running smoothly, and that is an extra hassle that can be a burden for many.
But the 60-minute run time does enough to quell the complaints. It provides a 40-minute run time in suction mode 1 and 20 minutes in suction mode 2. The 9.84 inches cleaning path makes sure the work isn't time-consuming. It can clean large areas in very short periods of time.
The advanced filtration system of the device makes sure that the cleaning performance is top-notch. This is a great cleaner machine. The price and the reduced power output are significant issues. But its run time, reach, and overall performance go a long way to make up for those issues.
#8. Oreck Commercial ORB550MC – Best Tile Floor Scrubber Machine
This is the finest cleaner machine out there for scrubbing off the difficult-to-remove stains from a tiled floor. It can easily scrub and clean almost floor surfaces.
The orbital drive helps a lot in that regard. And the orbital drive of this machine has no torque, swirling, or gouging. It runs in a perfectly smooth way, and thus, cleaning floor surfaces comes so easily to it. The 13-inch cleaning path makes it extremely easy to use.
It also saves you valuable time by cleaning large areas in short periods of time. Among corded floor cleaner machines, this one has the highest reach. It has a 50 feet cord that allows you to easily maneuver the machine at great distances. An extra feature of this machine is that you can also use it to dry clean carpets and rags.
Moreover, the biggest issue of this device is the weight. Even though the reach and orbital drive make the device very maneuverable, the weight of 24 pounds greatly takes away from it. Adding that with the fact that it is much more expensive compared to the standard floor cleaner machine, it may develop into a big issue.
#9. McCulloch MC1385 Deluxe Canister Steam Cleaner – Best Ceramic Floor Cleaner Machine
Very few floor cleaners work well on ceramic surfaces. This product is one of those rare few machines. It comes with 23 different accessories to make the cleaning easier. These include a floor mop, nylon brushes, mop pads, scrub pad, angled nozzle, and many more.
With all of that, it has a 64-ounce water tank. Thus, it can store more water than most cleaners. This water heats up in a matter of 12 minutes and can work for 2 hours straight.
The 18 feet power cord gives it a sufficient range to easily maneuver and use the device. And the 10 feet steam hose adds to the versatility by allowing you to easily clean overhead. The design and construction are quite simple, and the whole device is very easy to assemble.
But the simple construction also leads to a weak one, which forces us to question the machine's durability. It is also comparatively costly, and that adds to the existing issue.
#10. Boss Cleaning Equipment B200752 – Most Balanced Floor Cleaner Machine
When you look for the perfect balance of price, performance, maneuverability, and durability in floor cleaner machines, this product is the closest you will get.
Firstly, this is very budget-friendly and wouldn't cost you too much. Secondly, it is very easy to use and saves a lot of your time with its 10-inch cleaning path. It also has great reach because of its 18 feet cord. Thirdly, it is very lightweight at only 7 pounds. So you can maneuver it very easily.
Lastly, it comes with 2 microfiber pads, each of which can survive multiple washes easily. So you can use the pads for quite a long time before needing to replace it.
This does fall short on durability, however. Like most floor cleaner machines, this one cannot guarantee longevity. Plus, it is not effective on all types of floors. So it is not that versatile. But as we have mentioned, it is extremely well balanced. You could say that it is the jack of all trades, but the master of none.
Buyer's Guide
In this section of the article, we will guide you through everything you need to know before buying a floor cleaner machine. It is crucial that you have a proper and detailed idea about everything we will discuss in this section.
How Tile Floor Cleaner Machines Work
Tile floor cleaner machines are machines to properly clean the dirt and grouts from your floors. As we have mentioned, it is an extremely handy tool to keep around the house.
But before you buy, it is essential to know how they work. This question is tricky because not all floor cleaner machines work the same way. On one hand, some use a vacuum cleaner to clean the floors, and on the other hand, some use steam to clean the floors. And then there are those that use neither of those.
For vacuum cleaners, they don't require anything different to clean the floor. All you really need to do is supply the sufficient power, and it will suck up all the dirt and dust from the floor and store it in its dust cup. However, these are not suitable for removing grouts.
On the other hand, steam cleaners work very well in removing grouts from the floor. For operating these, you have to pour water into its water tank and give it time to heat up. After they are done heating up, you can use the steam to effortlessly clean your floor.
Again, there are cleaners that can work with just water, without converting it to steam. These are the best when it comes to removing stains that are difficult to remove. Here, you just have to pour water in the tank and attach a pad on the head. After that, the cleaner will do its work and remove most of the dirt from your floor.
Types of Floor Tile Cleaners
Floor tile cleaners can be classified in various ways.
Depending on Whether the Cleaner Has a Cord or Not
Based on the availability of a cord, we can classify a floor cleaner into two types. They are:
Corded Floor Cleaner: A corded floor cleaner is a cleaner that comes with a power cord and derives its power through this cord.
Cordless Floor Cleaner: A cordless cleaner doesn't have a power cord and runs with the help of a battery that needs to be recharged after a while of use.
Depending on the Cleaning Mechanism
We can classify the floor cleaners into 3 types based on their working mechanism. They are:
Automatic Floor Scrubber: An automatic floor cleaner is an absolute essential for large corporate buildings and offices.
In larger areas like these, traditional vacuum cleaners or steam cleaners that you use at home do not work as effectively. So in these circumstances, an automatic floor scrubber is your go-to.
Steam Floor Cleaner: A steam cleaner machine heats up the water stored in its water tank, converts it into steam, and then releases that steam for better performance. These cleaners are more suitable for home use. They work particularly great in cleaning the grouts of your tiles.
Vacuum Floor Cleaner: A vacuum cleaner only requires a power supply to run. This is the most convenient way to clean the house. A vacuum cleaner sucks up the dirt and dust from your floor and stores it in its dust cup.
While this is not the best option for cleaning and disinfecting very dirty floors, for a primary measure, it works exceptionally well.
Depending on the Type of Floor
Lastly, we can classify a floor cleaner into various types depending on the type of floor it can clean. There are floor cleaners that specialize in hardwood floors, and then there are cleaners that work best on tiled floors.
Again, there are those that work better on Vinyl or Ceramic floor, and then there are cleaners that work well on all types of floors. The list goes on.
You have to consider all of the above classifications and determine which features you require in your cleaners.
How to Choose the Best Tile Floor Cleaner Machine for Home Use
In this section, we will guide you through all the features you need to consider before buying a floor cleaner machine.
In the previous section, we explained what corded and cordless cleaners are. Depending on your needs, you have to make a decision.
Corded cleaners do not need to be recharged constantly and can run for unlimited periods of time as long as it is connected to a power source. But there is a limitation in its reach, which is determined by the length of the power cord.
Again, cordless cleaners do need to recharge after a while and have a limited run time. But it makes up for that by giving unlimited reach wherever you wanna clean. Asses your needs and make a decision based on it.
We have already said many times that all floor cleaners don't work on all floors. Some cleaners are catered towards tiled floors, and then some are catered towards the hardwood.
You have to know for sure that the floor cleaner you are buying works on the floor that you have in your house no matter what type of floor it is. In our article, we have specifically highlighted the types of floors the reviewed cleaners work well in. So take that as a reference and buy the one suitable for you.
A floor cleaner shouldn't be so light that it can't supply enough power or durability. But a floor cleaner shouldn't also be so heavy that it becomes a chore just to move it around.
You want to strike a perfect balance when it comes to weight. Generally, a cleaner of 10-15 pounds is good enough to fulfill all the aforementioned requirements.
This refers to how many ways the machine can clean. The most versatile cleaner machines will have a hose long enough to clean overhead and a body light enough to clean above the floor alongside the general floor cleaner.
While this feature isn't an absolute must, it is a great bonus that you should definitely try to get if the option is available to you.
We have already mentioned the three different types of cleaners based on the cleaning mechanism. Each type of floor cleaners yields separate advantages.
The suction cleaner is good for hardwood and tile floors. And the steam cleaners specialize in removing dirt and grouts from the floor. Then, the vacuum cleaners offer the easiest-to-use and versatile cleaning performance. It is up to you to decide what you require more and make a decision based on that.
Top Cleaning Tips for Your Grouting and Hard Floors
Cleaning the grouts of a floor is one of the toughest challenges faced by anyone who has given floor cleaning. In this part of the article, we will take a special look at this issue and offer 3 separate solutions to it.
No other type of floor cleaners cleans the grouts as efficiently as a steam cleaner.
For this, you just have to use the attachment of the cleaner (even better if the attachment is a nylon brush) and clean the grouts of the tiles. Then, you must rub the area with a cloth to make sure the dirt doesn't fall back into the grouts. And finally, just let it rest for a while.
Using Oxygen Bleach Powder
This is a great way to remove dirt from grouts. You have to mix the powder with boiling hot water and then use a toothbrush to apply it on the grouts. After letting it rest for 10 to 30 minutes, clean the area with a wet cloth.
Using a Combination of Baking Soda and Hydrogen Peroxide
This method is also a very effective solution to the issue. You have to mix baking soda and hydrogen peroxide in a 2:1 ratio and apply it to the grouts, in the same way, using the toothbrush. After letting it sit for 2 minutes, scrub the grouts and then wipe it up to finish cleaning.
So if grouts are a major issue for you, then the best course of option would be to get a steam cleaner. But as we have mentioned, a steam floor cleaner isn't the best for all types of floors, especially not hardwood floors.
In the end, it is again up to you to assess your priorities and decide what you need more. If you happen to choose other types of cleaners over a steam cleaner, you still have two options that work really well in cleaning the grouts.
Related: How to Deep Clean Your Tile Floors?
Frequently Asked Questions – FAQs
✅ Is It Better to Swoop or Vacuum Tile Floors?
This is a very common question that we get. Swooping floors can be very effective in many cases. Using some moisture to ease the cleaning process is always a recommended tactic. But swooping often leaves a lot of dust and dirt on the floor. At times, it can also make the floor very muddy.
That is where a vacuum cleaner succeeds. A vacuum cleaner has none of the aforementioned problems. It effectively removes the dirt and dust from the floor without any added complications.
✅ How to Disinfect Tile Floors?
To completely disinfect your tile floors, you have to either buy a disinfectant spray, or you can make one at home. To make your own disinfectant spray, mix 1 gallon of water with 1/2 cup of white vinegar, 1/2 cup of ammonia and 1/4 cup of borax.
After this, you can either store the mixture in a spray bottle and spray it on your tiles or use a mop to spread the mixture on the tile floors. After letting it dry for a while, you have to pour some cold water over the area and wipe away the disinfectant.
✅ What Is the Easiest Way to Clean Tile Floors?
The easiest way to completely clean the floor is a combination of vacuuming and swooping.
Firstly, you should vacuum the floor properly to remove or loosen the dirt on the floor.
Secondly, you should mop the floor with warm water. Warm water works very well in breaking up dirt particles.
Lastly, let the area dry down. And thus, your floor is cleaned in a very fast and easy way.
✅ How Do You Clean Dirty Tile Floors?
There are multiple ways in which you can clean dirty tile floors, but they require a little more than just simple swooping or vacuuming.
Firstly, you can mix a gallon of water with 1/2 cup of vinegar and use a mop to remove the dirt from the floor.
Secondly, you can mix water and scouring power in a 1:1 ratio and then rub the dirt stains with a sponge for great results.
Lastly, you can mix ammonia and water in a 1:1 ratio in the same way and rub the stains off of the tile floors.
✅ Can You Polish Tile Floors?
Yes, you most definitely can. To polish tile floors, you have to remove any existing stains first. For that, you can follow the aforementioned solutions to remove the stains.
After you have properly removed the stains, you have to mix water and hydrochloric acid in an 8:1 ratio. Then take a mop and spread the solution on the tile floor. After that, let it dry for a few minutes. Then, completely remove the solution by using a wet cloth.
✅ Can I Use Vinegar in My Steam Mop?
Yes, you can use vinegar in your steam mop. There is a common misconception that using vinegar in the steam mop will somehow damage the mop. But it is not true. In fact, using vinegar in your steam mop actually enhances the performance of your steam mop.
Vinegar works as a great sanitary substance. So if you mix a little vinegar with water and pour it in the water tank of your steam mop, the steam mop will not only clean your floor but also sanitize and disinfect it.
✅ Are Steam Mops Bad for Grouts?
There is a common misconception that steam mops damage the grouts of tile floors. But we are here to clear that misconception. No, steam mops do not harm grouts of tiled floors. In fact, it is a very efficient way to clean grouts from floors.
✅ Are Steam Cleaners Good for Tile Floors?
A lot of people hold the belief that excessive moisture can damage the texture of ceramic or porcelain tiles. While that is true to a certain extent, there is a misconception in the definition of "excessive moisture".
In fact, tiled floors can withstand very high moisture and still not face any sort of damage. So there is absolutely no problem with using a steam cleaner for a tile floor.
Final Words
With that, we have imparted all the information you could possibly need about floor cleaners. Now it is up to you to use that information wisely.
A clean and tidy home is an absolute essential for healthy living. So it is best to make an informed and educated decision before purchasing a device that will be instrumental in ensuring that clean home.
So make sure to review all our instructions, asses your priorities, and buy the best tile floor cleaner machine for you.