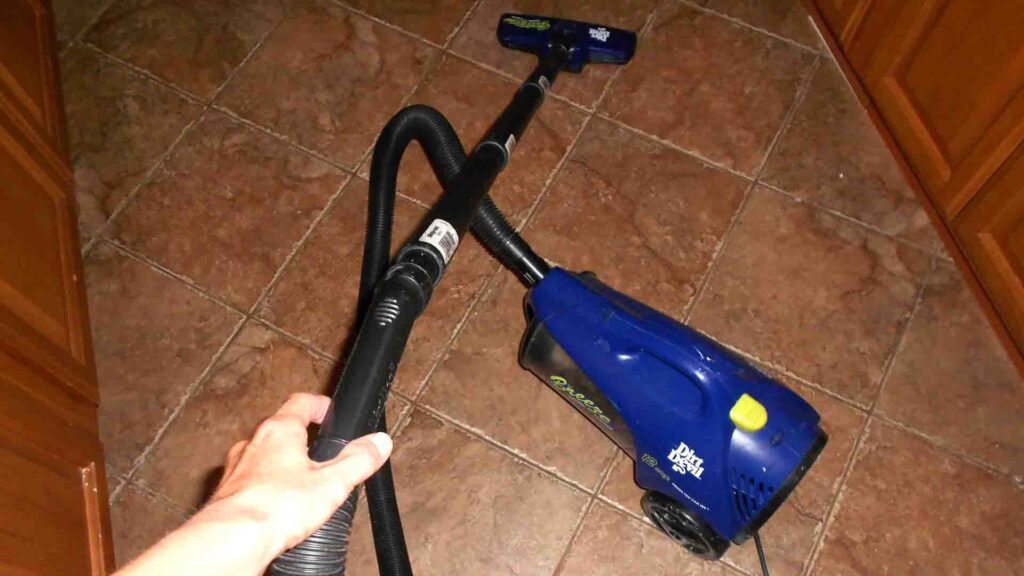 Tile floors will stay for a long time if you clean and care them accurately. Tile floors don't require much maintenance as compared to other types of flooring. You just require warm water and soap or cleaner to clean the tile floor. Maintaining a tile floor is not so difficult if you know the exact way to clean your tile floors. 
You can use handheld steam cleaners as they are easy to use & being lightweight elderly people can easily use these machines.
Tile floors are suitable for kitchen and bathrooms. If we care the tile floors properly then it can look new for many years. For kitchens, it must be clean twice a week and once a week in the bathroom. Use accurate techniques when you clean the tile floor to avoid surface damage. 
How to Deep Clean Tile Floors of All Types?
Tile floors are long-lasting and different kinds of tile need to clean uniquely. For example, ceramic and porcelain don't require much maintenance. Whereas, coarse tiles like slate, marble, and limestone need extra care and specific type of cleaners. For cleaning, just spread a cleaner and water then wipe with a tile floor cleaner mop. 
How to Clean Ceramic and Porcelain Tile Floors?
Ceramic and porcelain tile floors are very durable. If you follow easy cleaning tips for ceramic and porcelain tile floors then it will look new and shiny. Below are a few simple and easy tips to clean ceramic and porcelain tiles.
1. Regular Cleaning:
Brush or vacuum your tile floors daily to remain the shining of your tiles. Ceramic tiles are dirt resistant but sand and stones can dim the glossy surface. Tile floors must be vacuumed or swept at least twice a week because dust can dull the floor shining.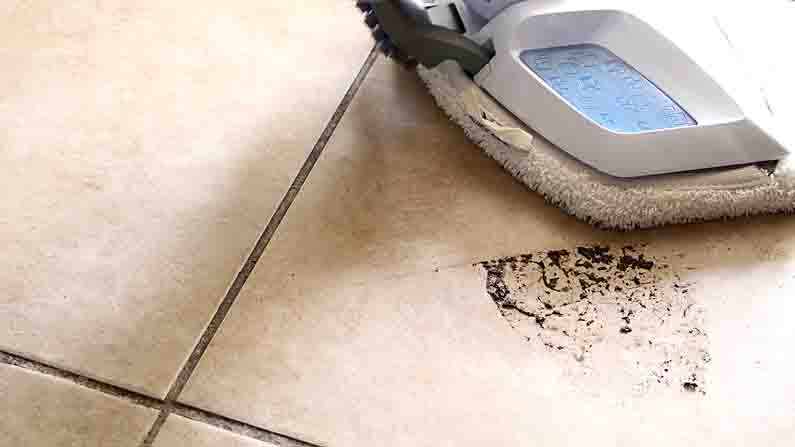 2. Select Mop According To The Tile:
For cleaning the tile spread mild detergent and water then mop. Avoid using sponge mops because it is not much effective and the dirty water gets into the surface lines. Mops are good to clean tiles but change the dirty water frequently. 
3. Remove Stains Quickly:
Whenever you see stain or discoloration, try to remove it as soon as possible. Buy an accurate cleaner that removes stubborn stains quickly. If you see the stains and dirty grout then your tile floors need more than sweeping.
4. Clean Excess Soap:
After cleaning if tiles look still hazy then might be soap didn't wash properly. Clean the excess soap with a homemade cleaner or all-purpose cleaner. For better results, you can try homemade cleaner by using fresh lemon juice.
5. Dry after cleaning:
Make sure to dry with a towel after cleaning. Do not let tile floors air dry because it can leave water spots.
6. Choose Best Cleaner:
Always buy the best cleaners and best tile floor cleaning machines that are according to the type of tile. Readout all the instructions before use for better results. 
Editor's tip: Take care of your knees and follow the simple way for cleaning. Slide the cloth with your foot to dry floor.
How to Clean Stone Tile Floors?
Stone tile floors are long-lasting and look shiny and beautiful. Small particles of dust can easily be concealed because of the difference in natural stone. Stone tile floors are easy to clean and you can simply clean them with a cleaner and mop.
1. Sweep Everyday:
Dust particles and stones can damage your stone tile. So it is important to sweet it up daily. Clean with a soft bristle broom and collect all dirt in a dustpan. Make sure the dustpan has a rubber edge so you can sweep up easily.
2. Vacuum Tiles When Required:
You can also clean your tile with a vacuum. Make sure to set the vacuum on hard floor setting. While vacuuming, remove the rotating brush because it can damage your tile floor.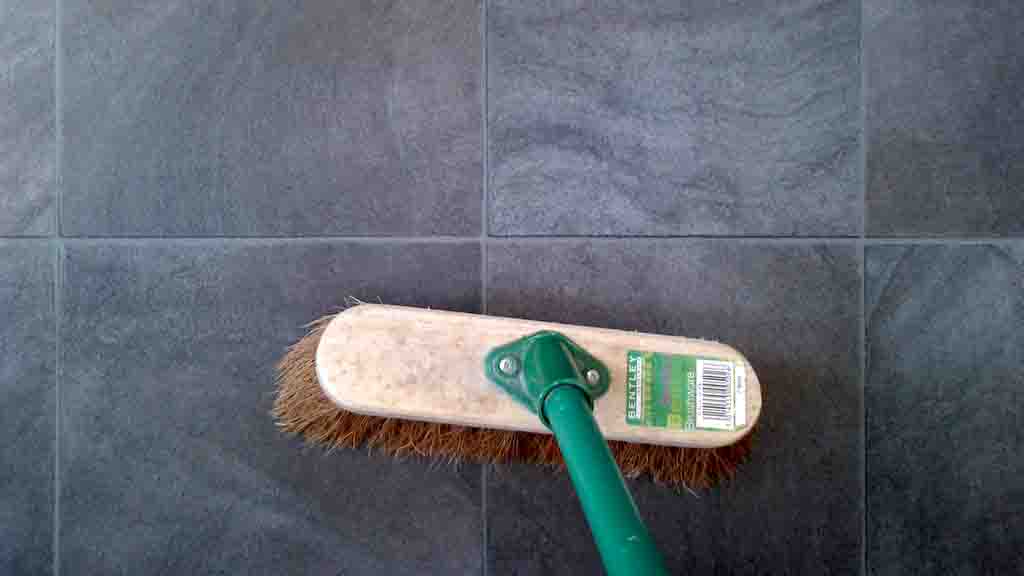 3. Use A Soft Mop:
While cleaning makes sure to use the soft sponge mops and avoids spreading water on the floor. Only wash the floor with a wet mop and clean the dirt. For granite and slates, use watery floor cleaners.
4. Scrub Surface Gently:
For cleaning grouts and surfaces always use a soft brush because it can easily get in between tiles. Wet your brush with stone cleaner and scrub grout forcefully. After that dampen the sponge and wipe the floor.
5. Use Bleach For White Grout:
If you want to whiten the dirty grout then mix bleach with water and scrub it. Then wipe the tile floor with a dampened sponge. Do not forget to dry the tiles with a clean cloth. Bleach is the best remedy to whiten the grout and surface.
6. Remove Water-Based Stains:
If you want to remove the dark water-based stains then you can use coffee or tea. Mix the coffee with ammonia and spread the solution on the stain with a cloth. Wipe the area with a wet sponge and let it dry.
Editor's tip: Avoid harsh chemical cleaners that can harm your hands and surface. Wear gloves while cleaning.
How to Clean Resilient Tile Floors?
There are different types of resilient tile floors that include vinyl, cork, and rubber. These types of tile flooring are great because these are easy on the feed and required low maintenance. Below are few easy and simple tips for cleaning a resilient tile floor.
1. Clean Vinyl Tile:
Vinyl floors are the type of resilient flooring. It is very easy to clean and maintain. You just need to sweep or vacuum extra trash and wipe with mop. Use cleaning solution that is especially for vinyl cleaning or else you can clean with water and vinegar. Avoid using harsh chemical cleaners because this can damage the surfaces and leave scratches.
2. Linoleum Tile:
Just like vinyl floors, linoleum is another type of resilient floors. These types of floors have different cleaning requirements. These types of tiles can only be washed with linoleum flooring cleaner and water.  
3. Remove Stains From Vinyl Floor:
If the vinyl floor is old and have some stubborn stains then scrap the tile with plastic card. You can also rub alcohol to the stained area.
4. Cork Tiles:
Cork flooring has a soft surface and long-lasting as well. These tiles can be easily washed with water and mild detergent, or you can clean with white vinegar as well. Rinse off properly and let it air dry. For the shiny floor you can apply solid or liquid wax.
Editor's tip: Only apply those cleaners that are according to the type of floor. Avoid steam mop because extreme heat is not suitable for these tiles.  
How to Clean Tile Grout?
Clean grout is the main reason behind good looking tile floors. The cleaning process is difficult because tiles absorb the grease and stains. Follow the below tips to clean grout,
1. Make A Grout Cleaner:
For the best results, you can easily make a homemade grout cleaner. Just make a paste of baking soda and water. Spread it on the tile and leave for a few minutes. This remedy will remove all dirt and clean tiles very effectively. 
2. Brush Grout:
Apply the homemade cleaner on the stain and leave it overnight. In the morning, rub it with soft bristled brush. Repeat the same process if stain is still not remove. Do not use a metal brush because it can damage the grout. 
3. Apply Bleach:
Use bleach as a cleaner for hard stains and greasy grout. Bleach is also available in powdered form. The area should be open for cleaning grout. Read all the instruction and follow the direction to use. Leave the bleach for 10 to 15 min then rinse with water. 
4. Use Steam Cleaners:
Steam cleaners are the best method to remove the worst stains. You can also use steam cleaners for hard surfaces. 
5. Spray Vinegar:
The best method to get rid of mild stains is to spray vinegar on the tile. Pour a spray bottle with vinegar and water. Leave for 5 min after spray and then scrub with hard brush. Vinegar is the best remedy for stains. 
Editor's tip: Do not steam mop if the tile floor is old. Deep clean your tile grout for new looking tiles. 
How to Maintain a Clean Tile Floor?
Tile floors are the best choice for kitchens and bathroom. These are long-lasting and required low maintenance. You can easily clean tile floors if you follow the proper steps. Below are few easiest ways to clean and maintain tile floors. 
1. Clean Dirt Regularly:
The first step is important and easy. To remove the dirt you can do sweeping or vacuuming. Select the soft-bristled broom because it is flexible and get all the dirt from surface easily. You can also vacuum the surface to capture extra dust. Use the small attachments of vacuum to clean the corner areas. 
2. Buy Cleaner According To The Tile:
Buy the accurate cleaner that is according to the type of tile. You can also make homemade cleaners for the best results. 
3. Clear Grout Lines:
Grouts get dirty easily because it absorbs everything. Clean grout lines with grout cleaner or scrub it with soft brush. Do not scrub harshly because it can damage your surface. It is better to buy knee pad for grout cleaning to protect your knees. The best technique to clean grout lines is to apply hydrogen peroxide. All grout lines will deep clean after using hydrogen peroxide. 
4. Remove Stains Quickly:
Apply cleaner as soon as possible to remove stains. Use hydrogen peroxide that is suitable for all types of tile floors. It can easily remove any kind of stains. Only apply this chemical to an affected area and then clean with a cloth. Try bleach and ammonia to remove the oil-based stains. 
5. Mop The Tile Floor:
Select the right mop for cleaning the floor. Do not use sponges mop because it soaks up dirty water and leaves the dirt in the grout. You can select a flat mop or microfiber mop for better results. 
Editor's tip: never apply harsh chemical cleaner to any type of tile floor. Always wear gloves when you are using bleach. 
How Often Should You Clean Tile Floors?
Tile floors must be sealed properly because if it is not sealed then the grout becomes dirty very quickly. Clean your tile floor once in a week with soft detergent and mop. Do not use harsh chemical detergent because it can damage the tile floor. It is better to test the detergent in a small area before spread it all over. Deep clean your tile floor at least every month and focus on cleaning the grout. 
Should I Buy Specific Tile Cleaning Solutions?
Yes, because tough stains cannot be removed without cleaning solutions. Buy the cleaner that is effective and clean all dirt and grime. Make sure the cleaner is according to the type of tile and not the harsh chemical cleaner. Different tile floors require specific cleaning solutions.
Do I Need A Tile Cleaning Machine?
Floor cleaning machines are now essential part of your home because it saves a lot of time. It also removes the grease and stains very quickly. By the time your tile lost its shine and glow. if you deep clean tile floor with machine you can get back the shine.
Cleaning machines help you to remove pet urine stains and dirt from grout. Cleaning machines are best for polishing the tiles. After the use of cleaning machine you will get back the shine of your tile. 
Homemade Grout Cleaner vs Buying Grout Cleaning Solution
Homemade grout cleaners are effective and easy to make. Firstly, sweep clean surface with warm water. Mix vinegar and water then spray it on the grout tile. Leave it for few minutes and then scrub the tile with brush. There are also commercially prepared grout cleaners available to remove the grout lines. But these cleaners can be harsh and damage the surface. 
Manual Mop Vs Tile Cleaning Machines:
Mops are easy to use and small in size. They are also can be placed in a small cupboard and taken out to remove any floor stain quickly. With mop, you can clean the small areas as well. Cleaning machines are expensive and required a lot of space to store. 
Final Words About Tile Floor Cleaning
Tile floors require regular maintenance and cleaning. Tile floors are easy to clean if you know how to clean your tile floors. In this article, all the tips and techniques have been discussed to clean each type of tile floor.