In most houses, there is a basement that has a concrete floor. The concrete basement floor must be sealed so that you can easily clean the floor. A basement concrete floor is perfect to store large equipment.
Also, workshops have concrete floor basement so they can store their excess inventory. There are cleaners available in the market just read the instruction on how to clean concrete floor in basement.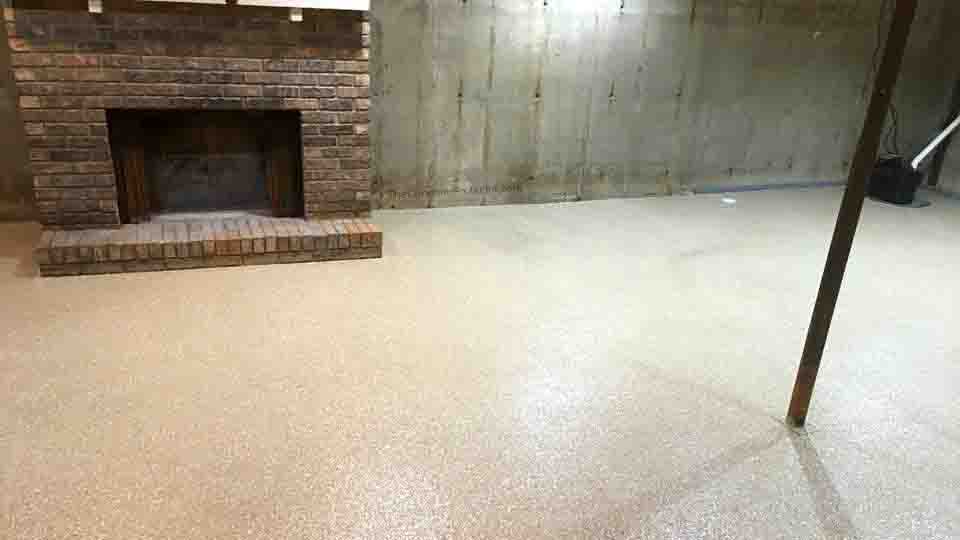 Cleaning concrete basement is more difficult than a typical concrete floor or driveway. The basement is such a place that is frequently used for storage purposes of heavy machinery and so on. As a result, most of the time typical floor or driveway doesn't get so much dirty as a basement.
How to Scrub, Disinfect & Clean a Concrete Basement Floor?
Concrete basement floor easily gathered mold and dirt that seems white and unclean. Also, when you come from the basement floor all dirt and dust get into the house through your shoes. For cleaning the basement floor, you must have mechanical skills.
1. Shift all items from the basement
The first thing before cleaning is to clear your basement and shift all items including furniture and boxes. Then, store the basement items somewhere else until it is totally clean and dry.
2. Sweep up the basement
Use a dustpan to sweep all dust, trash, and small stones. Also, make sure that you have collected all dust particles before spreading any cleaner.
3. Apply Cleaner or Bleach
Make your cleaner in the home by mixing 1 cup of bleach and water. Mop the basement with the homemade cleaner. But, you can also buy concrete floor cleaners. So, Spread the cleaner in every corner and then mop it. Scrub the floor where you see stains and spots.
4. Clean with soap and water
After bleaching, the floor is now germ-free. Take a bucket and pour detergent with warm water. Mop the floor with detergent and make sure that the mop is clean. Then, start from one corner then proceed to the other corner of the floor. Change the soapy water if it becomes dirty and mix detergent again in a bucket.
5. Wash the floor
Now wash the floor with warm water and scrub in a circular motion. You can use a stiff brush for scrubbing the floor. After cleaning, let it air dry completely.
6. Use power washer
A power washer is the best tool to clean concrete floors easily. You can easily clear all dirt and trash with this machine. Simply turn on the washer and move the stick side by side. Read instruction to use if you are facing difficulty in cleaning.
Editor's tip: Make sure you have worn protective gear and gloves while using bleach.
How to Clean Concrete Floor in Basement? (DIY Methods)
Basements are the part of your house but due to smell and dirt, people do not clean this area often. Cleaning concrete basement floors are not difficult. Below are few easy DIY cleaning tips to clean your basement floor,
1. Use vacuum
Before wet cleaning the floor, always use a vacuum to collect the dirt and trash. Furthermore, start vacuuming from one side to another side until you eliminate all dirt.
2. Clean floor with ammonia
Make a homemade cleaner by using ammonia. This tip is very useful to remove all stains. The mild granule of ammonia is perfect to remove oil and grime. You will just need warm water, ¼ cup of ammonia, detergent, bucket, and a nylon brush.
3. Apply bleaching powder
Spread the bleaching powder on the surface of the concrete floor. Leave the floor for one day and the floor will soak up the bad smell. Now sweep up the next day with broom or vacuum and clean the floor correctly. If the smell remains you can seal the floor with concrete sealer.
4. Clean with baking soda
Another amazing homemade remedy to clean a concrete floor is to use baking soda. Mix baking soda with dish wash detergent and warm water then rub on the stains. However, this remedy will not damage the floor either sealed or unsealed floor.
5. Remove stains with power washer
The best way to clean the concrete basement floor is to clean with a power washer. Add cleaner into the washer and pressure wash the floor. Also, dry the surface once you're done.
6. Use muriatic acid
This tip is best if you are planning to paint the basement. When you spread the muriatic acid it will save your floor from sticking the paint. Mop the floor with water then spread the acid. Wear gloves and goggles to protect you from any damage.
Editor's tip: Most importantly, wear protective gear whenever you use bleach or acid. Because, acids are harsh and can damage your hands or foot.
Different Methods You Can Apply To Clean Concrete Floor in Basement
1. Scrub the floor
Select the best concrete cleaner that is especially for the concrete basement floor. Add detergent and a cup of ammonia with warm water. This method is best and easy if you want to clean the concrete floor.
2. Apply bleach
This method is best to remove the fungal smell. Just prepare the mixture by adding bleach and water. Pour the mixture on the spray bottle. Spray on the walls and floors then scrub with the soft brush. After cleaning, dry the floor completely with a mop.
3. Eliminate rust marks
Sprinkle the dry cement on the floor and rub with a brush. This method is good for removing rust stains and doesn't have any bad effects. Because Rust marks do not remove easily but if you apply cement if will work for sure.
4. Vacuum the floor
In the basement, there is a lot of dust and trash that cannot be swept up with a broom. This is an easy method to clean your basement. A vacuum can easily catch all the dirt and even small particles. But you cannot use the vacuum if you have faced the electricity issues.
What Type of Concrete Cleaning Machine Is Good For Cleaning?
Power washers are a great choice and good for cleaning the basement floors. The best concrete cleaning machine is The Sun Joe SPX3000. It is an electric-powered pressure washer that cleans the floor quickly. This machine will remove all kinds of stains and oil.
DIY Cleaning Vs Cleaning Solutions & Machines
DIY cleaning mixtures are effective and easy to make. Whereas, cleaning solutions and machines help to clean the surface more effectively. DIY cleaning solutions can be created according to the need of cleaning.
Should I Buy Specific Concrete Cleaning Solutions?
Yes, there is a different kind of cleaners used on specific floors. Always buy the cleaner that is according to the type of floor.
TERMINATOR-HSD Concrete Cleaner is the best according to our research. We have tested different types of concrete cleaning solutions on different types of concrete floors and we have determined no cleaners can beat this solution in this specific area.
Final Words About Basement Floor Cleaning
Cleaning and maintaining concrete basement floors is not a difficult process if you know the smart tips. In this article, all the tips and techniques have been discussed along with the best cleaners and machines. Follow those tips to clean the floor in a simple and less stressful way.