If you know how to clean hardwood floors properly, you can transform them from dull to clean and gleaming, within no time. Hardwood floors are one of the most aesthetically pleasing floor options for the majority of people. They add a spark to any room. But cleaning them has been confusing for a long time. People are concerned about what might be the best way to do it.
How to deep clean hardwood floors?
It is important to keep your hardwood floors clean so that they last longer. Here are some quick and easy ways through which you can deep clean your hardwood floors on your own and keep them gleaming and clean for the long run. Let's dig in.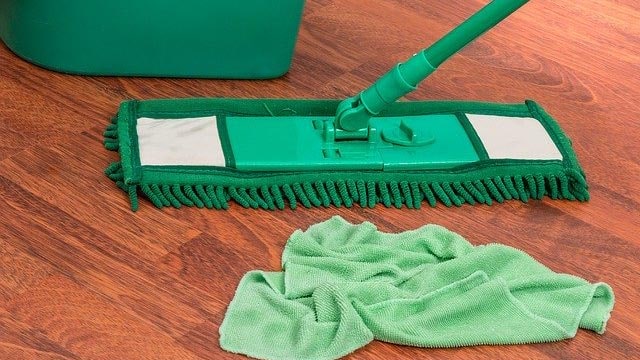 1. Vacuum it:
A vacuum is the best tool to invest in when it comes to cleaning hardwood floors in the right way. Never rub your hardwood floors. Use a mop to dust it slightly and then vacuum it thoroughly.
There are some amazing steam cleaners available in the market these days and you can opt for the one which helps specifically in cleaning hardwood floors impeccably well.
2. Mop the Dust:
Mopping the hardwood floor is also a great idea but there are a lot of cheap mops available these days too. You need to make the right purchase. Make sure that you invest in a microfibre mop cleaner.
It is recommended that you start your cleaning process by busting the dust from the floor first. It enhances the outcome of the vacuum and makes your floor perfect.
3. Floor Cleaning Products:
Experimenting with hardwood floors is not that great of an idea. It is best if you buy floor cleaning products. The grocery shelves are filled with amazing hardwood floor cleaning products which are the best bet to pick.
These products have been innovated specifically for hardwood and have all the ingredients which make your floor gleam like new. Also, products like Bona Hardwood Floor Polish are perfect for deep cleaning.
Saturating your sponge mop or just your mop with this cleaner is going to help you in deeply cleaning your hardwood floor.
4. Scrape off the food remnants:
Usually, your mop can handle the food particles but sometimes, the food remnants get stuck on the floor. For this, you will need a plastic knife that you can easily insert under the food stain and remove it.
This needs to be done very carefully as scraping too hard or aggressively can ruin your floor. Once done, apply a floor cleaning product and clean it slightly with a soft cloth.
These are some of the easiest and basic ways to deep clean your hardwood floor and keep it gleaming like a new one.
How to clean an OLD hardwood floor?
Regular maintenance is the best way to keep your hardwood floor last longer. However, with time, it does begin to wear out a bit.
But it doesn't mean that you have to get a new floor installed every other year. You can easily refurbish it to make it look like a new one.
There are several ways through which you can clean an old hardwood floor in the right way and maintain it for years.
If you don't want to invest in a tool or a specific cleaning product then you can try diluted vinegar to clean it. Mix it with water so that vinegar doesn't ruin your floor. It goes through the debris and dirt and cleans the floor amazingly. Do not try vinegar alone as it will discolor your floor faster. Dilute it by all means.
You can also try DIY diluted lemon to clean the hardwood floor. The best way to clean it is by pouring the solution into the spray. This way, the solution doesn't remain concentrated in one area. You just spray it overall and mop it with a microfiber mop. It cleans the floor impeccably well.
If your floor has been installed for years, then try your best to clean it daily. A floor that is not cleaned on a daily basis wears off faster. This way you can keep it clean for a longer time span. Make sure that the mop has extremely soft bristles.
To keep the shine of the hardwood floor intact, it is best that you use a hardwood cleaner once or twice per month. It will keep the gleam for a very long time.
Do not let the spills remain on the floor for very long. Swipe them off with a soft cloth right away. If you don't swipe the spills as soon as possible, the floor will swell from that area of the spill and will leave a permanent mark on it.
If your floor is extremely old, avoid sanding it by all means. Sand only when the floor has stains. Otherwise, it is not important and will ruin your old hardwood floor faster.
You can also consult a professional restoration expert for keeping the life on your hardwood floor alive. They will clean it professionally with expert tools that will keep the gleam of the floor alive.
How to Clean Hardwood Floors with Vinegar?
It is not highly recommended to clean your hardwood floors with vinegar. Though vinegar is very much effective to remove pet stains from your hardwood floor if applied properly. Maintaining it requires a lot of knowledge and it is crucial that you know what can be used on the floors or not. Routine cleaning is essential and this does require a bit of deep cleaning too.
Many people hire professionals to deep clean their hardwood floors once or twice per year. However, you have to put in extra effort to take care of it. This is where a lot of people rely on vinegar. As mentioned above, vinegar alone can be harmful to the hardwood floors.
The best way to clean it with vinegar is to dilute it in water. A diluted solution does not wear off your floor and keeps the gleam alive too.
The most important thing to keep in mind is to not pour the solution on the floor directly. It is best if you put it in a spray bottle and spray it over the stains or all over the floor too. Mop it right away with a soft cloth or a soft bristle mop brush.
You don't want the solution to dry off on the floor because it will leave stains. Therefore mopping it right away is crucial and you must not overlook it.
You can also try mixing vinegar with water and baking soda. Baking soda is a very amazing cleaning agent and has been used for years in DIY cleaning solutions.
Make sure that you keep the vinegar and baking soda minimal in amount and dilute it in water properly. This solution of vinegar is also helpful in cleaning the hardwood floors.
How to Clean Wooden Laminate Floors?
Cleaning a wooden laminate floor is not that complicated. If you know how to do it properly, you can easily maintain it. To clean the dust and debris off the floor quickly, you can use a sweeper. Make sure that you invest in a soft bristle sweeper so that the hard bristles do not damage the floor.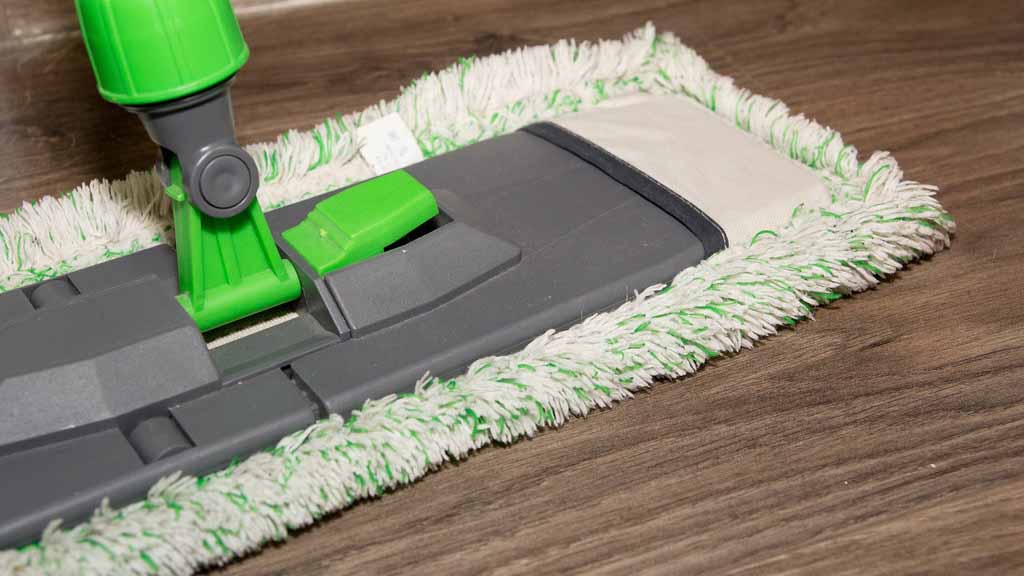 If you have a vacuum, nothing would be better for you. Just make sure that you set it on the bare floor setting. Dyson has amazing vacuums that just adjust to the different flooring types automatically. But if you have one that can be adjusted with the click of a button; it is fine to use too.
For deep cleaning, you can dilute a bit of vinegar in warm/hot water and then mop the floor with it. Yet again, microfiber mops are the best for wooden floors, whether they are laminated or not.
A sponge mop helps you in cleaning the floor deeply. You can also try a scrub brush in removing the dirt that is stuck in the nooks and corners.
Now, to keep the wooden laminated floor shiny and new as ever, you have to make sure that you don't use soap-based products on it.
Utilizing a lot of soap on the floor will dull its appearance rapidly. It's best to use a commercial, hardwood cleaning specific product. Plus it avoids trekking on the floor and keeps it gleamy and new.
It is important that you clean the floor every second week and if possible then every week. Hence it is not crucial to choose for a deep cleaning every week. You can simply vacuum now and then but make sure that you do deep clean it once a month or once every two weeks. Regular cleaning is the main element that keeps it lasting for a long time.
It is recommended that you try using cleaning products and tools rather than a lot of DIY solutions because a lot of vinegar use can fade out the wooden floor as well. Invest in a vacuum or a cleaning machine, a soft bristle mop or sweeper or a cleaning specific product.
What Type of Cleaning Machine Is Good For Hardwood Floor Cleaning?
Hardwood floor cleaning can be tough and tricky but it is not impossible. If you have the right tools or machines in your hand, then maintaining a hardwood floor is easy. A little investment can save your floors and make them last longer.
A steam mop is a powerful machine to help you in getting rid of stubborn stains. There are several electric mops and cleaners combined, to help you boost up your cleaning power. A hardwood floor vacuum cleaner is also a great machine to invest in.
Should I Buy Hardwood Floor Cleaning Solutions?
Yes, you should. The cleaning solutions are specifically made up of ingredients that help in the removal of debris and stains effectively. You won't be able to remove those stains from random solutions.
A specific product is created upon for a specific flooring type and helps in effective cleaning. Therefore, you should buy a hardwood floor cleaning solution/product.
DIY Cleaners Vs Cleaning Solutions
You can make DIY solutions for sure but they are not that effective and amazing. Also, vinegar can fade out your hardwood floor color faster. Thus, it is recommend upon to use it really less.
A hardwood floor cleaning solution is create upon specifically of ingredients that do not harm the floor and are effective in cleaning it amazingly well too. Thus, you should buy cleaning solutions instead of relying on DIY cleaners.
Is It Okay to Use Cleaning Solutions on The Hardwood Floor?
Yes, using hardwood floor specific cleaning solutions is completely fine. These are composed of elements that are incredible for cleaning the stains and dirt from the hardwood floor. Especially while cleaning engineered hardwood floors you should be very careful because they are very much sensitive to chemicals.
So it is highly recommended to use specific cleaning solutions instead of using DIY methods to avoid any unwanted damages. Thus, it is completely okay to use those solutions on your floor. They will help you well in maintaining your wooden floors.
Can Cleaning Machines Leave Scratch On My Hardwood Floor?
No, they do not! Cleaning machines are all specifically, keeping in mind the requirements of the floors that can be cleaned with them.
If you buy a machine that is specifically for hardwood floors, then it won't ever leave a scratch on it. However, if you have an overall vacuum cleaner then you must test it before using it all over the floor.
So now you know how to clean hardwood floors and maintain them for a very long time. They are easier to clean with tools, machines and cleaning solutions. Also, make sure that you clean them regularly and take care of hardwood floors so that your investment can go on a long way.