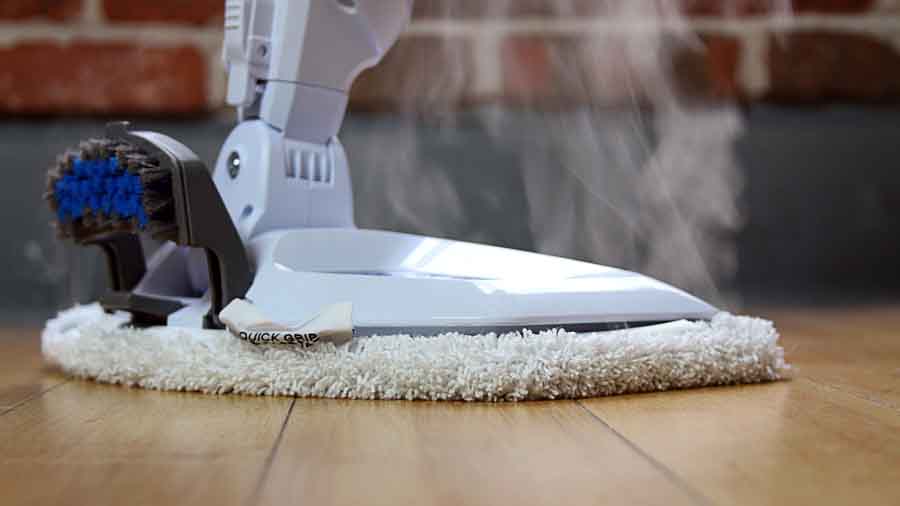 Engineered hardwood floors are different from other traditional hardwood floors. Hardwood floors consist of many layers and the surface is made from real hardwood. The layers are made of high-density fiberboard. Clean engineered hardwood floors daily to avoid the scratches and stubborn stains.
There are liquid cleaners available to remove stains or you can also clean engineered hardwood floors with a dustpan and broom. if you add cleaning engineered hardwood floors in your daily routine then you will not face any difficulty. 
Tips and Methods to Take Care of Engineered Hardwood Floors
If you don't want any damage you must need to keep your floors free of dirt, trash, and spills. Follow below tips and techniques to protect your floor from damage and help you to keep the new look for many years,
1. Clean Regularly
The best way to clean engineered hardwood floors is to keep your flooring sweep up, clean and dry daily. There are chances of dirt and stones can come through shoes daily so it is necessary to clean floors daily. If you clean floors with a broom then you don't need to mop daily and you can save the surface from harsh scratches.
If you don't clean the floor, then all dirt will get into the surface and easily damage the upper layer of hardwood. Not only this, but stones can also scratch the top layer. So clean the floors regularly if you want that your engineered hardwood floor will remain in good form.
2. Use Vacuum or Soft Broom
Always use a vacuum and set it on a light floor setting. Because a harsh vacuum beater bar can damage the engineered hardwood floor. Vacuuming the floors can maximize durability. Set a vacuum on the hard floor option to stop the rotating bristle bar.
If you will not stop the bristle bar then it will scratch and graze the surface of the floor that cannot be reparable. Another best way to clean engineered hardwood floors is to use a soft broom to avoid any scratches.
Use a soft broom because all the dirt can easily be swept up. Make sure to clean the areas like entrance because there are more likely to have rocks or dust.
3. Use a Dry Mop for Dust & Trash
Dry or microfiber mop is best to clean the engineered floor because it can easily get the dirt and dust. Microfiber mop has the best material that will not damage the top layer of the hardwood floor. Using a mop can reduce the risk of surface damage. 
A dry mop will help you to pick up dirt and trash on the floor very effectively. Even dry mop can pick those particles that the broom has missed. You can clean the floor with a damp microfiber mop once in a week. Squeeze out the excess water from your mop before applying on the hardwood floor.
Make sure the mop just only slightly damp. To clean the floor you don't need much liquid cleaner. After mopping if the excess water will still be left then clean it with cloth or towel. The damp mop will remove all the stains on the floor.
4. Wipe up Stains Early 
Must wipe up all stains as soon as possible. Do not wipe with excess water or liquid because it will damage the hardwood floors. So make sure not to mop up with the bucket of water and always wipe with a dry mop. You can wipe with the dry cloth as well.
5. Put Rugs at The Doorway
Putting mats on the entrance will keep the stones, dirt, moisture, sand particles, and trash out of the floor. Also, mats will intact your floors and protect them from any damage. It will help to avoid scratched and protect your floors for many years.
If you place rugs or mats on the doorway then you can save yourself from mopping your hardwood floors. Protect the entrance with mats especially front and back doors. Because, a rug can save your house with much of the dirt, dust, and stones. Place one extra rug outside the entrance for visitors.
So, visitors can wipe up dirt and mud before coming into the house. Then place another rug at the entrance so the visitor can wipe again their feet and remove small dirt as well. Quake your rug weekly to keep out the dust and dirt.
An area rug on your hardwood floor can also get dirty. We also have a complete guide on how to clean an area rug on hardwood floor. Don't forget to have a look.
6. Wear Soft Shoes
Do not walk on the floors with high heels or spiked shoes because they can severely damage the upper layer of the floor. So avoid such shoes that can damage engineered hardwood floors.
7. Use Appropriate Cleaners For Engineered Hardwood Floors
To clean the engineered hardwood floors always use the appropriate and manufactured hardwood floor cleaner. Do not use wax-based, harsh detergents or steel wool because these can make scratches on the floor.
What Is The Best Cleaner For Engineered Hardwood Floors?
Some of the professional and best cleaner for engineered hardwood floors are as follows,
#1. Bona Hardwood Floor Cleaner Spray
It is the professional hardwood floor cleaner. It reduces the sticky dirt and also removes shoe marks quickly. Use directly on the floor or with microfiber pad mop and clean with it.
#2. Pledge Gentle Wood Floor Cleaner
This cleaner comes in a squeeze bottle. Gently clean the floor with this cleaner and this is also the top choice of many people.
#3. Black Diamond Stoneworks Wood & Laminate Floor Cleaner
This comes in a spray bottle so you can easily clean any spot and wipe it. This can also remove the scratch marks very easily.
#4. Swiffer Sweep and VAC Vacuum Cleaner
Swiffer Sweep and VAC Vacuum Cleaner is very much effective to wipe the surface. The super flexible mop-head is very effective to clean almost any surfaces.
Final Words About Engineered Hardwood Floor Cleaning
Taking care of engineered hardwood floors may be hard. But if you maintain cleaning engineered hardwood floors daily then it will not be difficult. You just need to buy a product that cleans and protects your floor. In this article, tips and techniques have been discussed for how to clean engineered hardwood floors