Area rugs are used to cover the textile floors as rugs do not expand wall to wall, the area rugs simply used to cover the furniture like sofas and tables. Area rugs are great for hardwood floors and also comfortable so that people can sit on the floor easily. It can also be used to decorate the wall. Cleaning rugs on hardwood floors is a bit tricky task and most people don't know how to clean an area rug on hardwood floor.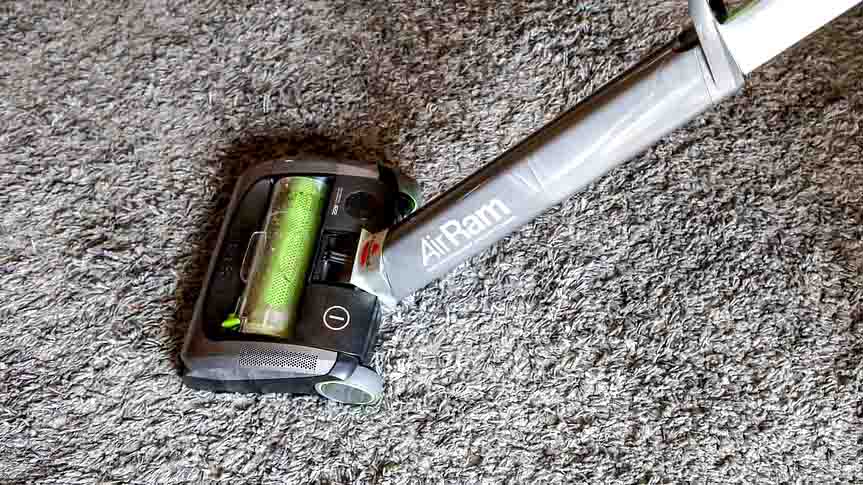 If your cleaning machine is not sufficient to clean area rug on a hardwood or has few dirty marks then you need to clean or wash it manually using some advanced DIY techniques.
When you want cleaning rugs on hardwood floors then the best way is to avoid washing the entire rug and try to focus on cleaning the stained part only.
Related: How to Clean Hardwood Floors? – The Beginners Guide
In this article, you will find out how to shampooing rugs on hardwood floors and the best way to clean area rugs on hardwood floors. The steps that are mentioned in this article are very easy and can be useful for any kind of area rug.
How to Clean an Area Rug on Hardwood Floor?
Area rugs look beautiful in room and add value to your home, but it is important to clean area rugs properly to manage their beauty for many years.
For the best cleaning result, you may need a professional but it will be expensive. Although you can also clean by yourself and save time as well as money and it is far better than to give it to a professional.
If you want to remove the dust and dirt then you can simply vacuum your area rug on both sides every 1 to 2 weeks.
Through vacuuming the maximum dust will be removed. But, if there is an edge of area rug then you need to be very cautious and should not do vacuum because it can damage your rug and if the edges will be damage then your entire rug becomes useless.
To keep away from needless cleaning only keep in mind few things and know when your area rug required deep cleaning. For example, if there are obvious marks, dirt, or bad smell then there is a need for deep cleaning.
You can also fall the rug into the floor and check if it has a cloud of dust or not, if yes then it is also the time for deep clean.
Follow below steps to clean an area rug on hardwood floor after vacuuming both sides of the rug. The steps can be applied to any category of area rug apart from the quality.
Related: How to Clean Engineered Hardwood Floors?
1. Equipment That Makes Area Rug Cleaning Simple But Effective
For cleaning rugs, you must need few supplies that include pipe and water, rug shampoo or any dish detergent, a bucket, a soft bristle brush, and squeegee. Also, make sure when you are cleaning the weather must be warm and dry because you need to dry your rug outside.
2. Test Area Rugs for Colorfastness Prior To Clean
Before ruining your rug must check that the solution you are using to clean area rug doesn't run colors or fade with washing.
After that include a few capfuls of dish detergents to a bucket of warm water. Make sure the water is not hot, it must be warm. Because hot water will fade the color or minimize the yarn.
You can check the solution by putting it on the small corner of the area rug and see that is it making the colors run or not. If not then keep forward on the next step.
3. Get Bad Smell Out of Your Hardwood Floor Rugs
If you don't wash or clean your area rug then after some time rugs become so smelly. To get rid of smell just spread the sodium bicarbonate commonly known as baking soda, over the rug all night and in the morning just vacuums it.
Sodium bicarbonate is the best thing for smelly rugs and also can remove the dark stains from the rug. Sometimes pet urine can leave odor and stains on hardwood floors beneath the rug. Here are 10 awesome tips to remove pet stains from your hardwood floor.
4. Easy Method for Shampooing Rugs
This easy method for shampooing rugs on hardwood floors is to spread the shampoo or detergent over the rug and by using soft-bristled brush scrub it slowly.
Don't rinse off the shampoo too quickly, wait for several minutes for the better result. The shampoo is best for oily marks so select the shampoo that is according to the fabric of the rug.
5. Rinse Off The Solution
After shampooing rugs, use a water pipe and rinse off the solution. Before moving to the next step just makes sure that all the soap bubbles are gone properly and the rug looks clean.
Your rug must be wet enough to clean all dirt. You can also spray white vinegar on the carpet and brush it for better results. Because the vinegar helps to take away the excess detergent.
6. Soak Extra Water
After brushing the rugs use a towel to soak up the extra water. Try to dry the carpet as much as you can by pushing the cloth on the rug. You can also squeeze the extra water with the help of a squeegee.
7. Drying of The Area Rug
The last step includes the drying of the area rug. It is all dependant on the size of the rug and you don't know how long it will take to dry. Put the rug outside and make sure the weather is warm because drying may take from a few hours to two days.
If you want to dry the rug fast then open up the windows that will create the airflow and assist in drying the rug. The thread of rug may become flat due to wash but you can vacuum it and then all the thread will lift.
Conclusion
Area rugs look so beautiful in rooms but it requires cleaning as well otherwise it will decrease the beauty of your room. For cleaning rugs on hardwood floors you must know the steps and proved methods. Because if you will follow the unverified methods; it will damage your area rugs.