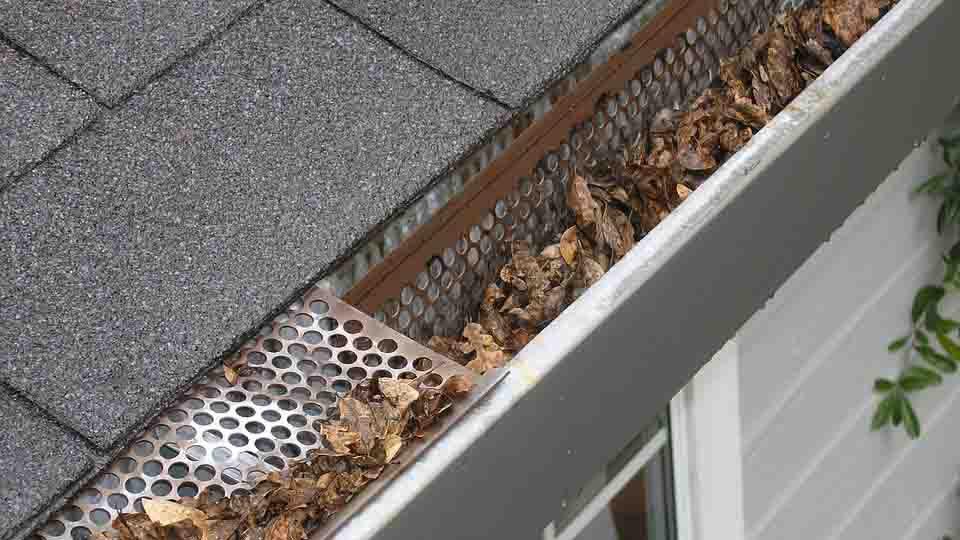 Cleaning gutters can be a taxing chore, but it's important that you keep the gutter drainage system clog-free. If your gutters are jammed up with twigs, leaves, or any other type of debris, rainwater will not be able to pass and might end up ruining your house foundations.
One way of preventing clogs in gutters is the use of gutter guards. They'll keep your gutters free from leaves, pine needles, twigs, and other debris, allowing water to drain smoothly down the downspout.
Here we'll tell you about the best gutter guards for your home. Not only that, but you'll also find out everything you ever wanted to know about gutters and gutter cleaning.
Without further ado, let's find you the finest gutter guard out there.
Best Gutter Guards Reviews
In this section, you'll find out about the features and specifications of some of the top gutter guards on the market.
#1. Raptor Stainless Steel Micro-Mesh Gutter Guard – Editor's Choice
The Raptor gutter guard is an amazing micro-mesh type guard that promises to prevent even the smallest debris from getting in the gutter. This micro-mesh type of gutter guard is built to allow only water to enter the gutter while blocking everything else.
It'll catch leaves, twigs, pine needles, seed pods, roof grits, and even sand particles, and none of it will get through.
Made of stainless steel, it makes the guard more durable than aluminum or plastic. There's no chance of this one collapsing or warping. It'll also prevent cracking and the growth of mold. This gutter guard will be able to withstand the toughest storms and heaviest rainfalls.
And the Raptor can be installed quickly and easily without any hassle. It'll fit on any 5-inch wide or smaller gutter. All you have to do is slip them under the shingles and use the self-drilling screws to attach it to the gutter. All of these installation kits will come with the guard.
We recommend the Raptor for its sheer durability and reliability when it comes to keeping your gutter debris-free and allowing water to move freely. Although installation can be tricky for some roof types overall, it's the best micro-mesh gutter guard you'll find.
#2. FlexxPoint Gutter Cover System – Most Inconspicuous Gutter Guard
A small family business, FlexxPoint specializes in gutter guards and manufactures superior quality, aluminum, treated by heat gutter covers. Made right here at home in the USA, this gutter cover provides a permanent solution to your clogging problems.
You can attach this thing very easily on the fascia board of your roof with the stainless steel fasteners you'll get with the guard.
The best thing about this gutter guard is its distinctive 3-point design. And the way it works is that it'll not let the water overflow over the guard. Instead, it'll slow down the flow of the rainwater so that all of it can be drained by your gutter. It'll prevent possible damages to your foundation that would occur due to an overflow of water.
This 3-point design also has another benefit. It keeps wet debris like leaves raised so that the wet leaves or debris is not in complete contact with the gutter guard. What it does is it'll make sure that there is airflow on the guard for the wet debris to dry and eventually just fly away.
If you're looking for an easy fix to your annual headache, then you better check out the FlexxPoint gutter cover. Its lightweight aluminum body is easy to install. This guard is also practically invisible from the ground, so no need to worry about aesthetics.
#3. A-M Aluminum – Best Budget Gutter Guard
The next gutter guard on our list is the A-M gutter guard with special patented design. If you're tired of clearing the gutter guards of debris, then this one will solve all your problems. It is made with a special design that will generate and aid in the air-flow from the top to the bottom of the gutter guard.
This means that the debris that the guard collects on top will not be sticking to the gutter guard because of the slight protrusions. And this is what creates the airflow to dry out the debris, which can easily be blown away by a breeze as low as 5 mph.
Even when the gutter is filled with wet pine needles, twigs, and leaves, you can be sure that the specially designed bubble filtering system will allow water to move smoothly along the gutter. This 384-hole per foot gutter guard performs well in heavy downpours and storms.
Aluminum gutter guards are preferred by so many because of its lightness and rust-resistant properties. This gutter guard is made of heavy-duty aluminum that'll last you a lifetime. It's also easy to cut and shape with a pair of tin snips.
Designed for hangars that are hidden, you can install this in any type of roof and hangar. It has got tabs at the end of each piece, which makes it easy to connect. Reasonably priced and versatile, it is definitely a product that's worth buying.
#4. GutterBrush Simple Standard 5″ – Best Brush Type Gutter Guard
This simple yet innovative design of keeping the gutter clean is the perfect solution for anyone looking for an easy fix. A gutter guard cannot get simpler than just inserting a brush to keep it free from leaves and other debris.
The cylindrical-shaped brush has bristles made of polypropylene that's UV protected. And the wire core of galvanized steel gives the brush the stability and durability for year-round protection. It's able to block leaves and large debris from the gutter for the water to flow without any obstruction.
And it's easy to install and doesn't require any kind of accessories like fasteners, screws, or scissors. For corners, you can just bend it, and it can also be folded back where you'll need to stop. It comes in 3 feet sections with a few 18-inch sections for short ends.
All you have to do is clean your gutter of all of the leaves, acorns, pine needles, seedpods, or twigs. Slide the sections of the brush along the length of your gutter, and voila you're done. This brush type is one of the best gutter guards for pine needles.
Once you install them, the pine needles will stay stuck on them while water flows freely down the gutter. Easiest to install and maintain, this GutterBrush will make gutter maintenance a breeze. It's perfect for you if you're tired of removing buckets of pine needles and twigs every few months.
#5. Thermwell Frost King VX620 – Most Versatile Gutter Guard
If you're looking for an easy solution to your clogged up gutter, then go for the Thermwell plastic gutter guard. It is one of the highly rated and well-priced gutter guards in the market. This pack includes 6 inches by 20 feet of plastic mesh guard that's sure to keep fallen leaves and debris out of your gutter.
As it's made of plastic, there's no chance of rust or corrosion. It comes in a roll, but you can easily unroll it and cut it with an ordinary pair of scissors to the size you need. On top of protecting your gutter from debris, it'll also keep pests, wasps, and rodents away from it.
This gutter guard can be installed in any type of roof and gutter. Whether it's a K-style, a Victorian ogee, or a fascia gutter, you can install this plastic mesh guard over any of them. You won't need to worry about damaging your roof shingle while installing it as it fits smoothly under the roofline.
The 6″ size will fit any standard gutter. Since it's made of plastic, you can't expect it to last forever, but you'll definitely get good use out of it for a good few years. This will serve you well if you're not looking for something heavy-duty.
#6. Amerimax Home Products 636025 – Best Weather Proof Guard
The next on our list is Amerimax's lock-in gutter guard, which is suitable for places with heavy rainfall and storms. It's made of steel that's powder-coated, which makes it resistant to corrosion. This means it can withstand all kinds of weather and will last you a long time.
Amerimax uses a mesh pattern of steel, which is tightly expanded. This catches most of the debris, including leaves, pine needles, and twigs, to allow the water to flow freely underneath in the gutter. Each piece is designed in a way that when you connect them, they will be overlapped, and there won't be any gaps in between.
Installation is made easy with a unique self-locking design where you just have to slip the flat side of the guard under the shingles of your roof and lock in with the rolled edges on the other side to the front edge of the gutter.
Also, the guard can be installed on any 4 inches, 5 inches, or 6 inches of metal K-style gutter. And the steel body is strong enough to handle a high volume of rain and snow.
We love the unique locking mechanism of the gutter guard, which assures a tight hold on the gutter. Since it's also a great gutter guard for areas with heavy rainfall, we totally recommend this product for your home.
#7. LeafTek 5″ x 32′ Gutter Guard Leaf Protection – All-rounder Gutter Guard
Don't be misled by the name LeafTek because this gutter guard doesn't just block leaves but all the usual culprits like pine needles, seed pods, maple seeds, twigs, roof sediments and everything else that you can think of. A leading brand in the industry, LeafTek also has a reputation for great customer service.
And this gutter guard comes in two sizes, 5 inches and 6 inches which will fit any standard sized gutter. Made of superior quality aluminum, it'll keep out debris while making way for rainwater to pass through the gutter.
It also has a baked enamel finish, which ensures resistance to corrosion and can withstand harsh weather conditions.
The unique raised ridge design creates and promotes airflow up and down the gutter and keeps the gutter dry. This means your debris will be dried and blown away by the wind without you having to clean it. A dry gutter will also discourage the breeding of pests and rodents.
This particular product is specially designed for DIY installation. First off, the guard doesn't install under your shingles, which will have made your roof warranty void, but it has screw holes to be screwed on the fascia board or drip edge. This gives the guard an added strength. For corners, you can use tin snips to shape accordingly.
A simple yet efficient product, you cannot go wrong with the LeafTek gutter guard. It can easily be installed, and you won't have to worry about clogged up gutter that needs cleaning every few months.
#8. GutterStuff EZ 5-Inch K Style – Best Foam Type Gutter Guard
Another super easy installation product is the foam type, gutter guard. Not only is it a self-installer gutter guard, but it's also one of the most affordable and invisible from the ground guards out there. Available in three sizes and two styles, you'll be getting quality performance from this foam guard.
The foam absorbs the water while filtering out the leaves, twigs, and other debris, eliminating the need to clean your gutter on a regular basis. GutterStuff's foam is able to absorb a high volume of water, which means water won't spill over the guard. It fits snugly into your gutter, so it's practically invisible from the ground.
Made of lightweight polyether foam, which won't crumble, dent or bend. The popular K-style guard has a flat bottom for a better fit, and the half-round guard also fits nicely along the length of the gutter preventing debris from clogging up your gutter or downspout.
And the bottom of the guard obviously doesn't come in contact with the gutter so as to allow water to flow freely under the guard. Installation is a piece of cake where you can cut the foam for corners with a simple pair of scissors.
If you don't want the hassle of installation tools but also don't want to compromise on quality, then this is the perfect one for you. Its many practical features, along with the budget-friendly price, make it a must-have for homeowners.
#9. Amerimax Home Products 86670 – Best Snap-in Gutter Guard
This highly sought-after gutter guard by Amerimax is a mesh type guard that prevents clogs and jams in your gutter by blocking the debris and allowing the water to flow freely along the gutter.
It can be attached to any 4-inch, 5-inch, or 6-inch K-style metal gutter, be it aluminum or steel. The amazing thing about this product is the super cool snap-in mechanism used to attach the guard to the gutter. All you have to do is slide the guard under the front lip of the gutter and done. No tools or hardware needed.
If you live in an area where there's moderate rain or snowfall, so you don't want to invest in a heavy-duty gutter guard, then this product will serve you well. It's lightweight and durable, and the mesh design catches even the smallest of debris along with leaves, twigs, and pine needles.
The guard and the mesh are both made of sturdy PVC, giving it the durability that you want in a gutter guard. Although made for mild weather conditions, the material can withstand somewhat heavy rainfall.
Our favorite part about this product is that you can install it with just one hand, which is extremely convenient when it comes to gutter guard installation. Since you'll be standing on a ladder, it's vital that installation be quick and easy.
#10. E-Z-GUTTER GUARD – Easiest Gutter Guard To Install
This last one on our list is a sleek black gutter guard perfect for drying out the debris for fast removal. It is yet another guard that's extremely easy to install. Once the back is laid on the hangar of the roof, you can push the front of the guard a little back and then down until it locks itself to the gutter.
The E-Z Sheild features reverse louvers on the body, which is ideal for allowing the maximum amount of water to be passed through. There'll be a significant reduction of water overflowing with this gutter guard. It'll keep the twigs, pine needles, leaves, seedpods, and other debris out of your gutter.
Its modern look only enhances its performance as the black paint ensures that this aluminum gutter guard will not rust and absorb more heat to speed up the process of caught debris to dry and be blown away on its own.
No tools or hardware is needed to install these, and the sections have a ¾ inch overlap for easy connection between two sections. We love this product because it combines the best features of a good gutter guard.
What Are Gutter Guards Used for?
In this section, we'll discuss why gutter guards are used for.
Maintenance of Drainage System
Gutters are an essential part of maintaining a good drainage system at your house. They allow rainwater and melted snow from your roof to flow freely down the gutter.
However, along with the water, the gutters collect leaves, twigs, pine needles, roof sediments, and all other kinds of debris and eventually clog up the gutter blocking the water flow.
If your gutters are blocked by debris, and you don't find out right away, it can lead to serious damages to the foundation of your house. Water can leak into the walls, the fascia may start to rot, or the gutter paint may start peeling.
When this occurs, you'll have to climb up the ladder and clean the entirety of the gutter, which can be exhausting and dangerous. Although there are ways of cleaning the gutter from the ground, we assure you that's just as exhausting, and you won't be able to see what you're doing from the ground.
To avoid all of this hassle and worry about having to spend hours cleaning the gutter every few months, you can use gutter guards that use a variety of ways of keeping your gutter debris-free so that it won't clog up and rainwater or melted snow will be able to pass freely.
Not only that, but gutter guards are an excellent way of keeping birds, bees, wasps, rodents, and other pests from making nests in your gutters that can lead to safety hazards. Gutter guards also prevent the growth of mold and mildew on your walls.
On the whole, gutter guards help in maintaining good drainage, prevent clogs in gutters, saves you the time and effort of cleaning the gutter, and enable a pest-free environment.
Different Types of Gutter Guards
As you've seen, there are different kinds of gutter guards. Although they do the same job, they each have their own benefits and strengths. If you know the type that's most appropriate for your gutter, it'll lengthen the lifespan of your home and roof.
These gutter guards are made of metal sheets and aluminum with thousands of tiny holes. It is the most common type of gutter guard and found in most houses. A reason for this is that these can be installed in most types of gutter easily, sometimes without any need for screws.
The mesh is usually so fine that it can even block sand and dirt along with leaves, twigs, acorns, and any other debris that might invade your gutter.
They're highly durable and can withstand harsh weather conditions from storms to heavy rainfall to snow. You'll just have to clean the guard once in a while to get rid of the debris on top.
Screen gutter guards are made of metallic wire or plastic. These guards also have holes that are used to filter out leaves and other large debris. But you'll see that gutter screens won't protect the gutter from small debris that might contribute to clogs or jams. Pine needles also have a tendency to get stuck in the screens.
Some gutter screens have raised ridges on them to slow down water flow and reduce or stop water overflowing from the gutter. They also help in drying out the debris on top that is eventually blown away by the wind.
Different brands have different amounts of holes per sq ft, leading to a difference in performance. When it comes to comparing mesh guards and screen guards, mesh performs better than a screen gutter guard.
These guards look like oversized bottle cleaners or wire cleaning brushes. They have strong bristles usually made with polypropylene to block the debris from obstructing the path of the water and are UV protected to give it better durability.
And they are one of the easiest guards to install where all you have to do is clean the gutter and insert the brush. These will easily keep out large debris and some small ones too. The bristles also allow airflow, which keeps the gutter dry, preventing rust.
One downside to this type of gutter guard is that you must clean it at least once a year or more based on the number of trees in your yard. Some debris might get dried and be blown away by the wind, but we assure you there'll definitely be some stuck to the bristles that you'll need to clean.
This one works more or less like a brush gutter but is actually a block of foam rather than a long brush. Made of polyurethane foam, they block debris while the pores absorb the water and send it down the gutter. They're easy to install but requires cleaning and replacing every couple of years.
How to Choose the Best Gutter Guards for Your Roof
Here we'll discuss some of the most important factors you need to keep in mind before making a decision about which gutter guard to buy.
Residential gutters can be of different sizes, the most common ones being 4 inches, 5 inches, and 6 inches. Before you choose a gutter guard, make sure you know the size of your gutter. Gutter guards come in one size, and that's usually the standard one.
If your gutter is smaller or bigger than the standard size, you won't be able to fit the guard in your gutter. That's why it's important you know the size before choosing a guard.
Depending on the trees on your property, the weather conditions of the region you live in, and any other particular need, you need to understand the different types of gutter guards that are available.
Each type has its merits and disadvantages. The ones that we discussed here are the most common types of gutter guards, and we hope you'll find one that's appropriate from our list. To better understand the types, refer to the previous section for a much more detailed explanation.
Another important factor to think about is the length of the gutter, which can be somewhere between 25 feet to 100 feet. Different types and brands make guards in different sizes. So you should know how much or how many packs you'll need.
Gutter guards can be made of metal, aluminum, steel, or plastic. The material will determine how durable your guard will be because weather conditions will have an effect on the material. And as your gutter guards will be in constant exposure to weather, you must choose wisely.
Plastic gutter guards will serve you better if you live in winter regions as it will not be exposed to the sun's radiation too much. However, in hot regions, they might wear out quicker so you'll be better off getting a metal gutter guard, especially the ones made of aluminum or steel, which will have a longer lifespan.
You'll be surprised to see how much an expert will cost to install a gutter guard, so it's always a better option to do it yourself. For that, you need to consider whether it's easy to install or not. Some gutter guards just need to be inserted or snapped-on while others may need to be screwed on.
Guarantee, Warranty, and Sales Policy
Gutter guards are supposed to serve you for a long time. They are a long term investment, so always check for the manufacturer's guarantee and warranty policies.
These guards are also supposed to reduce maintenance and make it easier by doing the task by themselves. That's why you should buy a gutter guard from a manufacturer that will provide you with a better warranty and guarantee so that if something goes wrong, you'll be able to get repairs or replacements easily.
Added services with the product also give you an assurance that the company believes in its products and is ready to stand by it.
How to Install Gutter Guards
Different types of gutter guards come in different shapes and sizes. Some of them are very easy to install and can be done with just using a ladder. Then there are some that need tools and hardware like screws and screwdrivers.
You can obviously ask a technician to come in and install the gutter for you, but the installation of gutter guards is actually so easy that it's not worth the money. Here is a simple guide on how you can install your gutter guards hassle-free.
Step 1: Get Everything Ready
If you're installing metal mesh or screen guards, then you'll need tin snips for the corner cuts and the screws and screwdrivers. Or if you've opted for the foam or brush guards, then you'll just need a normal pair of scissors. Check the ladder to make sure there are no problems with it.
Step 2: Read the Installation Instructions
To make sure you know exactly how to install your gutter guards, read the instructions carefully. It'll make your task significantly easier and faster when you know what to do.
Step 3: Climb up the Ladder
Taking only the necessary items, climb up the ladder. It's safer if you have someone on the ground to hand you the items.
Step 4: Install the Gutter
If you're installing the foam or brush type, just go ahead and set them according to the length and size. The snap-on or slip-on guards are also easily installed under the shingles.
And if you're installing the screw-on ones, then set the guard and screw in the gutter guards as per instructions.
How Can Gutter Guards Save Money?
Gutters become filled with leaves, twigs, and other debris throughout the year. The debris in the gutter leads to clogs and jams unless they're cleaned every few months. Cleaning gutters is a tiring and dangerous task. When they get jammed, you might even have to call an expensive professional to unclog and clean your gutter.
But if you install a gutter guard, you won't have to clean the gutter as the guards' main purpose is to block debris from the gutter to allow water to flow freely. You'll be saving money on cleaning supplies, expert help, and medical bills from falling off the ladder a couple of times while cleaning the gutter.
Which Type of Gutter Guard Is Easiest to Install?
Gutter guard installation is generally an easy task that can be done without the help of an expert. However, the brush type gutter guards are the easiest to install as all you have to do is literally just put them inside the gutter. No cutting, screwing, or clip-in is required.
Why Do People Not Prefer the Sponge or Foam Type of Gutter Guards?
Although one of the easiest to install, a lot of people don't prefer to install the foam type gutter guard, and there are a few good reasons for that.
First of all, they're a short term solution to your gutter problem. They will not last more than 1 or 2 years because they're prone to crumbling and shrinking.
It's the pores in the foam that's supposed to allow water to flow freely. But in reality, since foam is just like a sponge, it absorbs water. This leads to the growth of mold or vegetation due to the seeds and dirt also trapped in the foam.
What Will Happen if the Gutter Drains Get Jammed and Clogged?
A gutter is an essential component of a good drainage system in your home. When the gutter drain gets clogged or jammed, you'll see water seeping in through the walls and roof, leading to the deterioration of the overall house foundation.
If it's clogged for too long, water can start to flow in the wrong directions in your yard, resulting in soil erosion.
Do I Have to Clean My Gutter Guards
Yes! When gutter guards are doing their job efficiently and effectively, you'll see a build-up of debris on top of your gutter guard. Some of it will be blown away by the wind when they're dry, but a lot of it will still be on the guard, and you'll need to clean them.
How to Clean Gutter Guards
A good gutter guard will only need to be cleaned once a year, depending on the number of trees you have around. Let us tell you how you can clean your gutter guards safety and quickly.
Step 1: Get Everything Ready
You'll need a ladder, gloves, a drop cloth, and a gardening hose. Place the drop cloth on the ground where you can drop the debris. This will make clean-up easier and will protect your bushes or shrubs. Gutter cleaning tools can help a lot in this aspect.
Step 2: Place the Ladder Securely
Safety is the most important thing when cleaning gutters. Make sure you secure the ladder properly.
Step 3: Climb up the Ladder
Wear your gloves before going up the ladder. Then climb to the appropriate place in the gutter.
Using your hands, scoop up the debris, and drop them on the cloth underneath. Your debris should be dry, so it'll be easy to just sweep them up.
You can also use a microfiber mop to sweep over the length of the gutter guard. This way, you'll be able to clean faster.
Step 5: If Possible Remove Gutter Guard
If your guard is easily removable, then remove the guard and wash them. And if it's the brush type, you can wash and rinse it before placing it back up.
Using the gardening hose, wash the gutter with water to clean away any accumulated sand or dirt.
Step 7: Replace the Guard
If you removed your guards to be washed, secure them back. Then clean up the ground if necessary.
Final Words
Before buying such an important component of your house, keep the essential factors in mind. Refer to our best gutter guards list and our extensive buying guide to help you make the right choice for your home and family.